Mango Crush

Southern Tier Brewing Company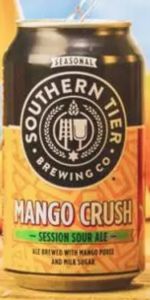 Rate It
Beer Geek Stats
| Print Shelf Talker
Style:

ABV:

4%

Score:

Avg:

3.64

| pDev:

8.24%

Reviews:

13

Ratings:

From:

Avail:

Rotating/Seasonal

Wants

Gots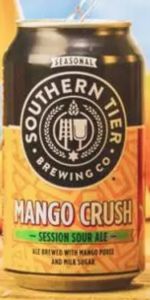 Notes:
Mango Crush is the perfect choice for those who want flavor that reflects the fun of the summer season. Brewed with the perfect balance of mango puree and rich milk sugar, this gose-style ale provides a refreshingly smooth drinking experience.
Rug from Massachusetts
3
/5
rDev
-17.6%
look: 3.5 | smell: 2.25 | taste: 3.25 | feel: 3.5 | overall: 3
Canned 3/10/20
Been seeing this one around quite a bit, and I have a local fairly simple mango sour in my top 10 all time, so I figured I'd give this one a shot
Pours a clear orange tinted gold with 2+ fingers of white head that lasts for a while, no lacing
The nose is a bit off the mark, some syrupy sweet mango and corn, quite off putting
The taste improves things a little bit, but still not really what I'm looking for in a session sour. Tingly sour on the front end of the sip with nondescript tropical fruit before being washed out by an odd malt that leaves a bit of a fruity aftertaste
I mean, at least this drinks easy. If it were too heavy this would be a drain pour for me. Light and smooth, could be refreshing on a hot day
This one was just mehh overall. Southern Tier confuses the hell out of me. This is only the 3rd beer I've had from them, the first being that pretty repulsive vanilla whipp ipa, then last week I found a single bottle of pumking on clearance and it was up there with the best beers I've ever had, and now this. Inconsistent brewery, but I'll keep giving them a shot
May 08, 2020
zeff80 from Missouri
3.59
/5
rDev
-1.4%
look: 3.5 | smell: 3.75 | taste: 3.5 | feel: 3.75 | overall: 3.5
12oz can. Poured out a clear, golden orange color with a small, white head of foam. It smelled of mango, vanilla and caramel. Sweet mango taste with hints of cream and caramel.
Apr 30, 2020

CHickman from New York
3.64
/5
rDev 0%
look: 3.75 | smell: 3.5 | taste: 3.75 | feel: 3.75 | overall: 3.5
The can listing is basically the way this smells and tastes: a session sour ale with mango puree, milk sugar and of course some citrus hops. Notes of orange peel, grapefruit and biscuit trail after each sip and the mango fades.
Dec 25, 2019

HoppingMadMonk from New Jersey
3.5
/5
rDev
-3.8%
look: 3.5 | smell: 3.5 | taste: 3.5 | feel: 3.5 | overall: 3.5
Plenty of carbonation, less than medium body.
Aroma is malt,earthy,mango but not overpowering
Taste is similar to aroma with the mango there but not too strong. Mildly sweet,tart,and sour and again not too overwhelming
Sep 14, 2019
izraelc from New York
3.25
/5
rDev
-10.7%
look: 3.25 | smell: 3.25 | taste: 3.25 | feel: 3.25 | overall: 3.25
Pours very pale. Not much of an aroma or taste really. Very slight mango flavor. Not very sour for a sour ale. Not much of anything to speak of. Very disappointing.
Aug 10, 2019
VoxRationis from New York
3.59
/5
rDev
-1.4%
look: 3.75 | smell: 3.5 | taste: 3.5 | feel: 3.75 | overall: 3.75
Decanted from a 12 oz (355 ml) can into a conical pint glass; canned 03/13/19.
A: Pours a nearly clear, golden color with explosive head formation (it was a hard pour), creating a 3 to 4 finger white head, but limited retention and lacing.
S: Grassy and grainy up front with a little tanginess and definitely mango aroma after sitting for a minute or two.
T: Sweet, although not outrageously so. Flavors largely mango, celery, and light caramel with a little toffee/toast on the back end. Only a tiny bit sour with no appreciable lactate.
M: Light bodied with robust, albeit short-lived, carbonation. Refreshing and crisp.
O: A drinkable, session "sour" ale. I enjoyed it, not sure it belongs in the style category. Basically a fruit beer.
Jul 01, 2019
tigg924 from Massachusetts
3.96
/5
rDev
+8.8%
look: 4 | smell: 4.25 | taste: 3.75 | feel: 4.5 | overall: 3.75
Pours clear, gold in color with minimal head. Taste is peach, mango, and sour mix. High carbonation, slightly sour, super light bodied. Normally Southern Tier's beers scream their featured flavor. Here the mango is a bit subdued to the above average but not quite good sour flavors. If they did not label this mango, this would make an excellent tropical gose. As advertised, it makes for a good but slightly disappointing sour. That said, completely sessionable.
Jun 09, 2019
teromous from Virginia
3.39
/5
rDev
-6.9%
look: 2.5 | smell: 3.5 | taste: 3.5 | feel: 4 | overall: 3
From the bottom of the can: "D.O.B. 03/14/19 23:16:44 FL"
Appearance: The beer has a light gold body with some haze and very little visible carbonation. There is no head except for a thin ring around the glass. Pouring aggressively gives a bit of a fizzy head but nothing substantial.
Aroma: The beer smells like wheat and coriander.
Taste: There is a massive dose of coriander up front, followed by a light wheat tang that flows around the mouth and then finalizes into a slightly tart orange flavor in the middle.
Mouthfeel: The body is smooth and luscious, light but textured, and enjoyable to drink. It is a bit sticky around the mouth at the end.
Overall: I was both very disappointed and very excited by this beer. I was excited because it had this wonderful Witbier quality full of texture, coriander, and this tartness I attributed to wheat. All of this is ruined though because the beer clearly states that this is an "ALE BREWED WITH MANGO PUREE AND MILK SUGAR." There is no mango aroma or flavor to be found in this beer. Southern Tier are famous for pushing flavors into the foreground and this was simply not the case. I would recommend it to people looking for an alternative to commercial Witbiers, but as a sour and as a mango beer, I would not. I would love to drink this beer again but I would probably put a piece of tape over the "MANGO" on the can so people don't get confused.
Jun 08, 2019

MikeWard from Pennsylvania
3.73
/5
rDev
+2.5%
look: 4 | smell: 4 | taste: 3.5 | feel: 3.75 | overall: 3.75
12oz can into a pint glass. Dob 3/13/19, so a little over 2 months old.
Looks pretty good in the glass. Golden yellow body, initial fluffy white head which disappears halfway through the drink. Small carbonation bubbles, okay lacing initially.
Surprisingly, there is a nice peppery aroma.
Odd two-tiered taste to this one. Initially there is the dominant peppery taste, then this is cleared out by a fruity wash that comes off more as orange than mango, possibly due to the tart base.
Mouth around medium, finish a little citrus.
Overall, an interesting drink, where the parts are greater than the sum.
May 27, 2019

chinchill from South Carolina
3.64
/5
rDev 0%
look: 3.25 | smell: 3 | taste: 4 | feel: 3.75 | overall: 3.75
12 oz can from the Wall of Beer (Clemson, SC; $1.89) with a March 2019 canning date.
Look: Slightly hazy and very pale golden body with a modest size white head that has poor retention.
Aroma: more peach than mango with some tart melon.
Flavor: peach. mango and hints of tropical fruits and white bread. Mildy bitter with some sweetness.
Feel: light body and medium carbonation.
Overall: mild, sour that is actually sessionable.
May 04, 2019

timmy2b from New York
3.4
/5
rDev
-6.6%
look: 3.75 | smell: 3.75 | taste: 3.25 | feel: 3.25 | overall: 3.25
Light golden color when poured from 12oz can. Mango in the nose and almost nothing else. Mango was nice in the taste, but tartness was almost non existent. Needs a little work to be a sour ale.
Apr 16, 2019

GoBeers from New York
3.6
/5
rDev
-1.1%
look: 3.5 | smell: 3.5 | taste: 3.75 | feel: 3.5 | overall: 3.5
Draft in a Pint Glass. L: Clear Yellow-Gold, Thick white head, S: Fruity with a hint of tartness, T: Starts with a sweet mango fruit, translates to a general citrusy flavor and finishes with a crisp slightly sour tartness. F: Typical lighter ale, with a clean effervescence. O: A very nice summer beer.
Consumed with a dinner that was on the rich side, and the Crush really cut the richness of the food and cleansed the palate extremely well. This isn't a beer I'd typically drink solo - I prefer a hoppier style -- but I could see this as being a pretty compelling hot summer day choice, with a low ABV (4%) and a lighter style that is refreshing.
Apr 06, 2019

EMV from Pennsylvania
3.52
/5
rDev
-3.3%
look: 3.75 | smell: 3.5 | taste: 3.5 | feel: 3.5 | overall: 3.5
Poured from a 12 oz can into a Dogfish Head tulip
L: Nearly clear light golden pour with thick fluffy white head. Great lacing.
S: Mango and fruit... a bit of tart funk.
T.F: Follows the nose. Some lactose and fruit sweetness up front. Mango puree and lemon rind. Modestly tart without being sour. Pleasant with minimal funk. Light bodied... effervescent carbonation.
O: Exactly as advertised... a mango forward modestly tart ale. Super sessionable... something you could drink all day and barely feel. Overall decent.
Mar 26, 2019
Mango Crush from Southern Tier Brewing Company
Beer rating:
83
out of
100
with
49
ratings