Anniversary Ale
| Drake's Brewing Co.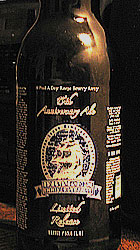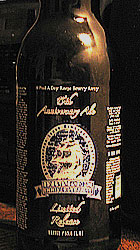 BEER INFO
Brewed by:
Drake's Brewing Co.
California
,
United States
drinkdrakes.com
Style:
American Barleywine
Alcohol by volume (ABV):
11.00%
Availability:
Limited (brewed once)
Notes / Commercial Description:
No notes at this time.
Added by beersarang on 07-04-2005
This beer is retired; no longer brewed.
HISTOGRAM
Ratings: 9 | Reviews: 8
Reviews by BrewMaster:
4.03
/5
rDev
+4.7%
look: 4.5 | smell: 4 | taste: 4 | feel: 4 | overall: 4
Drake's 15th Anniversary Ale, 1 litre flip-top bottle, $10.99 from BevMo in Chino Hills, CA.
Appearance: Poured into a 25 oz crystal sniffer glass this beer comes out strong with a murky dark brown color dotted with glints of amber when backlit. The head is a lively and fluffy with a color a few shades darker than off-white but not truly tan. The head is sticky on the sloped sides of the glass leaving nice lacing everytime the glass is tilted.
Smell: Vinous with a thick malt aroma. Very sweet in the nose with some earthy qualities and bark. The aroma of the beer leads me to think this beer will be so thick I could plaster the walls with it.
Taste: Massive brown sugar, molasses, honey, caramel and maple flavors up front. It kicks off with all things sweet and holy. But believe me when I say there is no cloying and the sweetness is not overdone. It goes right up to that line but does not cross it. The flavor continues with some tight and clean roasty malt flavor that holds a bit of a taost quality to it, The malt is creamy but with a grainy husk character to it. The third quarter shows a more refined set of flavors. Grape and winter spices like cinnamon, nutmeg, cardamom, and fennel. The ending brings a fine cap to this beer with a light alcohol warmth and a bit of very dry hop bitterness.
Mouthfeel: Full bodied and near syrupy. Clean and crisp flavors that interact well but do not blend to the point of smearing all over the palate. It leaves my mouth feel dry and slightly grainy or sandy. The warmth from the alcohol lasts in the mouth and in my stomach.
Drinkability & Notes: This is a fine beer but is very young in my opinion. I would hope some time in the cellar would round out some of the rough edges, tone down the malt, and bring out more of the fruitiness and spiciness that I know is hiding in there. It's tasty and from the description on the bottle I think the brewer wanted to defy any real style with this beer. The label notes that a lager yeast is used and certainly think calling it a doppelbock is fair enough classification. I'm going to try and pick up another bottle to sit on for a year or so and see how it tastes next year. This a yummy beer and I suggest you try it if you find it.
2,246 characters
More User Reviews:
3.97
/5
rDev
+3.1%
look: 4 | smell: 4.5 | taste: 4 | feel: 3.5 | overall: 3.5
Thanks to hopdog for opening this 1 L 15th Anniversary at the KSBF '06 after party...
Appears a hazy, dark brown with a small, light tan head that fades slowly. Spots of lacing are left around the glass.
Smell is of caramel, vanilla, wood, and lots of rich toffee that jumps out of the glass at me.
Taste is of the aromas, again with plenty of rich, syrupy caramel, vanilla, and toffee taking over in the flavors.
Mouthfeel is oaky, full bodied, with a noticable alcohol presence. Pretty enjoyable despite the high ABV.
523 characters
3.83
/5
rDev
-0.5%
look: 4 | smell: 3.5 | taste: 4 | feel: 3.5 | overall: 4
On tap @ the San Diego Strong Ale Fest Day 2. I also tasted this one out of a 1 liter bottle.
Poured a dark, hazy mahogany color with a smaller off white head. Aromas of caramel, some vanilla, and toffee. Lots of maltiness. Tastes of caramel, toffee, vanilla, and some fruitiness. Light alcohol in the finish but overall well hidden.
334 characters
3.98
/5
rDev
+3.4%
look: 4 | smell: 3.5 | taste: 4 | feel: 4 | overall: 4.5
Drake's 15th Anniversary Ale, 1989 -2004: Limited Release.
Presentation: Large 1 Liter / 33.8 fl oz flip-top brown glass bottle. White and blue colored screen printed bottle has the Drake's logo on it in. Text to the left explains the beers heritage and background, whilst to the right it recommends that this be served at 50-55°F. Listed at 11% Alc/Vol.
Appearance: Soft relaxed ruby body with some flashing cherrywood hints. Large off-white dirty tan head is deep and thick. Pseudo smooth, moreover it is comprised of large bubbles that coagulate and float in a self-contained mass which slowly snap-crackle-and-pops into a collapsed foam. A broken head eventually results and finishes with a bubbly halo ring around the edges of the glass. Gorgeously random smattered lacing covers all areas of the curved interior of my Duvel goblet. Ultra fine carbonation rises when the glass is agitated.
Nose: Hints of sour but rich warm malts with some sharp vinous after aromas. Deep earthy tones, scorched alcohol and sugar plum stained malts. Dark fruits benefit with some grainy bitterness. Striking, yet simple.
Taste: Lots of fusel alcohols, sour plums, singed brown sugars, bonfire toffee, parkin (look it up) and spicy malts. Walks down the street with a self-confident demeanor, yet it never exhibits a cocky swagger. A reasoned profile with a somewhat nicely attenuated Barleywine feel to it….listed as a Doppelbock…..WTF!?!?!...wait, erm, me no understandy….guess I'm just a dumb Limey.
Mouthfeel: The alcohol is ever present but it never seems to be in the way or even intrusive. High in the 'clicks' department yet surprisingly appeasing. Warming; in a pleasing way. Satisfying; in a gratifying one.
Drinkability: Highly Enjoyable. I actually planned to drink this monster 1 Liter bottle over a two or three night period thanks to its swing top…..seems I may make it over two, or even just the one….yeah just the one…..
Overall: Nice to see a US Craft Brewery celebrate its 15th Anniversary, not many actually make it that far it seems these days.
Music: Gary Moore….Back To The Blues…..
The AMG Guide quotes…."While Moore isn't redefining the genre or even his own approach to it, he's adding his stamp to blues-rock with Back to the Blues"…..I feel exactly the same about this brew, which is not a bad thing!!
2,363 characters

4.32
/5
rDev
+12.2%
look: 3.5 | smell: 4 | taste: 4.5 | feel: 4.5 | overall: 4.5
02/22/09- Purchased at Ledger's in Berkeley, CA. Aged since 2005.
Presentation- One liter swingtop bottle, 2005 special release. Poured into a Duvel glass.
Appearance- Copper hued in color. Spotty and light lace trails with a 1/2 inch head on pour which quickly fades.
Smell- Rather restrained nose, but good. Caramel malt, very light hop aroma, vanilla and a touch of alcohol.
Taste- Quite smooth with vanilla caramel combined flavor. Hops are still here, but have faded over the years and the malt has taken over. Sweet, but just about the right amount. Very little alcohol noticed.
Mouthfeel- Smooth and silky. Medium to a slightly lower carbonation level. Sweetness remains in the aftertaste.
Drinkability- Really enjoyed this beer. I'm glad I had the chance to finally try it and share it with some other BA friends. Wish I had purchased another one 4 years ago.
873 characters

3.9
/5
rDev
+1.3%
look: 4 | smell: 4 | taste: 4 | feel: 4 | overall: 3.5
Pours with a frothy tan colored head that sits atop a brilliantly clear orange amber beer that shows ruby highlights. The aroma has a concentrated fruitiness to it that has notes of cherries, raisins, sweetened dried cranberries, prunes and figs, and in the finish brandy. Underneath this is a rich maltiness that has notes of caramel, fresh toasty bread crust, and a rich maltiness that is concentrated and interesting.
The taste is fairly sweet up front with sweet caramel and toffee notes. After the first sip the finish has a bit of hot, sharp alcohol to it. The beer is pretty malt focused with a mix of toasted malt notes and notes of biscuits thrown together with the dominant sweet concentrated malt notes. There is a nice bitterness in the finish, and a subtle hop character that runs throughout; it has a bit of herbal character to it, but mostly seems to play up the fruity malt notes. This beer certainly has some fruitiness to it; like the aroma I get notes of cherries, raisins, and a bit of fig & prune as well.
I really think that this beer needs a couple more years of aging; this thing probably won't start to peak for another 2, if not 5, years. So if you have any extras hold on to them for a while, they should age quite nicely. The rich malt character that is in this beer should soften around the edges, become a bit less sweet, the fruitiness will die down a bit, and some aspects of the malt should intensify. Overall this is pretty tasty now, but a few years will make this even better.
1,518 characters
3.58
/5
rDev
-7%
look: 4 | smell: 3.5 | taste: 3.5 | feel: 3 | overall: 4
Amber color, with a smooth and large head of off-white foam, which shows nice retention. Aroma is very hoppy, with a weedy, floral, peppery and herbaceous blend. The nose also has hints of apple, caramel and brash alcohol. The flavor is initially sweet and malty, with caramel and toffee flavors, as well as apples and pears, until the mid-palate shifts to a blast of dry, herbal hop flavor, which lingers on with spicy and weedy accents. Medium body, with a mildly creamy, but not so texturized body.
501 characters
3.03
/5
rDev
-21.3%
look: 4 | smell: 3.5 | taste: 3 | feel: 3.5 | overall: 2
IMPORTANT INFO:
The style of this beer is hard to describe, although I classified it as a Doppelbock because of the usage of munich and german hops, as well as it's lager fermentation, the fermentation temp was fairly high and the beer is also therefore classified as a mix or cross style experimental beer. Also look at the hefty alcohol content as well.
Pours a red brown with a tan head, pretty sticky overall.
Fruity malty aroma is pleasing.
Good malt presence up front, the bready grainy munich is quite apparant. However, the beer hits the back of the tongue and all goes downhill. The bitterness is a little rough, but beyond that, the alcohol is not hidden well at all. The alcohol is very slick and gasoline like. Incredibly unpleasant.
Medium bodied, medium carbonation, but I don't want to have this again. Because of its rarity however, I recommend that you try this unique beer, just to get a glimpse of this interesting experience.
958 characters
Anniversary Ale from Drake's Brewing Co.
Beer rating:
3.85
out of
5
with
9
ratings