Head Banger!
| Midnight Sun Brewing Co.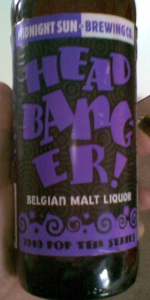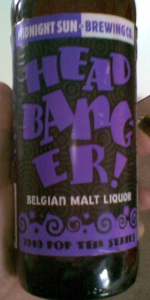 BEER INFO
Brewed by:
Midnight Sun Brewing Co.
Alaska
,
United States
midnightsunbrewing.com
Style:
American Malt Liquor
Alcohol by volume (ABV):
8.80%
Availability:
Limited (brewed once)
Notes / Commercial Description:
No notes at this time.
Added by dragonWhale on 10-19-2010
This beer is retired; no longer brewed.
HISTOGRAM
Ratings: 15 | Reviews: 11


3.48
/5
rDev
-7.7%
look: 4 | smell: 3.5 | taste: 3.5 | feel: 3 | overall: 3.5
Thought I had reviewed this prior to the Malt Liquor Showdown of Death, but I guess not.
A - Yellow-golden beer, clear, a white head, little lace, bit of a ring. Looked out of place in something that wasn't a plastic cup, but actually looks fine.
S - Sweet, corn, syrup, little yeast, grain.
T - Okay, it's really not that bad, but it's still a malt liquor so it's not going to be that good. Mostly sweet with honey and pale malts, some adjunct tasting corn and honey.
M - Medium bodied, slightly drying finish, not a ton of carbonation.
O - It's not bad, particularly for a malt liquor, although even if it were to rank #1 on malt liquors I would want to drink, it would probably rank #10000 overall on beers I would want to drink. Eh, whatever.
751 characters

3.33
/5
rDev
-11.7%
look: 3.5 | smell: 3 | taste: 3.5 | feel: 3 | overall: 3.5
Part of the 1st Annual Malt Liquor Showdown
A-Brown/yellow
S-Some yeast and a lot of corn.
T- Lots of corn, little bit of yeast. just like the smell Setting the bar (which is broken by liquor be malt)
M-Medium body and actually smooth for the style
O-Very good malt liquor. No Liquor de Malt though...
307 characters

4.02
/5
rDev
+6.6%
look: 3.5 | smell: 4 | taste: 4 | feel: 4.5 | overall: 4
Bottle courtesy of Steve (akbeerfiend). Served in a plastic cup, mostly so I could share it without risk of germs, otherwise it'd be paper bag all the way. Consumed at the West Lakeview/Founders BBQ and malt likka event.
A - A fizzy quick-dissolving white foam settles to a partial cap, solid ring, and a bit of spotty lace. Transparent golden body that seems a bit dark for the style.
S - Honey, candi sugar, light estery Belgian yeast influence, corn, stone fruits, toasted grains.
T - Again, it's largely honey, sweet malts, stone fruits juicy corn, and a surprising touch of bitterness in the finish that I wasn't expecting from a 10 IBU beer.
M - Smooth texture, medium body, dry clean finish, and no obvious alcohol. The only thing not to style was the surprisingly low carbonation. I remember hearing from Ben that all "Belgian" Midnight Sun beers are bottle-conditioned, while everything else is force-carbonated. I guess this is technically a Belgian?
D - Pretty easy drinking beer, and an extremely efficient way to consume large quantities of alcohol. No one disliked this, and everyone finished his or her pour. I personally preferred Cornballer, but if you need an obligatory malt liquor tick there are far worse options than this beer.
1,254 characters

4
/5
rDev
+6.1%
look: 4 | smell: 4 | taste: 4 | feel: 4 | overall: 4
22oz bottle shared at the Brick Store a while back.
Pours a crystal clear golden amber with a thin bubbly white head head that settles down to a thin collar quickly.
The nose is sweet with a mixture of corn, sugar and light fruits - pears and apricots maybe. There is a bit of spiciness in the nose, but not overly so as there is more of a grainy character than spiciness.
The taste is lightly spicy up front, with some coriander maybe, but the sweet sugary malts and corn dominate the taste. There is more fruit notes than any malt liquor I've had. Very complex for the style with little residual sweetness or bitterness in the finish.
The mouthfeel is clean, dry and crisp with strong carbonation.
I haven't had many malt liquors and it's a little tough to judge how I should rate this as it the best I've had of the style. Another great beer (certainly for the style) from Midnight Sun.
894 characters
4.32
/5
rDev
+14.6%
look: 4 | smell: 4.5 | taste: 4.5 | feel: 4 | overall: 4
I poured this into a Brooklyn Imperial pint glass, but I think maybe I should've drank it out of the bottle with a brown paper bag
appearance: It's golden, amber, thin layer of head, lots of bubbles
smells like corn, sweet cereal and a bit of yeastiness
sweet, cooked corn, funky and a little bitter from the yeast, the hops are there but just barely recognizable
finishes clean, lots of snappy carbonation, medium in body. Nice
Not much to think about, it tastes good, goes down smooth while reminding me of my youth, but not reminding me of my youth TOO much.
Really good, really fun, it's clever, it tastes good
620 characters
3.6
/5
rDev
-4.5%
look: 4 | smell: 4 | taste: 3 | feel: 4 | overall: 4
Thanks to AmericanBrew for sharing this bottle.
The beer pours a yellow-amber color with a white head. The aroma is alcohol, wheat, citrus and surprisingly, some darker fruit.
The flavor is grain, toffee and alcohol. After the aroma I was expecting a little more from the aroma, but it is still not bad.
Medium mouthfeel and medium carbonation.
Definitely better than the basic malt liquors that come in clear, 40 ounce bottles.
435 characters

3.7
/5
rDev
-1.9%
look: 3.5 | smell: 3.5 | taste: 4 | feel: 3.5 | overall: 3.5
Thanks, Bobby, for another Malt liquor tick.
A: The pour is a clear golden color with perhaps a bit of an orange tint to it. The head is white and sticks around much better than usual for a malt liquor.
S: The nose is pretty typical for a malt liquor. We've got corn, apple juice, and a grainy sweetness. Perhaps a touch of sweet fruitiness that you don't always get, but pretty standard otherwise.
T: Things are pretty much the same on the palate. White grape juice, apple juice, corn, and perhaps even a bit of honey flavor. Weird, but appreciated. This is really, sweet though, approaching cloying.
M: The body is much fuller than usual for malt liquor, perhaps even a bit sticky. The carbonation is moderate.
D: I'm not entirely sure what's "Belgian" about this, but it wasn't bad at all. Another malt liquor tick...
825 characters
4.32
/5
rDev
+14.6%
look: 4 | smell: 4.5 | taste: 4.5 | feel: 4 | overall: 4
Chilled bomber into a glass. One of the many fine malt beverages shared by t0rin0 in the soon-to-be-legendary "We'll show the Bay Aryans how to tick" tasting.
A: Pours a clear copper-gold body. I forgot to take notes on the head, and I am 100% sure no one will actually care.
S: White corn, apricot, peach, grain, honey, a touch of spice (nothing specific; maybe coriander, but it reminded me more of the natural spiciness of fresh honey).
T: I still get honey. Somewhere, I can hear alfrantzell laughing at me. Anyway, it progresses into stone fruit flavors of apricot and peach, but the finish is dominated by grain and white corn. It's a relatively clean profile that doesn't have the metallicity of something like Steel Reserve. I don't think this will raise the esteem of malt liquor in the eyes of many, but given what the beer is working with, it's not bad at all. And rating to style, it's the best malt liquor I've ever had... (I can't believe I just wrote those words.)
M: Not much lingering bitterness, and it's quite smooth with regards to ABV. I don't know much about grading the mouthfeel of a malt liquor, though.
D: I polished off the bomber after everyone left. It gave me a malt liquor hangover. But man, it went down smoothly. If I were rating to style (and I am), I'd acknowledge that this is in the top of its class.
1,347 characters

3.75
/5
rDev
-0.5%
look: 3.5 | smell: 3.5 | taste: 4 | feel: 4 | overall: 3.5
Thanks, Bobby.
Clear burnished gold, a few shades darker than the average malt liquor. The nose has a nice fruitiness, stonefruit and white grapes, some pale malt and corn. Taste is pretty good, grainy and corny, light fruitiness largely in the form of white grapes. Finishes smooth and grainy, moderately sweet. Very little bitterness or alcohol, this is pretty damn good for a malt liquor.
392 characters

3.62
/5
rDev
-4%
look: 3.5 | smell: 4 | taste: 3.5 | feel: 3.5 | overall: 3.5
On draught at the loft, Head Banger is burnt gold with wisps of white skim.
Smell is big fruity esters, Belgian for sure.
Taste is similar, very estery, but with a spicy bite. Phenolic, a bit hot, but tempered by the sweetness of the malt/corn.
Mouthfeel is slick, but fairly viscous. Seems under-attenuated, missing that fine, soft MF that MSBC does so well.
Drinkability isn't too bad, I dig the tropical fruit flavors, but I still prefer pils to malt liquor/corn base beer for a Belgian blonde.
505 characters

3.93
/5
rDev
+4.2%
look: 4.5 | smell: 4 | taste: 4 | feel: 4 | overall: 3.5
From the Pop Ten series..Not truly an American Malt Liquor...A Belgian Malt Liquor! Coming in at a whopping 10 IBUs..
Pours a fairly clear straw color with an outstanding pillar of white foam. Sweet boozy malty goodness with some ripping phenols, candy apples, sweet corn. The flavor is wonderful, easy drinking.
Malty and not at all metallic. Like they didn't use the cheapest corn they could find. Now maybe that's not true, and it was the cheapest they could find. In which case, I blame the yeast for doing such devilish work.
Got to try this in the loft at the brewery, which in turn led to my buying this cute bottle.
632 characters
Head Banger! from Midnight Sun Brewing Co.
Beer rating:
3.77
out of
5
with
15
ratings