Bow Valley Lager
| Big Rock Brewery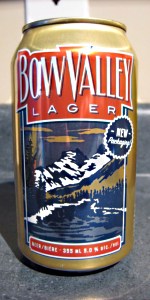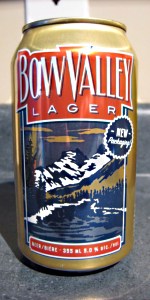 BEER INFO
Brewed by:
Big Rock Brewery
Alberta
,
Canada
bigrockbeer.com
Style:
American Adjunct Lager
Alcohol by volume (ABV):
5.00%
Availability:
Year-round
Notes / Commercial Description:
No notes at this time.
Added by Shadman on 06-20-2007
HISTOGRAM
Ratings: 14 | Reviews: 7
Reviews by Shadman:

2.5
/5
rDev
+2.9%
look: 2.5 | smell: 2.5 | taste: 2.5 | feel: 2.5 | overall: 2.5
the final chapter in the leftover-from-june 2007 BBQ trilogy. As you can clearly see, I need to beer educate the peeps I hang with.
Average looking macro..head retention was poor( but then it was a bit too cold) and lacing minimal.
Aroma-wise it didn't reveal much for. Certianly no awful cabbage smells, etc. Some grains, but that's about it.
Taste initially, wasn't bad..pretty average actually..nothing bold, nothing ack either. Some faint grainy malt and even fainter hops with a bit of kick from the carbonation level. Where this beer really fell short was in the aftertaste...nothing really offensive, but a tinny bitterness that tended to linger..maybe from the can.
as far as the local buck-a-beer stuff goes, this is leaps and bounds ahead of Mountain Crest, but after saying that..it's still average to below average at best.
847 characters
More User Reviews:
2.38
/5
rDev
-2.1%
look: 2.5 | smell: 2 | taste: 2.5 | feel: 2.5 | overall: 2.5
355ml can. Hmmmm...Big Rock, you say? But "Pine Creek" sounds so much more, you know, 'crafty', or something. And 'New Packaging' is all you've got to say about your product? Christ on a crutch, man.
This beer pours a crystal clear, pale golden straw hue, with two fingers of thinly puffy and weakly foamy dirty white head, which dissipates rather quickly, leaving some sparse, and well, sparse lace in its hasty wake.
It smells of pithy grainy, um 'malt', likely just corn grist and rice husks, and some acrid, exhaust-fume-esque je ne sais quoi bullshit. The taste is more weak breadiness, warm grain, and clammy corn, malt, and rice, all in one unhappy 'alliance', and yet it shows a hint of alcohol (at 5%!), with the deployed hops unsurprisingly in witness protection or something.
The bubbles are pretty tame for the style, the body actually sporting some undeserved, yet unhelpful weight, all in a smooth, sure, but actually more cloying manner. It finishes off-dry, the wan, short bus malt carrying on as ever was, while the skunkiness factor remains surprisingly low.
This is actually somewhat easy to drink, if you do it fairly quickly, i.e. not allowing it warm, and don't actually think about it. The middling Big Rock lineage kind of leaks through the many layers of dumbing down at times, but is hardly enough to save this from the dregs in the end.
1,369 characters

3.1
/5
rDev
+27.6%
look: 3 | smell: 3 | taste: 3.25 | feel: 3 | overall: 3
The Bow Valley Lager is better than the rating its getting. The appearance is standard...not much head not lace but pours clear and golden. The scent is typical of this type....slight grain. The taste is well balanced and easy drinking. The mouthfeel is lighter in body with good carbonation. Overall its decent.
317 characters

2.5
/5
rDev
+2.9%
look: 2.5 | smell: 2.5 | taste: 2.5 | feel: 2.5 | overall: 2.5
Gold can with blue mountain pic and red lettering, "NEW Packaging!" in a blue seal. "Brewed by Pine Creek Brewing Co. Ltd. Calgary, Alberta, Canada T2C 4L8".
Looks pretty average, straw yellow, small white head that quickly disappears. No real aroma, at least nothing terrible. Taste isn't bad, just average, slightly sweet, a bit grassy. Lots of carbonation. Slightly bitter, metallic aftertaste. A cheap alternative to be drank ice cold.
439 characters

2.57
/5
rDev
+5.8%
look: 2 | smell: 2.5 | taste: 2.5 | feel: 2.5 | overall: 3
Appearance off the bat is pretty bland, very pale and head fizzes away almost immediately.
Very little aroma besides a hint of grains.
Taste-wise, it is a bit sweet and grainy. Carbonation is definatly evident. Aftertaste is a bit sour and rough. Overall, a very watered down beer but easy to drink.
In terms of bargain beers, this is tolerable but can do better with beers that are only cost a bit more.
407 characters

2.42
/5
rDev
-0.4%
look: 2.5 | smell: 3 | taste: 2 | feel: 2.5 | overall: 2.5
I have only one out-of-country trader, BigBry, but he lives up in CANada and keeps me plied with CANadian CANs in support of The CANQuest (TM). Many thanks, and Merry Christmas!
From the CAN: "NEW Packaging!". Wow, pretty minimalist, but the gold of the CAN was shining like a beacon in the reefer.
The Crack & Glug was according to industry standards and so I had a finger of fizzy bone-white head that was fizzling its way out of existence as I typed. Color was a light lemon-yellow with a slight chill haze. Nose was unmistakably adjuncts with corn somewhere in the equation. Nothing new here, folks. Mouthfeel was on the watery side and I was getting an odd sour apple and metallic tang on the tongue. Finish was equally odd with a lot of off flavors fighting for supremacy and all failing miserably. The reviewer that mentioned having this cold hit the mark. This was a stinker.
885 characters

1.69
/5
rDev
-30.5%
look: 1.75 | smell: 2 | taste: 1.5 | feel: 1.5 | overall: 1.75

2.26
/5
rDev
-7%
look: 3 | smell: 2 | taste: 2.5 | feel: 2 | overall: 2
Pine Creek Bow Valley Lager doesn't look offensive - then again appearances can be deceiving. Aside from it being completely flat there's no real telltale signs of inferiority, the beer seems like any old commonplace lager. Its clear yellow body looks harmless enough, surely nothing this fair and transparent can be displeasing? Right?
Wrong. To say this smells "off-putting" is like calling the Challenger explosion a "minor mishap" for NASA or Chernobyl a "slight setback" for Mother Nature. Speaking of Chernobyl, this smells like something toxic and unnatural. The reeking aura of corn syrup is terribly synthetic and strikes me as being a diluted mess of chemicals and fillers.
The word to describe this taste would be "blah". It's like drinking a flask of ethanol-infused high-fructose corn syrup, the most industrially refined crap that was probably destined for use as a preservative or sweetener. The flavour of glucose trumps all others and any notions of grain or barley malt can hardly even be feigned. No more. No more.
Bow Valley Lager might compare favorably to a lot of other, cheap domestic brands or low-grade import swill if only it wasn't so damn syrupy and synthetic tasting. The body is flat - it tastes like a warm lager even when it's cold - and the feeling it leaves in the mouth is foul and cloying. They've obviously used the cheapest, lowest grade ingredients.
Question: What does this and rat poison have in common? Answer: You can hardly get through a quarter of a can before violently throwing up. Unlike rat poison, however, this won't kill you (at least I don't think it will, then again I'm not willing to drink the full six pack to find out). Take my word: this stuff is terrible and should be avoided like the plague.
1,762 characters
3
/5
rDev
+23.5%
look: 3 | smell: 3 | taste: 3 | feel: 3 | overall: 3
3.32
/5
rDev
+36.6%
look: 3.25 | smell: 3 | taste: 3.5 | feel: 3 | overall: 3.5
Found this beer to be light and smooth. Not at all like cheaper lagers that are similar. Tasty beer, with a nice crisp feel.
124 characters
1
/5
rDev
-58.8%
Diluted pureed skunk anus.
26 characters
Bow Valley Lager from Big Rock Brewery
Beer rating:
2.43
out of
5
with
14
ratings