Power Of ONE

Sand City Brewing Co.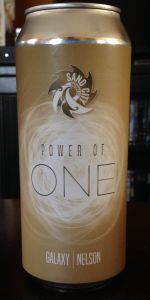 Write a Review
Beer Geek Stats:
| Print Shelf Talker
Style:

ABV:

8.2%

Score:

Avg:

4.5

| pDev:

4.89%

Reviews:

14

Ratings:

From:

Avail:

Rotating/Seasonal

Wants

Gots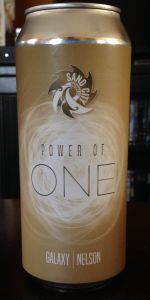 Notes: DIPA brewed with Galaxy and Nelson.

ThickNStout from Georgia
4.36
/5
rDev
-3.1%
look: 4 | smell: 4.25 | taste: 4.5 | feel: 4.5 | overall: 4.25
16oz can from Sprayberry Bottle Shop (Marietta, GA). 4.99. Canned 2/11/19. Served in a teku. Enjoyed 3/18/19.
Pours an opaque, muted hay yellow with a fairly short cap of white head. The froth settles, leaving minimal retention.
Smells of sweet berries and tropical fruity hops. Passion fruit, oranges, melon, berries and some vague bread.
Tastes a bit more bitter than the nose hinted but it works well. Passion fruit, cantaloupe, orange, seedy berry, lemon drops, fresh cut floral greens, bread and an occasional nip of booze.
Medium full, almost slick feel with mellow carbonation. The slightly bitter aftertaste hints at berry seeds, citrus peel and melon.
Glad I followed my "beer guy's" advice and grabbed some Sand City for their special release in Georgia. Power Of One really lets the Australian hops shine in a solid NEIPA vessel. Looking forward to trying more from Sand City.
Mar 19, 2019
VoxRationis from New York
4.55
/5
rDev
+1.1%
look: 4.5 | smell: 4.5 | taste: 4.5 | feel: 4.5 | overall: 4.75
Served on tap into a goblet at the Sand City Brewery.
A: Pours a cloudy, orange-yellow color with a one finger, white head, solid retention, and sticky rings of lacing.
S: Spicy, as in cardamom. Lime aromas acts as a very interesting counterpoise.
T: Semidry. Almost reminiscent of a chili beer. Lime and grapefruit flavors strong and offer a cooling presence. Bitterness light.
M: Medium bodied with medium to strong carbonation. Creamy and rich; drinks exceptionally smoothly.
O: An unusual and really flavor forward NEIPA. Really enjoyed and brought some home..
Feb 16, 2019

BayAreaJoe from California
4.45
/5
rDev
-1.1%
look: 4.25 | smell: 4.25 | taste: 4.5 | feel: 4.75 | overall: 4.5
Canned 7/31/18, consumed 11/21/18
Just received this can in the mail from a friend in NY, VERY impressive for a 3+ month old hazy! Aroma is quite light & muted, but it still has the nice white wine/grapes/gooseberry taste from the Nelson. Can only imagine what kind of blast this would be fresh. Feel is really smooth & outstanding for an imperial hazy.
Overall, top notch and right there with the best of the same style out here. Makes we want to visit NY.
Nov 22, 2018
stclairvoyant from Tennessee
4.61
/5
rDev
+2.4%
look: 5 | smell: 4.5 | taste: 4.5 | feel: 4.75 | overall: 4.75
This the first beer I've had from Sand City. Came in a 5oz pour as part of a flight at the brewery. Had a beautiful, hazy orange hue, smelled of tropical fruits and citrus. Immediately hits you with the tropical fruit once you sip it - big papaya/guava/mango flavors up front thanks to the Galaxy hops. Probably the best thing about this beer, though, is how ridiculously smooth it is at 8.2%. Big hops and bitterness are there, but toned down to a pleasant point. Definitely a new favorite of mine.
Aug 09, 2018
trippyleaks from New York
4.58
/5
rDev
+1.8%
look: 4.75 | smell: 4.75 | taste: 4.5 | feel: 4.5 | overall: 4.5
This was the first Sand City I've tried. Acquired at a trade in line for an OH release. Loved it. One of the few IPAs that can hold it's own when compared to the better OH and Tree House stuff. Galaxy and Nelson combo is a total winner. The papaya and tropical punch of the Galaxy is complimented and framed by the tangy white grape juice and raspberry tones of the Nelson. These hops work wonders together and both shine through without competing in any way. Will definitely be hunting down more Sand City libations.
Mar 09, 2017

BEER88 from Washington
4.75
/5
rDev
+5.6%
look: 4.75 | smell: 4.75 | taste: 4.75 | feel: 4.75 | overall: 4.75
Can poured into a tulip. Hazy/murky golden orange with a white head. Lacing rings the entire glass as I drink. Smell is fruit juice with grape and wine notes, no malt smell at all. The taste is like a bubbly tropical juice with a splash of wine in it. A medium slick feel with a bite in the end. Very good showcase of these two hops and I look forward to some more sandcity cans in the future. Cheers.
Mar 03, 2017

DougAtlantis from New York
4.66
/5
rDev
+3.6%
look: 4.5 | smell: 4.75 | taste: 4.75 | feel: 4.5 | overall: 4.5
Trillium's Dialed In is one of my favorite DIPA's ever, especially the Sav. Blanc. variant with Galaxy and Nelson. So imagine my delight when seeing some good ole' Aussie/Zeal introduced to the 3rd One series release. And man does it deliver. Nelson is so damn unique with that big sweet white grape nose. So dominant, pungent and cutting followed by that typical galaxy passionfruit peachy tropical vibe. Mouthfeel and finish is smooth as ever. If you are into this hop combo, it's an experience. Killer brew.
Mar 01, 2017

unclejazz from New York
4.54
/5
rDev
+0.9%
look: 4.25 | smell: 4.5 | taste: 4.5 | feel: 5 | overall: 4.5
Great showcases of down under hops, better mouthfeel than the best OH combi imperials. Quite fantastic. Just a hint of sweetness to round out the balance of flavors.
Feb 27, 2017
curtis6290 from New York
4.75
/5
rDev
+5.6%
look: 4.75 | smell: 4.75 | taste: 4.75 | feel: 4.75 | overall: 4.75
Canned 2/18/17. Enjoyed 2/24/17. Acquired in a trade for OH DDH Broccoli.
Look: Very well blended, lighter orange, hazy, murky, smoothie. Nice head that lasts. (9/10)
Smell: Peach, Caramel, Orange, Lemon, Mango, Floral, Dank. (9/10)
Taste: Salty, Sweet, Pear, Peach, Lemon Juice, Floral, Caramel. (9/10)
Feel: Immediate punch of hops that mellows out nicely. Lingering bitterness with a caramel hint. Water mouthfeel. (9/10)
Overall: This might be their best yet. Very smooth, nicely blended. The hops are powerful, and the malt gives it a great change of pace. Reminds me of Dinner. (9/10)
Feb 25, 2017

CHickman from New York
4.55
/5
rDev
+1.1%
look: 4.5 | smell: 4.5 | taste: 4.5 | feel: 4.5 | overall: 4.75
Canned 1/18/2017, it pours cloudy gold tan color with a 1-2 finger off white head which faded very slowly and left great foamy lacing coating the sides with rings as it went down.
Smells of pineapple and grapefruit up front, followed by guava, tangerine, white wine, floral hops, mild peppery spices, piney hops, biscuit, sweet malt and some brown sugar and/or toffee. The citrus notes dominate and keep the lemon in check but still allow for lots of complex citrus aromas.
Tastes of red grapefruit, tangerine, lemon, orange peel, tea leaf, piney hops, dry floral hops, biscuit, toasted grains, buttery wheat bread, pepper and other spices like coriander, grass, earthy notes and then it trails off bitter and sweet. It faded on the dry side with sweet grainy flavors and toffee before the citrus kicks up again.
Mouthfeel is smooth and almost slick with mild carbonation, a medium body and a sharp bitterness with mild alcohol heat. This batch need another week to mellow out IMO, but overall this is another great beer from Sand City. I liked Infinity + ONE the best of the 3 "ONE" series thus far, but all of them were great DIPA's.
9/16/2017 Release: Had a can and it was delicious. The bitterness was more refined and it was smooth as it went down, masking the ABV perfectly. If it was the same recipe it came out better this time and was easier to drink on day one. Raising the "Overall" score from 4.5 to 4.75 which bumped the Rating from 4.5 up to 4.55.
Feb 21, 2017
Phreeballing from New York
4.85
/5
rDev
+7.8%
look: 4.75 | smell: 4.75 | taste: 5 | feel: 4.75 | overall: 4.75
Just an incredible beer. Super smooth at 8.2%. I love the hop combination here. I was blown away by the first "one" beer and they just get better each time. So awesome to have these guys on the island.
Feb 20, 2017

Boccu from New York
4.77
/5
rDev
+6%
look: 5 | smell: 4.75 | taste: 4.75 | feel: 4.75 | overall: 4.75
Canned 2/18/17. Another beast from Sand City. Power of one is no step child in the one family. Pours super merky golden. Two finger white head which fades slowly with great lacing. Taste is awesome! Danky hop start ,galaxy, light citrus, mango and very light white pepper finish. Exceptional DIPA. Look forward to more of the one family from sand city.
Feb 20, 2017
cosmicevan from New York
4.87
/5
rDev
+8.2%
look: 5 | smell: 4.75 | taste: 5 | feel: 4.75 | overall: 4.75
can from this morning's release into a glass on this balmy 60 degree mid February day. as w one and infinity plus one, this is another killer w just a new hop angle. juiciness at its finest. super dank fresh hop w big galaxy fruit bursts and a really excellent Nelson finish. as good if not better than the other 2 incarnations of this beer.
Feb 19, 2017
Greywulfken from New York
4.5
/5
rDev 0%
look: 4.5 | smell: 4.5 | taste: 4.5 | feel: 4.5 | overall: 4.5
An 8.2% DIPA brewed with Galaxy and Nelson hops - far as I know, canned either yesterday or today, 2/19/17, as I picked it up at the brewery release this morning but there is no canning date on the can... Having this shortly after having their Washed Up IPA, and the New England-stylings are very similar - looks the color of grapefruit juice, opaque, washed out gold, with a finger-plus of lacy foam that left some trails of lace down the glass. Aromas on this were of the "dank" citrus type - suggestive of a variety of pale fruits, but with something of an earthy edge. Flavors in line with the nose, dark grapefruit pith and musky white wine grapes - super-plush and smooth, well-carbonated and clean-finishing - again, the bitterness is moderate but tighter than their Washed Up IPA, and the sweetness mild, but there was something of a Sweetart-like tang on the finish; nonetheless making for a clean-finishing drink that is easily follow-able by another...
Feb 19, 2017
Power Of ONE from Sand City Brewing Co.
Beer rating:
97
out of
100
with
70
ratings