Black Cherry Lambic
| Bluegrass Brewing Co. - East St. Matthew's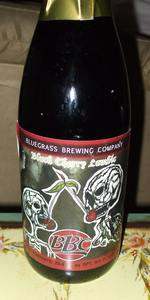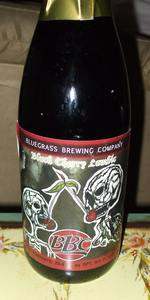 BEER INFO
Brewed by:
Bluegrass Brewing Co. - East St. Matthew's
Kentucky
,
United States
Style:
Lambic - Fruit
Alcohol by volume (ABV):
6.00%
Availability:
Limited (brewed once)
Notes / Commercial Description:
No notes at this time.
Added by beveritt on 03-21-2009
This beer is retired; no longer brewed.
HISTOGRAM
Ratings: 2 | Reviews: 2

3.42
/5
rDev 0%
look: 3 | smell: 3.5 | taste: 3.5 | feel: 3 | overall: 3.5
A solid pour into my 25cl tulip glass produces a three-finger thick, tan colored head. The beer is a murky red-amber color that shows a hazy, orange-red, light amber hue. The aroma smells of strawberries and is quite fruity, but not really cherry smelling per se. Actually I can smell both strawberry flesh as well as the piquant seeds in this beer. A backnote of lactic and acetic notes that just barely suggest a tartness here. There seems to be a touch of dusty, musty toasted grain here as well, but all in all this has a fairly mutted aroma and isn't nearly as distinct as I was expecting.
Nicely tart up front with more lactic than anything, though a bit of acetic sneaks in towards the finish. The flavor definitely has a fruitiness to it, but again it is not distinctive of cherries. In fact it, again, reminds me of strawberries more than anything; it is not distinctly of strawberries as the aroma was, but I can still taste that crunchy strawberry flavor that one gets when you bite into a rip strawberry and its small seeds. The acetic presence is growing on me, or it is becoming more noticeable as time goes on. This is not overly tart, but the acetic notes do add a bite that is not in the usually more lactic focused Lambic style, in fact there may not be too much of lactic presence here in the end. This is fairly light bodied, though it does have a certain viscous slickness to it.
While I might be convinced this was a strawberry sour beer, I am having a hard time seeing this as a fruit beer at all much less a cherry one; it is fairly fruity over all though, but I would hazard a guess that the brewer didn't use proper sour cherries for this beer as you really need to in order to get a proper chewy cherry character. As with the Nut Brown Lambic I had the other week, this beer is a poor attempt at actually being a Lambic; though it could be a half way decent attempt at a Flemish Red. I like that this beer is quite balanced in its flavors, even if they aren't quite what I would prefer.
Big thanks to Tayner for getting me the chance to try this beer.
2,081 characters
3.97
/5
rDev 0%
look: 3.5 | smell: 4 | taste: 4 | feel: 4 | overall: 4
Presentation: Poured from a 750 ml green bottle into a champagne flute. I picked this up, along with some other BBC bottles, while visiting the brewpub in Lexington for dinner. Apparently BBC brewed a lambic and made a few variations b mixing it. This one was mixed with sweet cherries after being aged on charred oak for over a year. Label is pretty cool, depicts two skull biting on two cherries connected by the stem. No freshness date.
Appearance: Pours with very little head or evidence of carbonation. Some bubbles rise, giving an incomplete coating of foam. This almost instantaneously disappears, leaving just a partial ring around the glass. The beer itself is an interesting color. You would swear it is dark red, until you hold it to the light and it is a slightly cloudy amber with only hints of red.
Smell: Cherries,leaning more to sweet but still displaying some sourness. Slight musty undertones.
Taste: Musty and earthy tones right upfront, blends into a sour cherry bite with a hint of sweetness. Sharp sourness in the finish.
Mouthfeel: Average carbonation level, much more prevalent in the mouthfeel than evidenced by the head. Body is decent.
Drinkability: Glad I am splitting this one with my wife. While I enjoy the flavor and the sourness, it certainly gets to me after a while. All in all, an interesting beer that I am glad I picked up.
1,376 characters
Black Cherry Lambic from Bluegrass Brewing Co. - East St. Matthew's
Beer rating:
3.7
out of
5
with
2
ratings