Anacapa Brewing Company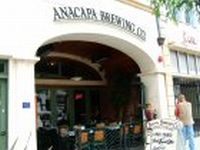 PLACE INFO
Type:
Brewery, Bar, Eatery
472 E. Main Street
Ventura
,
California
, 93001
United States
(805) 643-BEER |
map
anacapabrewing.com
Notes:
No notes at this time.
Added by elmocoso
Reviews: 15 | Ratings: 27
3.78
/5
rDev
+13.5%
vibe: 3.5 | quality: 4.5 | service: 4 | selection: 2.5 | food: 4.5
We went on a weekday early afternoon. Once we got service, the waitress was very attentive. Both the SW Cobb salad and garden veggie pizza were great. Beer selection was limited and house brews were very "safe". We tried the Santa Rosa red, Pierpont IPA, and Harvest Pumpkin. All were acceptable, but nothing much above average.
There are 3 TVs and various seating options. WIFI was free and dogs are allowed outside. Staff was friendly to us as visitors.
We left in search of tastier beer.
492 characters

3.55
/5
rDev
+6.6%
vibe: 4 | quality: 4 | service: 3 | selection: 3 | food: 4.5
I just moved to the area and im glad to have this place in walking distance. Located on Main St. in downtown Ventura this is a nice place to stop in for a beer on the way to the beach (3 or 4 blocks away). When you enter there is a long bar down the right hand side and seating on the left. They usually have at least 3 of their brews on tap and 2 guest taps. I dont think their beer is spectacular but its tasty and a decent price ($5) and they happy hour until 6 pm ($4 pint). Staff is friendly and they are more than willing to pour you a small taster before you order. The food is in this place out shines the beer in my opinion, Ive only had a couple of different things but I really like their burger and fries. Definitely worth stopping if you happen to be in Ventura.
775 characters
3.48
/5
rDev
+4.5%
vibe: 3 | quality: 3 | service: 4 | selection: 3.5 | food: 4
I stopped here on a rainy Friday evening on my way to SF beer week a couple weeks ago. The building was clean and nice, quiet, and the brewing equipment is behind the bar. I sat at the bar and ordered a set of samples, which was 5 house beers. I tried the:
C Street Wheat Ale (3.3)
Mirage Rye Pale Ale (3.6)
Mission Nut Brown Ale (3.2)
Santa Rosa Red (3.75)
Two Trees Double IPA (3.6)
The food however was quite good. I ordered The Scorcher burger with chipotle mayo, pepper jack cheese, and fried/breaded jalapenos on top of a 1/2 lb(ish) patty. The mayo was so good I asked for a little on the side to dip my fries into. The bill came to about $15 after tax.
The service was very nice but despite the ratio of customers to servers I still ended up flagging the girl down a couple times. I think if I stop in again it would be for the food although it sounds like (according to their website) they have a lot of rotating beers but they only have 5 on at a time.
966 characters

4.13
/5
rDev
+24%
vibe: 4 | quality: 4 | service: 5 | selection: 3.5 | food: 4
On E Main Street between S Oak and California Streets, this was yet another place that did not exist when I was stationed here.
An archway on Main Street had a short patio fronted by a short iron railing. The entry was left with the m.d.s. just inside still to the left with a short wood and wrought iron wall separating the bar from the restaurant area. The left wall was exposed brick with local art. High circular tables and chairs ran up the centerline. The right wall was likewise exposed brick with art, 4 SVs, the brewhouse, 4 FVs, the outward-bowed, cement-topped bar. All of the way aft was a mural of hops plants, followed by a pathway back to the lavs. Johnny was our excellent server, bringing my C/S hostess a replacement sandwich when she could not stomach eggplant.
Beers: Santa Cruz Cream Ale; Pierpont IPA; Santa Rosa Red; Pinniped Porter; C Street Wheat.
875 characters
2.45
/5
rDev
-26.4%
vibe: 3 | quality: 3 | service: 2 | selection: 2
Found this place by accident while strolling down Main street waiting for a dinner reservation. Couldn't resist and went in to explore; sat at the bar and inquired about the Anacapa brews on tap, of which there were only three, and three "guest" beers. It's a brewing company - one might reasonably expect a few more of the places own beer!
Beers were modest and "safe" and not all that appealing. I would have preferred a bottle of a known beer, in retrospect.
The IPA was passable although "safe." The Anacapa porter was nice and full of coffee and black chocolate with a nice espresso finish. (None of the beers were over 5.4% abv) The porter tasted just like a nice roasted grain, big coffee/dark chocolate stout, which got me into a conversation with the young woman behind the counter who simply insisted that it was a porter and very distinctive from a stout; although she could not tell me why. Suffice it to say that while the lines between porters and stouts clearly blurr with some brewers (and even by definition) she went out of her way to make me feel like I simply did not have a clue about what I was doing. I simply shut up, went back to my mediocre beer samples, paid and left.
Beer was fine. Attitude of staff was such that I'd not go back in all candor. I might be dumb; I might be stupid and I might not know what the hell I'm doing. However, when I'm a paying customer I don't need a bartender 1/3 my age partronizing me or trying to show me just how dumb I am. Better beers and better places.
1,518 characters
3.41
/5
rDev
+2.4%
vibe: 3 | quality: 3 | service: 4 | selection: 3.5
Strolled in here on a Saturday afternoon. It was busy with people dining on the patio and the street parking was limited. Walking in is big brick and tanks against the right wall. Bar sits on the right side toward the back of the place. They had good service, about 8 handles on at the time I was in but only had the new IIPA. The server was really pushing his beer hard, borderline pimping it but he was a nice guy. Did not have any food but it looked like standard pub grub. Service was friendly and the vaule was very reasonable. Won't be back though.
554 characters
4.5
/5
rDev
+35.1%
vibe: 4.5 | quality: 4.5 | service: 4.5 | selection: 4.5 | food: 4.5
One of my favorite spots. Been eating here for years, but more recently started to appreciate their beers more.
This place is awesome. Very homey feel. Restaurant is clean, well kept. Atmosphere lively, but never overly loud. You can always carry a conversation. They rotate awesome artwork in and out of the place. Located in a 100+ year old brick building.
Wait staff, bartenders, and hostesses are very friendly. Service is always top notch. Never have to wait for service, refills, or to order another beer. They have a decent wine selection for non beer drinkers too.
Food is killer. I usually order the same thing, but last night ordered the Fillet Medallions with a chipotle mushroom sauce. Was very very tasty. Meat was cooked exactly as I ordered it.
I haven't tried any of the appetizers, but the salads, sandwiches, and pizzas are killer. My all time favorite from there is the Ojai chicken sandwich. Add roasted red peppers to the sandwich and you have one of my all time meals from anywhere. The burger selection is extensive. The secret sauce on the burgers is awesome.
The price for what I get is up there. No doubt about it.
Guest beer right now is Stone IPA on tap.
Last night I also had Anacapa's Two Trees Double IPA. Was killer. 10oz pours only. I would love to review it, but I need to meet the 20 review minimum before I can add a new brew.
Long live Anacapa.
1,396 characters
3.76
/5
rDev
+12.9%
vibe: 4.5 | quality: 3.5 | service: 4 | selection: 3.5
Having spent the last 4 days on Santa Cruz Island, my fiance and I opt to stick around Ventura to hang out, unwind, and let the LA traffic die down before we make our trek back to the OC. After dinner we're walking back to our care and my girl sees the Anacapa Brewing sign.... I am excited.
The inside is attractive, nice local bar type feel. As soon as we walk in the door we are greeted by a gentleman, manager or co-owner I assume.
I'm dead tired, belly full of food, all I can do is throw back a taster flight. Started with the Golden Ale, and was pleasantly surprised. Usually the beer I dislike the most at brewpubs really seemed to work here. Nice balance of hops and malts, clean, crisp, definitely a summer time session brew. Also worth noting were the Pinniped Porter and Pierpoint IPA. Overall, the beer was slightly above average. nothing extraordinary. A great place to stop in if you're in the area. I know the next time we go to the Channel Islands we will be stopping here again for sure.
1,009 characters

4
/5
rDev
+20.1%
vibe: 4 | quality: 4 | service: 4.5 | selection: 3.5 | food: 4
Reviewed on a beautiful Saturday in January (01/24/09 to be exact).
My girlfriend & I stopped here on a whim while through downtown Ventura. Well, sort of on a whim - we are always on the lookout for brewpubs, but were trawling for food at that particular time.
Let 's get down to business:
Nice crowd on a Saturday around 2:30pm - approx 10-12 people.
They have a long bar on the right & ample tables (both low & high) to the left. The whole place is narrow (as most downtown establishments are). TVs are strategically placed for the sports enthusiast.
The brewing equipment are right there behind the bar, lending to a slight mildew/mold odor. The odor is soon forgotten though.
The food is quite good. A lot of thought went into the menu. We both had the pulled pork sandwiches. Delicious. Fries were also excellent.
At the time, they had 5 of their own brews & 2 guests on tap. Between us, we had all five. The Espresso Stout was the fav. The Red was notable as well. I'd skip the C Street Wheat.
We'll be back. You should visit. Bring friends. The staff was very nice.
1,081 characters
2.95
/5
rDev
-11.4%
vibe: 3.5 | quality: 3.5 | service: 2.5 | selection: 2.5 | food: 3
Stopped into this spot on my way to santa barbara from lax around 1 pm on a friday sat at the bar slow ass beach service quiet place although the beer equipment was right over the bar no glass enclosures yet they only had three of their own beers on tap and two guest beers overall.a good stop lots of shopping surrounding area to keep the women busy alos looks like they will have three new beers coming in the nxt month or so
Really nice hd tvs above the bar for the sports lover
Disounted pitchers and pints on mondays
521 characters
4.38
/5
rDev
+31.5%
vibe: 4.5 | quality: 4.5 | service: 4.5 | selection: 4 | food: 4.5
Reviewed in the margins of my Racing Form at lunch on while handicapping horses.
I have been here before during prior ownership and a few time since the new owners and brewer took over. The change has been noticeable both in atmosphere and beer quality. If you get Johnny as the bartender you are lucky, the guy is personable as hell. On Friday and Saturday nights, the place is packed with a great crowd.
The day I was there I got to try their Maple Nut Brown on cask. Amazing flavor.
The lunch menu is well priced with lots of choices under $10. My favorite dish is the Pasta Segreto con Pollo, a dish which was only served to kitchen staff in the past.
Other than BJ's in Oxnard, this is only place brewing in Ventura County and definitely worth supporting.
761 characters
3.4
/5
rDev
+2.1%
vibe: 3.5 | quality: 4 | service: 4 | selection: 2 | food: 3.5
Visited 03/09/08, Sunday afternoon, about 3:00pm.
The place has a familiar feel: lots of dark wood (though no brass), five TVs tuned to three different sports channels, fermentation vessels behind the bar, local artwork for sale hanging on the walls.
The menu is a bit on the small side, leaning towards sandwiches, pizza and fried appetizers. Pretty much any entree will run you ten dollars and, while the food is relatively good, the serving portions are a bit on the small side. My girlfriend and I had a sandwich each. The pulled pork and The Brooklyn (chicken breast with pesto), both of which she loved but which I thought were only a little better than okay. We split a tasty creme brulee. I had two pints and she a soda. Total after tip: $44.00. Ouch!
So... Six taps. I looked forward to trying all six of their beers. Immediately upon arriving at our table, the waitress informed me that they were out of half their beers. Well, so much for the six beer taster set. They were out of their nut brown, IPA and red rye ales. That left only the Irish style stout, an American wheat and an Irish Red. The three I tried were well-executed but uninspiring.
The server was friendly, speedy and accurate. The food arrived much faster than I would have anticipated.
Overall, it's a nice enough place, but there's really not a lot to distinguish it from a myriad of other similar places up and down the SoCal coast.
1,418 characters
3.63
/5
rDev
+9%
vibe: 3.5 | quality: 3.5 | service: 4 | selection: 3.5 | food: 3.5
I stopped here for dinner on my way back to LA from Santa Barbara and was glad that I did. It was 8pm on a Thursday night, and the bar was full, the restaurant busy.
On tap:
Hurricane Hefeweizen (OK),
Smoked Porter (described as chocolate malt backed by a hint of smokiness, but I thought it tasted more like I was sucking on a piece of bacon),
Santa Rosa Red (OK),
Barleywine (the most interesting beer of the lot, with a smooth mouthfeel and a caramel sweetness that skillfully balanced the 9.2% abv),
Pierpont IPA ( a good hoppy west coast IPA )
Brewmaster: Adam Ball
Coming Soon: Ebenezer Winter Ale, Espresso Stout and Offshore Amber
The place is one long rectangular room with a tiny patio dining area out front. Inside there is a single long bar that runs almost the full length of the room. Fermentation tanks, brewing equipment and serving tanks line the wall behind the bar, and tables run the length of the other. The crowd ranged from 30 somethings to folks in their 40's and 50's.
The food was certainly better than average. I had broiled Ono with a pineapple salsa topping that was pretty good, but the fish was a little overcooked and tough. The Ono was served w/a side of polenta that was very good, as was the topping and veggies.
The waitress was pleasant and attentive.
A number of TV's were situated at either end of the bar. Initially there was no audible music as the room's brick walls and concrete floor seemed to amplify every conversation. As the crowd thinned the music became more perceptible and had a modern pop flare. Artwork from local Ventura high school students adorned one of the long walls, and I was pretty impressed by most of it.
I ended the evening with a good strong cup of Jo before heading back to the lights of LA.
1,773 characters
3.48
/5
rDev
+4.5%
vibe: 3.5 | quality: 3 | service: 4.5 | selection: 3 | food: 3.5
The beer here is decent to average. Nothing terribly exciting, but usually passable. Every once in a while they'll have something a little different, but generally they play it safe with pale ales, a stout and a red. This all might sound like a lot of complaining, but honestly this is the best place in this area that I've found. Plus the food it genuinely good and the service is great. There's usually the same bartender there whenever I go and she's a hoot!
If this place doesn't strike your fancy, you could try the faux Irish pub up the street...but you can get Guinness anywhere.
589 characters

2.33
/5
rDev
-30%
vibe: 2.5 | quality: 2.5 | service: 2.5 | selection: 2 | food: 2
I went here last night for some food and some beer. It is a small joint with a line of brewing equipment down the right, behind the bar and a cramped line of tables on the left.
I ordered a sampler and me and my girlfriend tackled them. they come on a board that looks like a paddle for paddling asses but with circular indentions for little oversized shot glasses of 5 different brews.
They only have their own brew and a few featured ones. They had a red a hefe a PA and Irish-amber? an amber and a stout. They also had the eye of the hawk BW from mendiceno brewing co.
food was nothing great and neither was the beer. I really wanted to like the beverages because i really like beer. It didnt happen and i was not impressed.
737 characters
Anacapa Brewing Company in Ventura, CA
3.48
out of
5
based on
57
ratings.