Yarpivo Originalnoe
| Baltika Breweries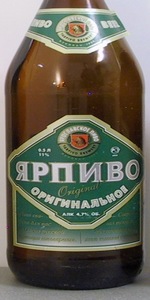 BEER INFO
Brewed by:
Baltika Breweries
Russian Federation
baltika.ru
Style:
Dortmunder / Export Lager
Alcohol by volume (ABV):
4.70%
Availability:
Year-round
Notes / Commercial Description:
No notes at this time.
Added by PorterPounder on 03-13-2004
Reviews: 7 | Ratings: 12

2.93
/5
rDev
-7.9%
look: 3 | smell: 2.5 | taste: 3 | feel: 3.5 | overall: 3
Not too bad, its a pretty smooth lager that has a scent of german pilsner and a slight flavor of that as well. But for the most part its alright. The beer is a typical yellow color with a white head nothing much out of the blue there. The aromas are a bit grassy and malty, maybe a little hops in the back. I still feel this beer is roughly an average brew so it's hit or miss depending on the person having it. I wouldn't need to seek it out again.
449 characters
3.02
/5
rDev
-5%
look: 4.5 | smell: 2.5 | taste: 3.5 | feel: 2.5 | overall: 2.5
Poured from ~17oz bottle. Super clear golden straw. Frothy head with nice lacing and fell rather quickly. Steady stream of carbonation.
Not very aromatic, hops and malt are both there but neither pop out. pretty bland
Malt wins in the taste arena with sweet but not overpowering profile. bitterness is super subtle, hardly there.
A bit heavier than a normal lager its still very smooth but the finish is not as dry as i'd expect. There is a slight coating on the back of the tongue and sides of mouth, eh.
I had to try this at $1.45/bottle and am glad I did, my first Russian brew. It's a decent beer but the mouthfeel/finish has me a little iffy on possibly buying again.
676 characters
3.2
/5
rDev
+0.6%
look: 3.5 | smell: 3.5 | taste: 3 | feel: 3.5 | overall: 3
Poured from a brown 16.9 oz. bottle. Has a rich golden color with a 1/2 inch head. Smell is primarilly of malts, some hops. Taste is crisp, malts up front and finishing bitter. Feels medium bodied in the mouth and has average drinkability. Overall this is a pretty decent brew.
277 characters
3.5
/5
rDev
+10.1%
look: 3 | smell: 3 | taste: 3.5 | feel: 4 | overall: 4
Pale yellow colored beer with an aroma similar to a macro.Taste is malt,bread and lemony citrus.This is an easy drinking lager that feels good in the mouth and goes down like water.A decent lager that I would drink again.This is the first product I bought from Baltika Breweries and am looking forward to trying another.
320 characters

3.8
/5
rDev
+19.5%
look: 4 | smell: 4 | taste: 3.5 | feel: 4 | overall: 4
The beer pours a nice gold color with a thick frothy white head that slowly fades to lacing. The aroma is good. It has a clean pale malt and adjunct scent along with a dry, breadlike lager yeast aroma. The taste is decent. It has a crisp, clean pale malt and adjunct flavor it goes down with ease and finshes dry and clean. There's a bit of hop bitterness as well. The mouthfeel is fine. It is a low bodied beer with good carbonation. This is a good drinking lager. It seems when the Euros stop trying to make the high powered lagers and stick to the easy drinking ones, they do a fine job at it.
596 characters
3.09
/5
rDev
-2.8%
look: 2.5 | smell: 3.5 | taste: 3 | feel: 3 | overall: 3
Pale amber that is probably pale enough to be considered straw yellow. The cotton white head features a gently moguled surface, but is too soft to look all that good, either after the pour or as it deflates. What lace manages to find its way to the glass melts away before it has a chance to get comfortable.
The nose is actually pleasant; a nice surprise. It smells like sweet grass and spicy flowers. Noble hops, I'm sure, but they're sweeter and more citrus fruity than usual. While there's plenty of power, the aroma is soft and friendly; like a big, slobbery Saint Bernard that bowls you over with enthusiasm.
The flavor drops off to average, a clear step down from the nose. One problem is that there isn't enough malt to take the edge off the sharply bitter hops. The hops are still grassy and floral with a bitter bite that doesn't cross the line into unpalatable, at least to me.
The beer is impressively bitter and dry, giving a mucous membrane-parching aridity to the finish. I'm okay with the medium mouthfeel since it holds up well throughout, but a little more carbonation would be welcome since it would give the beer a much needed injection of pizzazz.
Yarpivo Original goes the way of so many of the lagers that I've sampled from the former Soviet Bloc. It's better than the majority of American-made macro swill (my nationalistic pride just took a small hit; why can't the Big 3 brew decent beer?!), but it's nothing to get excited about. Better beer should be easy to find.
1,498 characters
2.91
/5
rDev
-8.5%
look: 3.5 | smell: 2.5 | taste: 3 | feel: 3 | overall: 3
Standard brown half liter bottle with a blue and silver label of almost exclusively writing, plus the brewery's coat of arms (just a lion's bust on a shield). Ingredients conform to the purity law. Best before 6/7/04, I opened it on 3/13/04.
Pours a very bubbly clear deep gold under a 1.5 finger white head with some body but not much staying power and no lace. The nose is grainy, with hints of corn. The mouth is light and very prickly. The taste starts out very watery where the malt should be, then some metallic hops and a distinct lemon flavor kick in. The finish is bitter, slightly harsh but certainly OK. The aftertaste keeps the hoppiness at subdued levels. Not bad, but not great either.
702 characters
Yarpivo Originalnoe from Baltika Breweries
3.18
out of
5
based on
12
ratings.