Yarpivo Premium (Elitnoye)
| Baltika Breweries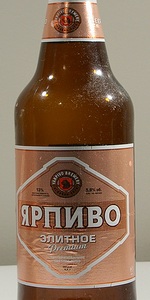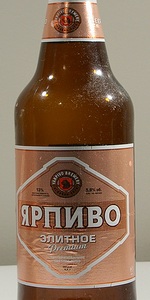 BEER INFO
Brewed by:
Baltika Breweries
Russian Federation
baltika.ru
Style:
Euro Pale Lager
Alcohol by volume (ABV):
5.80%
Availability:
Year-round
Notes / Commercial Description:
No notes at this time.
Added by NeroFiddled on 02-01-2003
This beer is retired; no longer brewed.
HISTOGRAM
Ratings: 5 | Reviews: 5
Reviews by shapudding:
3.72
/5
rDev
+20.8%
look: 3.5 | smell: 4 | taste: 3 | feel: 4.5 | overall: 4.5
Poured out a clear and golden, no head to it, but tons of carbination a-rising. Scents and tastes of apples, both red and granny smith. White grapes... very, very sweet. Dry aftertaste with a very wet mouthfeel. You don't taste the carbination, which is great for me! This would be a great summer day beer. The 5.8% is very hidden, you don't taste ANY of it. It really is like drinking a juice drink, more like a lower carbinated cider. Very easy drinker, just a bit sweet, but like I said, I can see it being very nice on a warm day.
This was a makeup beer at Firewaters, to get the horrible taste of a skunker out of my mouth. I have decided that when Pope and Karend finally decide they are having kids, after a looong night of drinking, this is what will be coming out of the fridge when one of them 'chillins asks for some apple juice and mommy and daddy does not readilly have a bottle of Mott's on hand....
917 characters
More User Reviews:
2.88
/5
rDev
-6.5%
look: 3 | smell: 2.5 | taste: 3 | feel: 3 | overall: 3
Yarpivo means beer (pivo) from Yaroslavl (which is located in central Russia). It pours a clear golden body with yellow highlights and a full and foamy bright-white head that dissipates quickly. It keeps a thin collar through the start of the glass, but eventually drops to an entirely flat surface. The aroma displays some grainy malt with a light sweetness, some apparent alcohol and a touch of ethyl acetate that's not attractive, but not off-putting. The body is medium with a soft carbonation that helps to give the impression of a fuller body than actually exists; but leaves it fairly dull in the mouth. The flavor is surprisingly rich with a dryish grainy malt, a well-entwined & solid bitterness, and a clear alcohol. Some malty sweetness appears in the finish but is quickly dried by the alcohol and bitterness. With an alcohol content of only 5.8%, it appears as if an excessive use of adjunct and a poor fermentation profile have left this beer with some flaws.
973 characters
2.95
/5
rDev
-4.2%
look: 3 | smell: 3 | taste: 3 | feel: 2.5 | overall: 3
Standard brown half-liter bottle with a plain but metallic label featuring nothing but words, all in Russian. Ingredients comply to the purity law. Best before 3/10/04, I opened it on Christmas Day.
Pours a clear deep gold under a white head with some form and a bit of retention. The nose is sweet, with a hint of fruit syrup. The mouth is light and prickly. The taste opens with sweet fruit - raspberry? This is chased by a brief but significant flowery hop bite. The bitterness lingers a bit into the aftertaste, but not for long. After Corona, this tastes great!
569 characters
2.47
/5
rDev
-19.8%
look: 3 | smell: 3.5 | taste: 2 | feel: 2.5 | overall: 2
An all-malt premium Lager from Yaroslavl brewery.
500 cl brown bottle, nice old-fashioned red label. Pale yellow color, high level of carbonation, compact head, some lace.
Smell is the best thing about this beer; herbal and floral, very gentle and complex.
Start fizzy, malty, rather mild. Body big, angular. Malts and hops unbalanced, sugar overwhelming bitterness. Mouthfeel grainy, a bit heavy. Finish bittersweet, aftertaste grainy with strong metallic note.
Don't waste your time on it. Not a disaster but nothing to enjoy.
540 characters
3.38
/5
rDev
+9.7%
look: 3.5 | smell: 3 | taste: 3.5 | feel: 3.5 | overall: 3.5
Bright lemony gold with a few speck-like floaters that don't appear to be yeast. The bone white cap is at least four fingers after a spirited pour and has some creamy solidity about it, giving the top half of the beer a better look than the bottom half. A few jagged streamers of lace find their way to the glass, but don't last.
The nose is everything that I've come to expect from a Euro Pale Lager; no less and no more. That said, the untoasted graininess is mildly pleasant and is devoid of offensiveness; always a positive. Typically musty-musky noble hops add olfactory balance.
No surprises on the palate. Yarpivo Elite has benefited from its brown glass confines and is better than the lion's share of Russian pale lagers by virtue of its (presumed) freshness. I bought this bottle from a store in town that imports directly from various Eastern European countries and I'm pretty sure that they have a pretty rapid turnover. It tastes fairly fresh at least.
That isn't to say that it's outstanding beer however. It's a tad fruity and is sweeter than many versions, a help rather than a hindrance as far as I'm concerned. Hop bitterness and hop flavor is on the low end which probably keeps those nasty vegetal flavors at bay. There's also no hint of the fusel alcohol that I've tasted in some Russian beers at ABVs not much higher than this one.
The body is light, but no lighter than expected when style is taken into consideration. The added sweetness (more malt? corn? added sugar?) gives it a smooth slickness that is somewhat appealing. It certainly isn't an 'elite' mouthfeel though. Not that I expected one.
I enjoy most of the Baltika line (going in with reasonable expectations is the key) and Yarpivo Elite, while not technically a Baltika beer, is of almost equal quality. It just goes to show that if fresh and if properly handled, most of the world's beer gives a pretty good accounting of itself, no matter where it's brewed.
1,962 characters
Yarpivo Premium (Elitnoye) from Baltika Breweries
Beer rating:
3.08
out of
5
with
5
ratings