Neustadt Mill Gap Bitter
| Neustadt Springs Brewery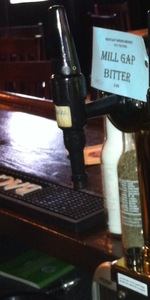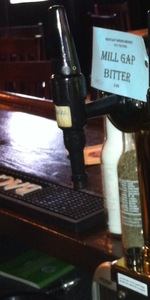 BEER INFO
Brewed by:
Neustadt Springs Brewery
Ontario
,
Canada
neustadtsprings.com
Style:
English Bitter
Alcohol by volume (ABV):
3.80%
Availability:
Rotating
Notes / Commercial Description:
A typical English bitter ale. A great session beer. Using all English ingredients, the only Canadian ingredient is the water! Pours a rich amber colour, the fruitiness of the hops shine through.
Added by uno99 on 12-23-2010
HISTOGRAM
Ratings: 8 | Reviews: 7

3.95
/5
rDev
+5.9%
look: 4 | smell: 4 | taste: 4 | feel: 3.5 | overall: 4
Fresh can from the brewery.
Pours a clear russet brown topped by a thick but not showy head. Laces well.
Earthy caramel malts in the aroma, slightly roasty. Grainy with mild foral notes. Really nice toffee nose.
The taste is chalky and minerally with a mild bitterness in the finish. The earthy caramel found in the aroma comes out when it warms more and more as do some fruity aspects and nuttiness. Very satisfying flavour for such a low abv.
Medium bodied with lots of carbonation.
I've had this on cask and it's more to my liking, but the canned version does the trick too.
582 characters
4
/5
rDev
+7.2%
look: 4 | smell: 4 | taste: 4 | feel: 4 | overall: 4
Enjoyed a pint of 3.8% ABV draught yesterday at Gambrinus in London. Couldn't stay long, but a thoroughly enjoyable and potentially sessionable ale. From notes :
Beautiful dark amber colour with impressive cream coloured head. Mild roasted aroma, very typical of this British style. Taste highlighted caramelized malts with "noble hop" bittering flavours. Complemented by pleasant roasted and nutty elements.
I suspect many North American brewers would struggle with this much balanced flavour complexity in such a low alcohol pint. I need to take another look at Neustadt!
576 characters
3.52
/5
rDev
-5.6%
look: 3.5 | smell: 4 | taste: 3.5 | feel: 2.5 | overall: 3.5
550ml draught (cask)
3.8% ABV
I tried this on tap on April 29, 2011 at "C'est What" in Toronto, Ontario, Canada. The beer poured a translucent copper colour with a creamy off-white head. The aroma was caramel malt, grain, and floral hops. The mouthfeel was thin to medium bodied with medium carbonation. The flavour was a nice balance between the citrus bitterness of the hops and the slight sweetness of the malt.
414 characters
3.45
/5
rDev
-7.5%
look: 3.5 | smell: 3.5 | taste: 3.5 | feel: 3 | overall: 3.5
I am reviewing this from notes. I had this at C'est What a couple weeks ago, I forgot to note if it was cask or on-tap, but I'm pretty sure it was cask. Pours a cloudy ruby-brown colour with thin off-white head. Streaks of lacing around the glass. Smells of grainy malt with only a hint of some floral hops. Flavour is fairly sweet, but light still. Mouthfeel was a little bit on the watery side. I like the dark mild style, this isn't as good as a couple of the other Ontario ones though.
489 characters

3.21
/5
rDev
-13.9%
look: 4.5 | smell: 3.5 | taste: 3 | feel: 3 | overall: 3
Off cask at C'est What?, in Toronto.
I feel like I'm high society at an exclusive, A-list celebrity soiree with this thing in my hand - the pint glass quite literally sparkles like a well polished ruby. It'd be the talk of any party if it were only possible to show up wearing it as jewelery. Its head is peppered with with holes which, somewhat ironically, actually lends it a salt-and-pepper complexion.
There may not have been a ton of them used, but whatever hops are in there are in full bloom. And they stink (in a good way). The malts, on the other hand, smell, well, unmalted. It is a very plain, dry and husky graininess that is bare and dimensionless. Thank goodness for those floral hop tones, otherwise this would aroma would serve no purpose.
The taste is simple and strikes me as a work still in progress. Any homebrewer who's ever tried the warm malt wort before it hits the mash tun will know what I'm talking about when I describe the beer as being nakedly grainy, uninteresting and, frankly, a little insipid. It's like the brewer achieved the lower alcohol simply by skimping out on the sparging*.
The "fresh wort" flavour is supported by fruity ale yeast esters and very jammy sugars, neither of which, however, in the grand scheme of things, help much since a lack of carbonation ensures the heaviest flavour - that of the damp grains - lingers longest and it, and its near caustic dryness, strain the palate leaving it to feel nearly parched.
I don't ask any complexity from a 3.7% bitter, just solid flavour and delightful, engaging drinkability - neither of which this had. I found that surprising: Neustadt offers two beers (Double Fuggled and Texas Tea) that match my criteria spot-on for ideal session ales and are among my favourite cask offerings. Oh well, guess I'll just stick to them.
(*Sparging is the process of extracting the sweet, flavour-rich fermentable liquid from the mashed grains.)
1,935 characters
4.2
/5
rDev
+12.6%
look: 3.5 | smell: 3.5 | taste: 4.5 | feel: 3.5 | overall: 5
A - Clear copper with a solid head of foam that drops fairly quickly.
S - Some nutty caramel, a light herbal hop and toastiness.
T - Some decent hopping for a lighter brew. Hints of pine, lemon and some herbs. Light toasted grain. A bit of tartness up front and a long lingering finish.
M - Light body with a sharp carbonation. Quite dry.
D - Solid, well balanced bitter. Impressively low ABV for the amount of flavour here. This was brewed for sessioning.
460 characters

3.82
/5
rDev
+2.4%
look: 3 | smell: 3.5 | taste: 3.5 | feel: 4 | overall: 5
Stopped by the brewery again while in the area on business. The owners Val and Andy are always very friendly, and eager to chat. This "Mill Gap Bitter" was described to my as a 30 year anniversary beer, but I'm not sure what the anniversary is since the brewery opened in 1997.
Poured into a Samuel Smiths pint glass at 55degrees.
A: Sort of a medium hue brown, with some amber highlights. very clear. Foamy head sticks around a bit before dying off into a wispy halo around the glass. Nary-a-lacing to be left behind.
S: Quite balanced. Although the malt beats the hops by a nose. Slightly metallic thing going on but no unpleasant or off-putting. Raisins apples and almonds.
T: Malt forward but balanced. Very well done. malt eventually does give way and the hops leave a wonderfully long and lingering finish.
M: Thin body with smooth carbonation. Not sticky. A little dry but not parching. supremely drinkable, Probably the most drinkable offering from Neustadt.
982 characters
Neustadt Mill Gap Bitter from Neustadt Springs Brewery
Beer rating:
3.73
out of
5
with
8
ratings