Munich Eisbock
| Fort Garry Brewing Company Ltd.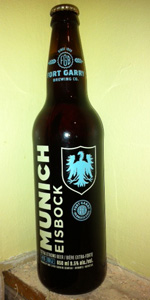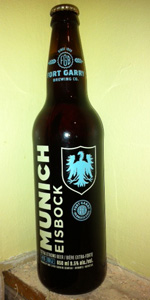 BEER INFO
Brewed by:
Fort Garry Brewing Company Ltd.
Manitoba
,
Canada
fortgarry.com
Style:
Eisbock
Alcohol by volume (ABV):
9.50%
Availability:
Limited (brewed once)
Notes / Commercial Description:
45 IBU
Brewed as an 8% Dopplebock with German Munich & Pilsner malts. Bittered with Nugget hops and Hallertau aroma hops.
Added by kjyost on 10-19-2011
This beer is retired; no longer brewed.
HISTOGRAM
Ratings: 14 | Reviews: 11
Reviews by IronDjinn:

3.28
/5
rDev
-10.4%
look: 4 | smell: 3.5 | taste: 3 | feel: 4 | overall: 3
Thanks to Jim at Sherbrooke for the sample. Comes in a 650 ml brown bottle. Pours out a translucent almond colour, with a couple of fingers worth of creamy/spongy beige head that slowly settles to a thick cap.
The aroma presents toasty and wafery malt with some raisin notes, not overly complex.
Flavour still doesn't seem to jive after several sips. A one-two punch of nearly cloyingly sweet malt at first, a brief pause in the middle, and then a jumble of beefed up hops on the finish and long into the aftertase. Sweet, almost worty, malt up front in the flavour, with a bit of a nutty character, while the hops dry things out shortly after, turning things grainy and then spicy, followed by a herbal astringency. The elements are there, but the balance isn't, it's a flip-flop from one extreme to another.
Fuller-bodied mouthfeel, creamy smooth and silky texture, with moderate carbonation.
Would benefit with some adjustments to refine both the malt and hop content and find a more cohesive balance between the two. While Eisbock is still a fairly rare style on the shelves in general, and Canadian produced ones even moreso, this seems to fall short of the mark for the style in general.
1,198 characters
More User Reviews:
3.35
/5
rDev
-8.5%
look: 3.5 | smell: 3.5 | taste: 3.5 | feel: 3 | overall: 3
650ml bottle. Another of those stupidly hard to come by offerings in the province of Alberta, despite what the government/industry wags say.
This beer pours a clear, dark bronze hue, with two fingers of dense foamy ecru head, which leaves a solid wall of mega-mesa lace around the breadth of the glass as it lazily subsides.
It smells of sweet raisiny caramel malt, some mildly acrid booze, and a bit of leafy, earthy hops. The taste is sharp caramel malt, raisins and brown sugar, a not all that weird, somewhat skanky, boozy edginess, and stammering earthy, leafy hops.
The carbonation is moderate to low in effect, the body a solid medium weight, sugar a prime culprit, the smoothness somewhat tempered by an astringent alcohol edge. It finishes more boozy than all else - sure, the caramel sugar and criminally understated hops may complain to a degree, but, well, screw 'em.
While not a total trainwreck from the start, this still has a while to go before I would give it a decent proclamation. A little more balance, and a lot more subtly, and we're all good.
1,069 characters

3.77
/5
rDev
+3%
look: 3.5 | smell: 4 | taste: 4 | feel: 3 | overall: 3.5
Bottle shared by jerc from RB. 650ml into a tulip.
Reddish brown with an offwhite head. Mild retention but no lacing. Nose is fruity, some sweet malt character, ligth booze and some caramel. Taste has a mild bitterness, big malt flavours, nutty, with caramel, booze and some spice in the finish. Fairly dense mouthfeel, boozey, low carbonation and a sweet finish. Enjoyable, but perhaps better served during the colder months (and not on a patio on a 30 degree day!).
469 characters

3.62
/5
rDev
-1.1%
look: 3.5 | smell: 4 | taste: 3.5 | feel: 3.5 | overall: 3.5
A: Copper-amber with an off-white head, thin ring of retention leaves a little leg.
S: Sponge toffee, caramel, light booze and a hint of herbal and floral hops.
T: Sweet sponge toffee and caramel, nutty, herbal bitterness and some alcohol warmth.
M: Full body has some residual sweetness but alcohol is slightly drying.
D/O: A little too much residual sweetness and although there's plenty of bitterness, it just doesn't seem very balanced... it's a little rough around the edges.
484 characters

3.3
/5
rDev
-9.8%
look: 3.5 | smell: 3.5 | taste: 3 | feel: 3.5 | overall: 3.5
650ml bottle poured into tulip 17/3/12
A clear amber with only the massive amount bubbles affecting its clarity, a two finger head slowly falls to a thick film leaving no lace
S lots of caramel with some spicy hops and booze, perhaps just a little nutty but mostly boozy sugar
T faint chemical flavors take away from the boozy caramel, nothing special here but not quite off, just reminds me a little of a malt liquor
m syrupy and sticky with less bubbles then one would expect after looking at it but well carbonated nonetheless, it feels heavy with some heat for sure
O its hot and sugary but not offensive, I could take it or leave it
not sure what age would do to this one and I might not find out because I only have the single bottle and I need to thank chickenm for that
787 characters

4.05
/5
rDev
+10.7%
look: 4 | smell: 4 | taste: 4 | feel: 4.5 | overall: 4
Great to see Fort Garry strive for something other than a drinkable dark lager. Like Russel their parent company they are on to a good thing with the special editions. This is a very good Eisbock with not too much sweetness and the ABV not showing . The finish is nuanced and smooth and I actually like how this no aging to be at its most drinkable. Compares well with Hermannator from Vancouver Island.
403 characters
4.1
/5
rDev
+12%
look: 4 | smell: 4 | taste: 4.5 | feel: 4 | overall: 3.5
I don't recall ever having anything from Ft. Garry before, but I certainly enjoyed this.
This beer pours a rich copper with a big, light tan head. Light malt scent, definite fruitiness to it and a very light spice and hop scent.
Slightly sweet, but definite pale malt flavour. Citrus flavours, light bready hints. There is certainly an alcohol presence to this, but its warming and mellow - not a burn at all.
Carbonation starts of noticeable but eases and the beer warms. Sweet citrus aftertaste, enjoyable alcohol presence. At 9.5% this is surprisingly easy to drink.
572 characters
3.26
/5
rDev
-10.9%
look: 2.5 | smell: 4 | taste: 3 | feel: 3.5 | overall: 3
Bottle split with a friend who brought it back from Winnipeg. From notes.
A - Poured a dark amber. Nice carbonation, and a film of white head. No lace or retention.
S - Huge dark fruits and sugars. Nice.
T - Quite sweet. Lot's of fruit masked by sweet sugars.
M - Nice carbonation, medium to full body. Sweet finish.
O/D - Not bad. Good for Fort Garry. Way too sweet though. Wouldn't seek it out.
401 characters

4.2
/5
rDev
+14.8%
look: 4 | smell: 4 | taste: 4.5 | feel: 4 | overall: 4
A: Slight off-white head over light brown liquid with excellent clarity. Some carbonation coming from the sides of the glass.
S: Sweet and malty.
T: Slight citrus bitterness up front which gives way to a sweet malty finish that has the slight presence of alcohol.
M: Medium to thick viscosity and a low level of carbonation.
O: As this is only the second Eisbock I have ever tried I cannot make an adequate assessment in terms of how it compares with the rest of the style, but I did enjoy this beer. I think someone would be surprised to discover that this beer was frozen, as it does not show up in the aroma or taste profile.
632 characters

3.85
/5
rDev
+5.2%
look: 4 | smell: 4 | taste: 4 | feel: 3.5 | overall: 3.5
650 mL bottle found at the Grant MLCC. Poured at 5C into a fluted glass and let warm over the session.
A: Rich ruby red, clear, light tan head that rings the edge leaving dabs of lacing.
S: Earthy hops, caramel, booze, malty
T: A little more one-dimensional. Sweetness, a hint of spicy hop, fruity notes, booze. Nice enough though.
M: A little too much booze. Bitterness begins to overpower the sweetness over time... Carbonated strongly.
O: Something to me is missing here, I was expecting more of a bready malt character that just wasn't there. Good, just not great.
575 characters

4
/5
rDev
+9.3%
look: 4 | smell: 4 | taste: 4 | feel: 4 | overall: 4
A: Pours a clear copper colour with 1 finger worth of creamy off white head. Settles to a ring around the glass and left a decent amount of lacing.
S: You get some hops up front finished with a malty caramel and some alcohol.
T: You get a nice caramel sweetness and hardly any alcohol on the finish. It has a nice bitterness to it. It isn't very complex but it's pretty good.
M: Medium carbonation with a medium body.
O: This is my first time trying an Eisbock but it was really enjoyable. I hope this is just the beginning of their Fort Garry's Brewmaster series. It would be a big step forward for them. I would definitely recommend this beer if you're in the area.
684 characters

Munich Eisbock from Fort Garry Brewing Company Ltd.
Beer rating:
3.66
out of
5
with
14
ratings