7 Stern Hanf
| Siebensternbräu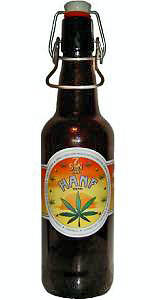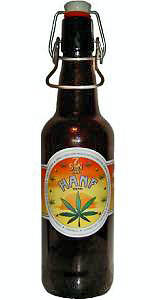 BEER INFO
Brewed by:
Siebensternbräu
Austria
7stern.at
Style:
Herb and Spice Beer
Alcohol by volume (ABV):
4.80%
Availability:
Year-round
Notes / Commercial Description:
No notes at this time.
Added by brewdlyhooked13 on 02-23-2007
HISTOGRAM
Ratings: 10 | Reviews: 5
Reviews by chinchill:

3.88
/5
rDev
+14.5%
look: 4 | smell: 3.5 | taste: 4 | feel: 4 | overall: 4
.5L mug at Siebensternbräu in Vienna.
Had not the server brought me a small sample, I would likely have skipped this 'gimmicky' beer.
The brewery's on target description: "golden lager with a sweetish, herbal twist; The aroma of whole hemp leaves"
Lightly hazy; golden with a bone head of medium duration. Exceptional lacing.
Aroma: malt + herbal + meaty smoke, the latter being unexpected and virtually undetectable upon tasting (3.25)
M: medium/full body with excellent carbonation. Creamy smooth yet a bit lively too. [4.25]
T: Hemp? ... yes, I think ... an unusual herbal flavor in any case. spice and hops and baked bread in the fine aftertaste. Excellent sweet/bitter balance.
O: a unique lager with a substantial malt and herbal base. Enjoyed from start to finish. If in Vienna,worth the trip. [4.25]
820 characters
More User Reviews:
3.64
/5
rDev
+7.4%
look: 3.25 | smell: 3.5 | taste: 3.75 | feel: 3.5 | overall: 3.75
7Stern Hanf
On tap, 4 January 2013
,3L for €3,20
Notes: 11.8˚ Plato / 4.7% ABV. Very hazy. Golden color. Bright white head. Retention very good, lacing could be better. Quite pleasant floral-herbal, gently resinous aroma and flavor. Much better and more authentic than the beer I had in Prague (specifically Euphoria Cannabis Beer, but there are others). Rich malt base. Full-medium in body. Gently bristling carbonation. Median bitterness level. Spicy, bitter, and herbal finish. Really quite unique.
505 characters

3.6
/5
rDev
+6.2%
look: 3.75 | smell: 3.75 | taste: 3.5 | feel: 3.75 | overall: 3.5
2.84
/5
rDev
-16.2%
look: 2.5 | smell: 3.5 | taste: 2 | feel: 3.5 | overall: 3.5
I love a good marketing gimmick. Hemp beer. This not THC beer. Perhaps it will suck, but of course I will have one!
Doesn't look like a bong load. The beer is golden orange and cloudy like a good German/Austrian beverage. Sticky, fluffy strong head that clings to the side. Has all the looks of a good IPA, but does hemp really have the same qualities as its hop brother?
Nope. The smell is nothing like the strong dankiness of a wicked triple IPA. There's some slight floral scents and touches of citrus like oranges and lemons. Strangest of all is the corn odor.
And just the faintest taste of hops. Pretty standard and bland and the end is unpleasantly bitter. The creamy mouthfeel is more pleasing than the taste itself.
The menu promised no "strange effects" and they delivered. Blah. If you want to tell you friends, "I drank hemp beer!," get this, but you can get a better buzz from inhaling a HopDevil (available at 1516 in Vienna!)
944 characters

4.21
/5
rDev
+24.2%
look: 4.5 | smell: 4 | taste: 4.25 | feel: 4.25 | overall: 4.25

2.83
/5
rDev
-16.5%
look: 2.75 | smell: 2.75 | taste: 2.75 | feel: 3 | overall: 3
Brown glass bottle with appealing label and unbranded silver pry-off pressure cap purchased from the brewery's beer vending machine (minimum age 16...purportedly) for just under 4 euro and served into a Wieden Brau bierkrug in me friend's gaff in Vienna, Austria. Reviewed live. Expectations are fairly high given the brewery, whose Rauchbier I loved, and whose Chilli beer was good. Served cold and side-poured with standard vigor as no carbonation issues are anticipated.
From the bottle: "Imhalt .5L." "Stammwürze: 11.8 degrees." 4.7% ABV. BB: 15.7.14.
No bubble show forms as it's poured.
HEAD: Half finger head of white colour. Decent creaminess and thickness. No lacing sticks to the sides of the glass as the head recedes. Retention is below average (<2 minutes).
BODY: Clear copper of average vibrance. Clean; no yeast particulate or hop sediment is visible.
Appears to be decently carbonated. Not unique or special.
AROMA: Herbs, faint vinegar, pils malts, and faint herbal hops. A pleasant aroma of mild strength.
No yeast character, alcohol, or off-notes are detectable.
I don't find any overt hemp or cannabis notes.
TASTE: Herbal sure, but not overtly cannabis-esque or hempy per se. Pils malts. Caramel. Munich malts. A dab of honey. It's a pretty simplistic flavour profile, but comes off cohesive. Not gestalt, subtle, or intricate, but enjoyable.
The herbal notes are nice, but don't really feel as natural as they should; with hemp as close a relative as it is to hops, I expect better - and I've had other hemp beers that were better executed than this.
No yeast character, alcohol, or off-notes come through. Average depth, intensity, and duration of flavour.
TEXTURE: Smooth, wet, well-carbonated, light-bodied, and pleasant on the palate. It does have a nice overall presence, and isn't oily - though maybe it should be.
Not gushed, hot, boozy, astringent, harsh, rough, or scratchy.
This texture suits the taste decently, but never feels custom-tailored specifically to it. Decently executed.
OVERALL: Yeah, it's the gimmick beer I hoped it wouldn't be. It's pretty much just a plain ole helles lager with some unbecoming herbal notes thrown in - none of which complement the body of the beer particularly well. Sure, it hides its ABV well and is plenty drinkable, but it's just not remarkable in any way, and I wouldn't trifle with it again. The other 2 offerings I've had from 7 Stern were far far better. This is a nice beer for attracting tourists, but the hemp doesn't feel used in a meaningful intentional way.
C
2,562 characters

3.18
/5
rDev
-6.2%
look: 4 | smell: 3.5 | taste: 3 | feel: 3 | overall: 3
(From notes)
A - Frothy white two fingers worth of foam. Light, hazy yellow-orange gold color. Really good lacing, which I would expect
S - Bit flowery, didn't pick up any resiny aromas that I would have been looking for. Some cooked vegetables and sweetish maltiness
T - A touch flowery as with the aroma, but really not a whole lot to report on here. Nothing offensive, but nothing really stands either.
M - Thin MF, muted carbonation, and passes over the palate without much notice.
D - Just OK. Nothing inspiring here to demand another sip, but you could have 2 or 3 without noticing (but that's not what determines drinkability for me)
Overall, pretty uninteresting and bland. Way better brews in the lineup at the brewpub and in the style.
753 characters

7 Stern Hanf from Siebensternbräu
Beer rating:
3.39
out of
5
with
10
ratings