7 Stern Bamberger Rauchbier
| Siebensternbräu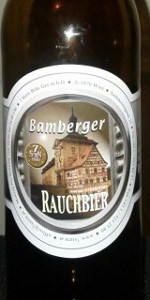 BEER INFO
Brewed by:
Siebensternbräu
Austria
7stern.at
Style:
Rauchbier
Alcohol by volume (ABV):
5.20%
Availability:
Year-round
Notes / Commercial Description:
No notes at this time.
Added by Globetrotter on 02-24-2007
Ratings: 14 | Reviews: 5
Reviews by chinchill:

More User Reviews:

4.25
/5
rDev
+4.9%
look: 4.25 | smell: 4.25 | taste: 4.25 | feel: 4.25 | overall: 4.25
7Stern Bamberger Rauchbier
On tap at Siebensternbräu, 4 January 2013
,3L for €3,20
Notes: 13.5˚ Plato / 5.1% ABV. Typical appearance. Dark walnut brown body with a ruby cast. Full, foamy, slightly yellowed off-white head. Aroma is decidedly smoky but I cannot pick out the wood. It doesn't seem to be beechwood. It's at a nice level, and there are no off-phenolics. That carries over into the flavor, and perhaps the smokiness is even more subdued? Nicely balanced against gently sweet dark caramel malts. Moderate bitterness. Beautiful lingering finish. It's not the most intense rauchbier I've ever had, but it's drinkable - I think I'd enjoy a second glass, whereas the smokiness in many other examples might be a little too much for that. Well done. Nicely polished. Certainly worth trying!
799 characters




3.73
/5
rDev
-7.9%
look: 4 | smell: 3.5 | taste: 4 | feel: 3.5 | overall: 3.5
Tasted this on tap at SiebenSternbrau, Vienna, Austria in May 2008.
The appearence was reddish brown body colour with a generous foamy off-white head.
Smell was decidedly smoky; reminiscent of smoky bacon.
In the taste, the smokiness was more subdued than the smell, with some sharpness perceived at the back and sides of the tongue. No obvious hops, but a definte maltiness and sweetness.
This was a very interesting beer, but I confess to struggling a bit in drinking it, and it is not a style that I would particularly go for.
531 characters


3.7
/5
rDev
-8.6%
look: 4 | smell: 4 | taste: 3.5 | feel: 4 | overall: 3.5
(From notes)
A - Poured with a two finger deep, slightly tan/off-white head. Deep, dirty copper brown color. Great lacing throughout the sample
S - Sweetish malt actually shows up first, which was a surprise for the style. The smokiness definitely comes in as well, but not nearly as prominent as with others in the style range.
T - Not nearly the smokey level that I would look for in the style, but the roasty, smokey, bacony flavors do come in a bit. Kinda mellow, and not as interesting as I would have wanted
M - Medium MF and carried flavors over the palate well. Not that rich, and pretty accessible.
D - Just above average for me. Would have like the brew to be more interesting, and this would have increased my want to have another.
Overall, solid and paired up well with some sausages and sauerkraut. Check it out if there, but wouldn't be the first on my list in their lineup.
897 characters


4.33
/5
rDev
+6.9%
look: 4.25 | smell: 4.25 | taste: 4.5 | feel: 4 | overall: 4.25
Had the tap at the brewery. Quick notes:
Hello bacon! Smells great.
Taste is of sweet malts, with great smokiness: nice charred wood, smoked hay, matches, low charcoal. Nice fruitiness also, with dry figs, berries, low banana, cherries and plum. Spiced with faint clove and vanilla. Caramel in the taste and especially in the aftertaste, nicely mixed with the charcoal feel. Hops in the finish too.
A really really good rauchbier.
431 characters
4.12
/5
rDev
+1.7%
look: 4 | smell: 4.5 | taste: 4 | feel: 4 | overall: 4
I reserved a 5L keg of it and picked it up a few days later. This review is from the keg. Should it be under cask? No CO2 was injected...
Drank out of a 1L MaB, but only poured a half liter. The nose is also overwhelming, though the scent itself is mild. HICKORY, HICKORY, HICKORY! Large amounts of lace after a moderate head of off white gobs. Attractive beer. Big white bubbles hang around after the head thins out. Smoked flavor is subdued and mellowed out with a maltiness reminscent of a watered down Old Chub malt profile. Carbonation is light to moderate, but with the smokiness and malt background, its fitting. I don't think my 5L will last until tomorrow...no work, no worries.
688 characters
7 Stern Bamberger Rauchbier from Siebensternbräu
4.05
out of
5
based on
14
ratings.