Throwback IPA
| Pirate Life Brewing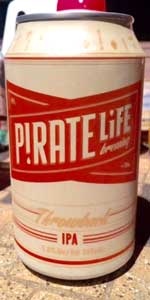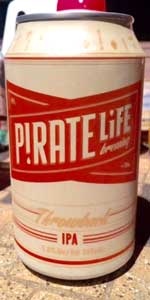 BEER INFO
Brewed by:
Pirate Life Brewing
Australia
piratelife.com.au
Style:
American IPA
Alcohol by volume (ABV):
3.50%
Availability:
Year-round
Notes / Commercial Description:
No notes at this time.
Added by Knapp85 on 07-29-2015
HISTOGRAM
Ratings: 12 | Reviews: 4
Reviews by dansmcd:

3.61
/5
rDev
-6.5%
look: 3.5 | smell: 3.75 | taste: 3.5 | feel: 3.5 | overall: 3.75
More User Reviews:
3.8
/5
rDev
-1.6%
look: 4.5 | smell: 3.75 | taste: 3.75 | feel: 3.75 | overall: 3.75
335 ml can, sample from the brewery.
Lacing show on the glass, pale golden hue with a bubbly clarity. Citrus and grain in the nose. Bitter enough for an IPA, light bodied and a bit thin on the grain but that is expected here. Nutty grain, pithy hops, drying finish. Easy drinking which is not a surprise ... pretty light but tasty.
333 characters

3.7
/5
rDev
-4.1%
look: 3.75 | smell: 3.75 | taste: 3.5 | feel: 3.75 | overall: 4
4
/5
rDev
+3.6%
look: 4 | smell: 4 | taste: 4 | feel: 4 | overall: 4
4.14
/5
rDev
+7.3%
look: 4 | smell: 4.25 | taste: 4 | feel: 4.25 | overall: 4.25
3.92
/5
rDev
+1.6%
look: 4 | smell: 3.75 | taste: 4 | feel: 3.75 | overall: 4
3.94
/5
rDev
+2.1%
look: 4 | smell: 3.75 | taste: 4 | feel: 4 | overall: 4

3.07
/5
rDev
-20.5%
look: 3.5 | smell: 4 | taste: 2.5 | feel: 3 | overall: 3
Yep, it's another "Session IPA", and yep I've had average (at best) times with all the Session IPAs I've had since they apparently became a thing. Problem is that they (the brewers of these beers) don't seem to realise is that the perfect Session IPA already exists - it's called a "Pale Ale". Seriously why are Pirate Life, Mornington and Modus working on these Session IPAs when they could simply add more/different hops to their own Pale Ales and give it a different name, like say for instance: Pirate Life Throwback Pale? Easy, done, next beer! In any case I had someone tell me that this beer was easily the best out of the Pirate Life range (including their IPA)… I think I might have to get that person sectioned.
Poured from a 355ml can into a nonic pint.
A: Hazed amber body with a really foamy one centimetre off-white head - I'm talking of soap bubble proportions here! The head soon disintegrates leaving a thin patchwork of lacing. Looks alright, those soap bubbles were pretty wild though. 7/10.
S: Aroma is something Pirate Life seem to constantly nail: Tropical papaya overtones mingle with light piney characters and a hint of green cannabis notes. This mid-strength IPA has a bigger hop aroma than some fully-fledged IPAs, however as we learnt with Modus's Session, the nose can be deceiving… hint of lychee as well. 8/10.
T: Straight away this suffers from the same problems as Modus's Session: "it's like someone took a tasty IPA and poured soda water into the glass with it. Yes those tropical fruit notes are there, along with an ever so slight biscuit base, but it's all watered down and hardly worth drinking… Also a slight grainy taste is present". Yep, that's Throwback IPA in a nut-shell as well. 5/10.
M: Light(ish) bodied with a rowdy carbonation to top it all off. 6/10.
D: I hate to paraphrase one of my previous reviews but it does save time/energy what with Throwback IPA having the same blandness as Modus's Session. These Session IPAs are fast becoming a pet hate of mine - yes there are reasons why people would want to drink a mid-strength beer, especially in this Australian summer heatwave, but these beers don't even come close to a brew like Rogers. It's really a waste of time/money drinking these Session IPAs. 6/10.
Food match: Cut and paste from my Modus Session review: "A light tropical salad, green papaya salad (without chilli) would work."
2,447 characters

3.99
/5
rDev
+3.4%
look: 3.75 | smell: 4 | taste: 4 | feel: 4 | overall: 4
4.29
/5
rDev
+11.1%
look: 4.25 | smell: 3.25 | taste: 4.75 | feel: 4.5 | overall: 4.5

4.25
/5
rDev
+10.1%
look: 4.25 | smell: 4.25 | taste: 4.25 | feel: 4.25 | overall: 4.25
From 330 ml can. Pours a clear golden colour with a white head and lively carbonation. Aromas of lemon zest, passion fruit, melon and a little pine. Taste starts out with fresh peach and passion fruit before a zesty citrusy bitterness in the mid palate. Crisp bitter finish with a light fruity aftertaste. Thin bodied but totally refreshing.
341 characters

3.63
/5
rDev
-6%
look: 3.5 | smell: 4.25 | taste: 3.25 | feel: 4 | overall: 3.5
A 355ml can with no canned on or best before date, poured into a Spiegelau IPA glass.
Appearance: It poured a slightly hazy copper amber colour with a big three finger off white head that held its own for a while before suddenly collapsing on itself, while leaving some lacing.
Aroma: Tropical pineapple and passion fruit with citrus grapefruit, orange and orange peel. There is also some pine notes.
Taste: Strong biscuit malt backed with pine, citrusy grapefruit and orange zest. Nice bitter on the finish.
Mouthfeel: Crisp, light bodied with moderate carbonation.
Overall: Easy light drinking.
601 characters
Throwback IPA from Pirate Life Brewing
Beer rating:
3.86
out of
5
with
12
ratings