Double IPA
| Grand Teton Brewing Co.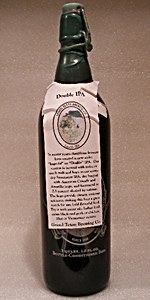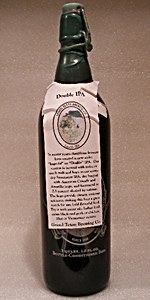 BEER INFO
Brewed by:
Grand Teton Brewing Co.
Idaho
,
United States
grandtetonbrewing.com
Style:
American Double / Imperial IPA
Alcohol by volume (ABV):
7.50%
Availability:
Limited (brewed once)
Notes / Commercial Description:
Our version is brewed with twice as much malt and hops as our everyday Sweetgrass IPA, dry hopped with American Cascade and Amarillo hops, and fermented to 7.5 percent alcohol by volume. The hops provide citrusy, resinous spiciness, making this beer a great match for any bold, flavorful food.
Added by GClarkage on 12-31-2005
This beer is retired; no longer brewed.
HISTOGRAM
Ratings: 14 | Reviews: 12
Reviews by Blybloke:

4.33
/5
rDev
+9.9%
look: 4.5 | smell: 4 | taste: 4.5 | feel: 4 | overall: 4.5
This was a nice surprise. I picked up this wax-sealed bottle at the Liquor Barrel in Golden Valley. I haven't seen Grand Teton Brewing anywhere else as yet.
Anyway, to the task at hand:
A hard pour in a tulip glass gave me a beautiful blood orange body with a 2 inch tight head.
Smell of tangy citrus hops and sugar with a nice bread base.
Tasted wonderful. Showcased exactly what I love in a DIPA; hops, a little heat (7.5%), and the thick malt backbone.
Mouthfeel was silk with near perfect carbonation. The alcohol wasn't even noticed. This one is dangerously drinkable.
Excellent, excellent beer. If you see this, pick it up.
650 characters
More User Reviews:
3.62
/5
rDev
-8.1%
look: 3.5 | smell: 4 | taste: 3.5 | feel: 3.5 | overall: 3.5
Had on tap at Union Ale House
Appearance: 1/4 inch head, clear, orange/brown in color
Smell: floral hops
Taste: big dose of floral hops, some citrus, honey, and bread
Mouthfeel: light bodied, medium/light carbonation, bitter with a sweet backbone
Drinkability: I could have a couple of these. It is a nice and floral IPA. Nothing to go out of my way for, but good.
370 characters
4
/5
rDev
+1.5%
look: 4 | smell: 4 | taste: 4 | feel: 4 | overall: 4
Source: 1 liter corked, caged and waxed bottle. Two observations: (a) yes, I love the beer in 1 liter rather than 750 ml size; and (b) that wax, while sexy and impressing to the eye, can be a bee-atch to get off - I prefer my conquests pre-waxed.
Appearance: Dark reddish brown; very enticing. Rough pour produced a rocky off-white head that dissipated quickly, but that may be due to excessive cellaring on my part.
Smell: As you would expect, hops are front and center here. Mostly pine, followed by citrus. There's a nice balancing malt, though, which I cannot identify but like.
Taste: Nice and balanced, which you can't always say for a double IPA. The hops are certainly on the attack, but there's a nice malt element around the edges that prevents the beer from being too drying.
Mouthfeel: Very good. Even aged what I suspect is a little bit past its prime, it doesn't need excessive carbonation (which it does not have) to make it work.
Drinkability: I really like this beer more than I thought I would initially (and I can be a hophead, so my initial view was not based on the DIPA style). It's just a lot more balanced than you often expect for a style that sometimes seems to feature brewers competing in a contest to see how much you can jam into a beer. This works.
1,285 characters
4.33
/5
rDev
+9.9%
look: 4.5 | smell: 4 | taste: 4.5 | feel: 4 | overall: 4.5
2006 release, acquired from GREGER courtesy of the Cellar BIF, so a big "Thank You" goes out to him. Poured from a 1-Liter, wax-sealed, swing-top bottle into a snifter glass.
A: The beer is a bright reddish amber color, with a large off-white head that fades very slowly and leaves a thick lace on the glass.
S: The aroma is of caramel, brown sugar, citrus and floral hops.
T: The taste very well-balanced with intensely strong flavors of hops bitterness and caramel, citrus and brown sugar sweetness. There's a very hearty malt character and a mild alcohol sting which is surprising from a beer with only 7.50% ABV and has been sitting for two years. However, overall, despite the facts that I prefer my 2IPA's fresh and I wasn't able to try this one fresh, I think this beer has held up quite well.
M: Smooth and crisp, medium body, medium carbonation, slightly sticky finish.
D: Very tasty, goes down easily, not too filling, good kick, very good representation of style, this is an excellent beer to drink for a long time. I would have liked to have tried it fresh, but the 2-year-old bottle was very good.
1,115 characters
3.69
/5
rDev
-6.3%
look: 3 | smell: 4 | taste: 3.5 | feel: 3.5 | overall: 4
Green waxed flip-top with a picture of a hop on the bottle. Cool bottle, though wax is a bit of a nuisance. Tag with description attached.
Pours hazed amber with a thin bubbly head that disappears. Little trace of lacing on glass.
The smell is of caramel with grassy grain. Citrus mixes in. Resin eventually takes over.
The taste is of lemon grass upfront. Citrus in the form mainly of lemon mixes in. Caramel and resin follow through and eventually dominate. Bitter notes certainly come through, though it has a sweet resin finish. The finish is a bit abrupt for the style. Alcohol very well-covered.
The body is a bit thin for style - more like a regular IPA, at most. However, it is very smooth.
Easy-to-drink for the style. Not the most exciting or complex DIPA, but a fine choice for a DIPA that is not over-the-top.
Thanks to jcwattsrugger for bringing this one back from his trip!
905 characters
3.81
/5
rDev
-3.3%
look: 5 | smell: 4 | taste: 3.5 | feel: 4.5 | overall: 3.5
Almost impossible to open due to the stupid wax coating covering the whole swing top.
Lightly hazed bronze color with a nice full pillowy light beige head, nice active carbonation, and nice lace sheets. Big floral hop aroma (bitter-ish) with a big malt aroma underneath. Balanced big malt and big bitter hop flavors; a bit sweet. Medium-full bodied and smooth with a big bitter finish.
Very much like an American Barleywine - not very special. Would not pay a premium.
Per bottle:
"Cellar Reserve"
Tasted: 07/03/07
(1 Quart 1.8 oz. / 1L large tall brown swing top bottle and waxed on top)
594 characters
4.05
/5
rDev
+2.8%
look: 4.5 | smell: 4.5 | taste: 4 | feel: 3 | overall: 4
Lucky enough to find a bottle of this at Red Carpet Wine in Glendale. Vintage 2006. Unique bottle size and the swing top is waxed over. Poured into a small tulip it forms a huge sea foam off white head. Chunky lace is left behind. Orange to copper body.
Just like the label states this is a doubled up version of their Sweetgrass IPA. Plenty of similarities, most notably the resinous aspect to the hops. There is a sticky sweetness that is crushed by a citrusy hop bill. A clean tasting DIPA with no rough edges. Spices come into play as the lingering aftertaste continues.
Notes: Pretty damn good. Fruits are subtle but the apple backer that comes through is a delight. A bomber of this in their rotation would be welcomed with open gullet.
748 characters

4.4
/5
rDev
+11.7%
look: 4 | smell: 4 | taste: 4.5 | feel: 5 | overall: 4.5
12/31/05- Purchased at a random liquor store in Jackson Hole, WY.
Presentation- 1 liter swingtop bottle dipped in wax. No dating, but I believe it is either a spring or summer release. Poured into my Duvel tulip.
Appearance- More orange than amber in color. Beautiful frothy and creamy looking 3/4 inch head. Unfortuanately really no lacing at all.
Smell- Both malty and hoppy. Very bready in the malt department, while the hops a sweet and citrus based.
Taste- Very sugary sweet and flavorful. Bitterness comes through after you wade through the biscuit malt and through the sweet hops. Lots of powdered sugar flavor with grapefruit and maybe some peach or orange flavor as well.
Mouthfeel- This IMO, is one of the most creamy beers I have set my mouth too. Super sugar coating and smooth as egyptian silk. Carbonation is minimal.
Drinkability- As I finish this off, I'm syaing to myself, why didn't I buy more of these. Well, they were $9.99 each, but even so, that's not bad for a quality brew like this one. Grand Teton makes some very average brews, but their seasonal 1 liter beers kick ass! Their Spiced Brown Ale is incredible along with this one. I have their Imperial Porter yet to try. May crack it open tonight because I am really curious. Please read the following notes from the bottle tag.
Notes- In recent years, American brewers have created a new style: "Imperial" or "Double" IPA. Our version is brewed with twice as much malt and hops as our every day Sweetgrass IPA, dry hopped with American Cascade and with Amarillo hops, and fermented to 7.5 percent alcohol by volume. The hops provide citrusy, resinous spiciness, making this beer a great match for any bold flavored food. Try it with prime rib, Indian food, cajun blackened pork or chicken, Thai or Vietnamese cuisine.
1,815 characters

4.35
/5
rDev
+10.4%
look: 4 | smell: 4 | taste: 4.5 | feel: 4.5 | overall: 4.5
Vintage 2006
Waxed/Swing Top
Pour a cloudy dark orange color, nice carbonation (nice big pop at opening), nice little fizzy off-white head, some sticky lacing afterwards. The nose is sweet, malty, hoppy, citrusy, slight spicy, and some caramel. The taste is a good balance of hops/malts, a really nice touch of citrus (grapefruit), and some caramel. The finish is slightly dry. Medium body. Very drinkable, this is a very nice DIPA, highly recommended.
458 characters

3.65
/5
rDev
-7.4%
look: 3.5 | smell: 3.5 | taste: 3.5 | feel: 4 | overall: 4
1L wax-dipped/swingtop bottle. Generous gift from friend and BA GClarkage, picked up on some trip to the middle of nowhere where they make this stuff.
Love the packaging. The 1L swingtop bottle should be more popular (although waxing the top makes it harder than necessary to open).
Listed as "2006 Cellar Reserve," received in summer 2007, poured in January 2008.
I had been worried that this one was aging past its peak, and I think that may be the case. Pours a hazy orangey brown, not much head. Aroma is faint, but what's there is malt-forward - not overly sweet, but not much in the way of hops, either.
Drinks very pleasantly. It's slightly more than just a hoppy brown ale, but it's nowhere near a Lagunitas Hop Stoopid or Russian River Pliny the Elder, either. The elements are here - mostly a medium-sweet malt, some minor hop edge - but everything is a little muted compared to what I'm used to in a DIPA. Could be the age, could be the brewer's intent.
The texture is where it's at with this beer. Very smooth, not slick, but somehow creamy. If they could just hook that up to some more aggressive hops and malt, then this could be a knockout DIPA. As it stands, it's one I would happily order if I saw, but won't spend a lot of time seeking out.
Thanks, GClarkage, for an interesting pour.
1,309 characters

3.87
/5
rDev
-1.8%
look: 3.5 | smell: 4 | taste: 4 | feel: 4 | overall: 3.5
Poured from 1Qt 1.8 oz swingtop & waxed bottle(2005) a medium gold with a medium sized head of foam that dissipated quickly leaving just a fine layer with some lacing.
The smell is super hoppy with lots of citrus ie grapefruit and lemon.
The taste is initially very citrus hoppy but that gives way to a caramel sweetness from the malt that borders on being syrupy. About midway through and through the finish, the hops take over again leaving some very bitter notes.(that's a good thing) And... the 7.5%abv is rather obvious in the taste so *that* knocks down the drinkability factor for me but still, this one is by far the best of the Grand Teton big beers and I look for them to improve on these offerings in the future..
Bottom line: It's a DIPA that is worth trying but I know that the brewing skill of Grand Teton can kick it up a few notches and make this brew a real contender within the style.
911 characters


4.02
/5
rDev
+2%
look: 4 | smell: 4.5 | taste: 4 | feel: 4 | overall: 3.5
Presentation: Bottle from Rare Beer Club, now 6 months aged, served in a pint glass. According to attached tag, this is Grant Teton's Sweetgrass IPA with double malt and double hops. Literal translation. Cool swing top lid with wax seal, which I appreciate the effort, but the cracking wax while opening the swing top is a real pain and gets all over the place.
A: Golden ale with a bit of amber, and a very white head with medium to large bubbles. Head lingers to a light film.
S: Amarillo and Cascade hops combo gives lots of grapfruit and citrusy smell. Clean, singular smell that is very fresh, and maybe even a bit smoother now after six months.
T: Strong bitter bite up front, but not what you would expect from a double IPA. Just really a strong IPA. Again, singular and clean, good, but not a lot else besides a solid malt underneath. Missing some of the oily, Belgian characteristics of some DIPAs.
M: medium but a bit lighter than the hop bitterness. Maybe a bit light for the balance, but still a solid beer.
D: Hops build in the mouth and don't go away, so it dries a bit as you dirink the quart plus bottle.
Overall: Hop head heaven, a good beer, but doesn't have the depth of quality of some DIPAs I've sampled on the market. A good (literal) first attempt at a DIPA, but should investigate a furthering of the recipe.
1,344 characters
Double IPA from Grand Teton Brewing Co.
Beer rating:
3.94
out of
5
with
14
ratings