Neumarkter Lammsbräu Glutenfrei
| Neumarkter Lammsbräu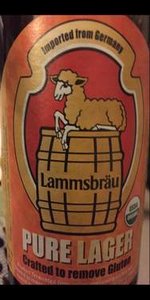 BEER INFO
Brewed by:
Neumarkter Lammsbräu
Germany
lammsbraeu.de
Style:
Euro Pale Lager
Alcohol by volume (ABV):
4.70%
Availability:
Year-round
Notes / Commercial Description:
No notes at this time.
Added by crossovert on 05-30-2011
Ratings: 9 | Reviews: 4
Reviews by BeerForMuscle:
More User Reviews:
3.57
/5
rDev
+11.9%
look: 3.25 | smell: 3 | taste: 4 | feel: 3.5 | overall: 3.5
I have a friend who eats gluten free, and she usually has a hard cider when libations are consumed. I thought I would try this and see if this worth passing on.
Poured a 1/2 L bottle into a pint glass. 4.8%, bottle conditioned.
A - pale gold, nice tight creamy white head. coats the sides of the vessel wunderbarische! lots of carb bubbles.
S - smells like a lager, with some slight citrus notes.
T - tastes like a crisp, easy quaffing German lager. Typical lager taste. Just a hint of bitterness. Can't really tell it is gluten free. Slighlty lagerish aftertaste with muted lingering bitterness. Kinda like a helles or pils.
M - refreshing, high carbonation. clean.
O - I've heard bad things about gluten free beers, but leave it to the herren at Neumarkter Lammsbrau to create a darn good one. Prosit!
821 characters
2.18
/5
rDev
-31.7%
look: 3 | smell: 3 | taste: 1.75 | feel: 1.75 | overall: 2
Long necked 33cl green bottle: BBD of 6th Aug 2013. Poured into two 'Veltins' stemmed tulip glasses at home on 8th Jan 2013.
Looks your usual/normal lager/pilsner/helles: pale golden, clear and clean, thin white covering for a head.
Grains and yeasts in the nose, along with some hop hints.
The taste is dry, slightly hoppy, slightly cardboardy and slightly boring/bland: not a lot going on really.
Metallic feel towards the end of the tasting: not a beer I'll be having again. The overall body feel and flavours left me cold and needing a proper beer!
556 characters
3.57
/5
rDev
+11.9%
look: 3.75 | smell: 3.5 | taste: 3.5 | feel: 3.5 | overall: 3.75
A: Pours a relatively clear medium yellow in color with light to moderate amounts of active visible carbonation rising from the bottom of the glass and faint lemon yellow highlights. The beer has a two finger tall sudsy foamy white head that slowly reduces to a mottled thin film covering the entire surface of the beer with a very thick ring of larger bubbles at the edges of the glass. Moderate amounts of lacing are observed.
S: Upfront there is a light to moderate aroma of bready malts with a lighter aroma of grainy malts and just a hint of fruity yeast. Light aromas of grassy and floral hops in the finish.
T: Upfront there is a light to moderate flavor of bready + grainy malts with a light amount of light fruit (green apple) yeast and just a hint of sweetness. That is followed by light flavors of grassy + floral hops which imparts a light amount of bitterness which fades away pretty quickly.
M: Light to medium bodied with slightly heavier than moderate amounts of carbonation. Crisp and clean.
O: Definitely one of the better gluten free beers that I have experienced - very drinkable and enjoyable. I'd gladly recommend this one to any of my gluten free friends.
1,182 characters
3.35
/5
rDev
+5%
look: 3 | smell: 3 | taste: 3.5 | feel: 3.5 | overall: 3.5
0.33 L green bottle. Mindestines haltbar bis: 12.04.12.
It pours a light pale gold with a soapy (really, really soapy) white head that dissipates very quickly with some greasy-looking lacing.
It has a noticeable skunk which is unfortunate because it is a fresh bottle. There is an acute fruitiness though hidden under the skunk.
The taste isn't as skunky. It is pretty standard actually. This is one of the better gluten-free beers out there. It doesn't taste like monkey ass like the others. The mouthfeel is stark and fizzy. It has sort of an odd skunky aftertaste but the nice bit of hops helps it.
Why they have to be idiots and throw it in the green bottle i don't know, but it is a good beer otherwise.
712 characters
4.04
/5
rDev
+26.6%
look: 4.75 | smell: 3.75 | taste: 4 | feel: 4 | overall: 4.25
Gluten free and organic. Tastes like a normal beer. Seriously!
62 characters
Neumarkter Lammsbräu Glutenfrei from Neumarkter Lammsbräu
3.19
out of
5
based on
9
ratings.