Brick Amber Dry
| Brick Brewing Co.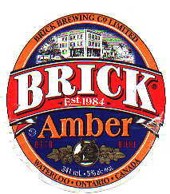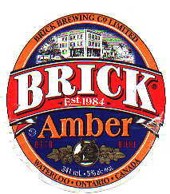 BEER INFO
Brewed by:
Brick Brewing Co.
Ontario
,
Canada
brickbeer.com
Style:
American Amber / Red Lager
Alcohol by volume (ABV):
not listed
Availability:
Year-round
Notes / Commercial Description:
No notes at this time.
Added by Brent on 01-01-2003
This beer is retired; no longer brewed.
HISTOGRAM
Ratings: 13 | Reviews: 12
Reviews by CrazyMike:

2.87
/5
rDev
+15.7%
look: 2.5 | smell: 3 | taste: 3 | feel: 3 | overall: 2.5
I found Brick to be Okay. Not bad, but not very good.
It's very light tasting with sort of a bitter tinge to it. It has a very dry after taste with a hint of something (possibly honey?). The smell is equally sweet.
Overall, this is beer goes down very easily, but so does water. Would recommend if you don't like strong beers.
332 characters
More User Reviews:
1.86
/5
rDev
-25%
look: 2 | smell: 1 | taste: 2 | feel: 2 | overall: 2.5
It doesn't say its a dry. It starts sticky malty thin, and then drying finish and aftertaste. I have had worse macros, but this is a slightly more amber looking pale lager. Twist off. A moderate amount of retaining head. 5% alcohol, and it appears like more in the thin watery fluid accompanying it.
299 characters
3.13
/5
rDev
+26.2%
look: 3.5 | smell: 3 | taste: 3 | feel: 3 | overall: 3.5
My first encounter with something calling itself an "amber dry" - if I hadn't seen the label, I would never have thought it anything other than an amber lager, and after tasting it, still wouldn't have thought differently. As an amber lager, this was unobjectionable. Nice, firm malty mouthfeel and substantial malt flavors. Nothing particularly crisp in the finish to suggest a dry varietal.
392 characters
2.28
/5
rDev
-8.1%
look: 3 | smell: 2.5 | taste: 2 | feel: 3 | overall: 2
Another very thin product from the Brick.
The colour of this brew was a light amber, almost a pale orange with a thin head and little lacing.
The carbonation was a medium and the body a medium as well.
The aroma was very light of malts...almost absent.
The taste was thin as well, mostly dried grains, grassy and short lived.
329 characters
2.03
/5
rDev
-18.1%
look: 2.5 | smell: 2 | taste: 2 | feel: 2 | overall: 2
Appearance- Lighter than amber, not quite a pale colour. Orange is the best descriptive. Head is fizzy and shot lived.
Aroma- Off-putting caramel malts with metals/mineral and corn.
Taste- Sweet and watered down malts with a smidgen of hops bitterness, and plenty of adjunct, and/.or corn.
Palate- Thin bodied and watery malt aftertaste. Sweet, but not in a good way.
Overall- Not a good beer by many standards, but it has it's place.
447 characters

2.88
/5
rDev
+16.1%
look: 3 | smell: 2.5 | taste: 2.5 | feel: 3 | overall: 4
Picked up a case on the way back from Toronto. Stubby bottles (and as previous reviewer noted, now just called "Brick Amber'). Head is quite bubbly and disappears quickly. Not quite a true amber, lacks distinctive qualities - feels like an attempt to make a amber ale to please the masses. Definitely drinkable, but a thin taste and a smell to match. Rather grainy. This beer left me wanting more.
Unfortunately, the most interesting thing about this beer was the random graphic under each cap.
497 characters

2.7
/5
rDev
+8.9%
look: 2.5 | smell: 2.5 | taste: 2.5 | feel: 2.5 | overall: 3.5
It's not dry at all. The label doesn't say dry either?
Amber? Maybe like a yellow/amber traffic light?
A: Clear, yellow-gold with a fizzy white head that quickly dissipates.
S: Faint hint of caramel sweetness and an even fainter hint of floral hops.
T: Definitely not dry. This one's balanced to the sweet side. There's only a slight hint of hop flavour & bitterness.
M: Light to moderate body, slightly syrupy, moderate carbonation.
D: Easy, approachable transition beer. Too sweet for my liking/sessionability.
I think this has been a part of the Brick line-up for about 20 years. They bought laker from Molson & own the buck-a-beer market, so they've cancelled this one (and a few others) to make room for the new JR Brickman all-malt series. Sounds good... but I hope the new stuff isn't any sweeter!
Thanks for the bottle of this retired classic Len!
879 characters
1.12
/5
rDev
-54.8%
look: 3 | smell: 1 | taste: 1 | feel: 1 | overall: 1
I gotta take points away for the package - clear glass that reveals coppery honey-colored liquid. This isn't High life after all. It just aint right.
Artifically sweet nose is reminiscent of strawberry soda with a lacing of weary asparagus aroma. The palate pays off the debt incurred by the nose by showing very, very neutral. No one would want to "taste" what the nose offers so the lack of flavor intensity is a huge plus in this case. Still, the flavors do trace boiled, vegetal elements along with flavors of industrial sugar pastries such as Hostess Twinkies. Very stupid tasting beer. Condescending, pandering swill.
624 characters

2.63
/5
rDev
+6%
look: 3 | smell: 2.5 | taste: 2.5 | feel: 2.5 | overall: 3
Poured a true amber color with a smallish head that reduces to a ring quite quickly... medium carbonation..large AND small bubbles evident (???) Aromas all you get is, pronounced malty sweet smells and barely detectable hop grass tones. Stars bland then the cloying malt departure where the hops sit in the background followed by a fairly fast but bland finish...pretty macro brew standardization here. I think this is made to sell to the university types that want to think they are guzzling craft beer but need macro traits in the drink because they confuse brew character with skunkiness.. This isn't a bad beer just another one with no character of it's own.
663 characters

3
/5
rDev
+21%
look: 3 | smell: 3 | taste: 3 | feel: 3 | overall: 3
I just found notes on my computer of this beer. So I'm reviewing from them.
Brick Amber poured a stained yellow colour with about a half finger of head. Lace was sparce on the glass. Though it did come in a clear bottle, their was no skunkiness. It was a closed six pack that possibly saved the beer. Big malt presence, some grass, bit of butter and very little hops. Tastes very sweet. Lot of bready and cracker malts, bit of a butter aftertaste with an herbal and grass finish. Mouthfeel wasn't as dry as I'd think it should be. Kind of carbonated and thin. Decent beer, though. Very nice as a quaffer.
606 characters
3.7
/5
rDev
+49.2%
look: 3.5 | smell: 3.5 | taste: 4 | feel: 3.5 | overall: 3.5
I like this beer, I really do. As a previous reviewer stated, I was in University when I first tried this. I was a slave to the mainstream breweries when this happened in my glass.
To me, the aroma is fruity in nature, very apply, which made me skeptical from the beginning. Being colour blind, I will not comment on colour aside from saying it isn't dark, nor is it light. As for the flavour, I love it. It has a full flavour not found in a lot of mainstream beer.
468 characters

2.03
/5
rDev
-18.1%
look: 2.5 | smell: 2 | taste: 2 | feel: 2 | overall: 2
Golden orange in colour with a rough white head that settles to a partial film in no time. Laceless.
No discernable aroma.
Mildly sweet, vague taste of grain.
Nothing at all interesting about this beer. And after all the effort I put into popping the cap. Sigh.
Give it a pass.
289 characters

Brick Amber Dry from Brick Brewing Co.
Beer rating:
2.48
out of
5
with
13
ratings