Yuletide Ale
| Crooked River Brewing Co.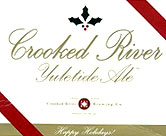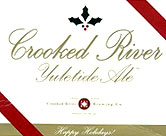 BEER INFO
Brewed by:
Crooked River Brewing Co.
Ohio
,
United States
Style:
Winter Warmer
Alcohol by volume (ABV):
not listed
Availability:
Winter
Notes / Commercial Description:
No notes at this time.
Added by jtw5877 on 11-29-2002
This beer is retired; no longer brewed.
HISTOGRAM
Ratings: 14 | Reviews: 13
Reviews by AC-Mivsek:
More User Reviews:

4.05
/5
rDev
+8.6%
look: 4 | smell: 4 | taste: 4 | feel: 3.5 | overall: 4.5
Translucent reddish-brown tint with an off-white head, fair retention; some lace. This is a fine looking brew. The nose is clove with some cinnamon and malt… very inviting. The first sip is quite a reward. It is very tasty with cloves, warming rum, spice, and malt undertones. This is an ideal, if not perfect, example of a wintertime spice beer. You really want to sit by an open fire and eat cookies with this one.
Thanks, jtw5877 for the excellent Beermas gift!
468 characters

3.36
/5
rDev
-9.9%
look: 3.5 | smell: 2.5 | taste: 3.5 | feel: 3.5 | overall: 4
When poured, this beer had a small sized tan head that contained fine sized bubbles. The body had a lot of lively carbonation and was clear with a reddish-brown hue. The nose was spicy, nutmeg and cinammon with a sweet and cinammon flavor. The mouthfeel was smooth and light bodied. There was a fair amount of lacing with this beer.
332 characters
4.03
/5
rDev
+8%
look: 4 | smell: 3.5 | taste: 4 | feel: 4.5 | overall: 4.5
On tap at the Harryman House in Reisterstown, MD, apparently this is contract brewed by the local Frederick Brewing company. Pours a bright copper with some slight chill haze, a finger of head, and some pretty nice lacing. Nose is a light slighty toasted malt, some ginger, maybe a bit of cinammon, rather faint altogether. Taste is a very nice full toasted malt, some great gingerbread tastes from the ginger, and just a subtle bit of cinammon on the finish. Very nice full bodied mouthfeel with moderate carbonation. This winter warmer is all about the delicious toasted malt, the spices just coming in subtly, not dominating like they do in other examples of the style. And to me, that means this is a sessionable beer, not just a single serving sipper. This was a pleasant surprise, I definitely would have never heard of our sought out this beer, but next year I definitely wil. Frederick brew's two other winter warmers, Snowball's Chance and Snow Goose, and this is the fullest and most flavorful of the three.
1,017 characters
4
/5
rDev
+7.2%
look: 4 | smell: 4 | taste: 4 | feel: 4 | overall: 4
Bright amber with a nice light brown head and light carbonation but leaves no lace. Nice light spice aroma (nutmeg?). Nice malty Oktoberfest-ish character with light spicy tones. Medium-full bodied. A fairly good spiced winter brew.
Label states "Ale brewed with Winter spices"
Review of 2002 version.
($3.99 / 6-pack)
327 characters
3.5
/5
rDev
-6.2%
look: 3 | smell: 3 | taste: 3.5 | feel: 3 | overall: 4.5
Deeper amber body, lighter at the edges, with a thin, light tan head. Fairly inert aroma, especially for a spiced ale--nothing specifically jumps out-possibly cinnamon , or maybe I'm just suggestible. I love the packaging--a very handsome, quite appealing brown bottle with a very stark, cream colored label featuring small script gold letters. I'd be intrigued by this in a store...
Being a terrible judge of spiced beers, I almost hate to comment on the flavors. However, feeling fairly compelled, I can discern (under the souring spiciness) a strong malt backbone with very little bitterness or hoppiness. The spices are quite subtle, which is definitely to my liking, though they are present, which is to my disliking :)... The malt flavors are grainy in the mouth and nose, suggesting some Belgian malt in the grist, or more unlikely, the employment of a decoction mash? The finish is clean and thin, with cinnamon again making an appearance I believe.
Without knowing, I'd guess that this year's Yuletide is slightly above average strength (between 6 and 7%) and flavored with standard winter spices, like cinnamon and nutmeg. I'm pretty sure I can pick out the dry, dusty ,arid mouthfeel of cinnamon in every 2nd or 3rd sip. Beyond that, my experience pales, and I feel a little guilty for even rating a beer with spices, considering my lack of experience with them. However, this one was not at all bad…
1,423 characters
3.45
/5
rDev
-7.5%
look: 3 | smell: 3 | taste: 3.5 | feel: 3.5 | overall: 4
Pours copper-orange, nice color, nearly no foam at all, same for lacing.
Very light aroma of malt and spice.
Nutmeg and spice flavor in with the toasted malt, possibly carmelized. I get a slight zing as it rolls over my tongue, not sure if it is a hop thing though. Clean finish.
This is drinkable, the flavors are all pretty subtle in this mild but balanced offering.
Had this first at a holiday party recently, good setting. Cold outdoors and warm inside.
461 characters
3.75
/5
rDev
+0.5%
look: 4 | smell: 4 | taste: 4 | feel: 3.5 | overall: 3
This is a very good Christmas beer.
Seasonally red-amber, good carmel-butter head,...cloves! Smells like one might expect a Christmas beer to smell like. Cloves, Baby! Not cinnamon.
Surprise! Fortaste jumps in with a leathery, Strong Scotch Ale flavor like a highlander at the quickening. If you like your Scotch Ales, no worries. If you don't, well, you've been warned then, haven't you?!
Whatever hops are present only back the clove flavor with bitterness, they do not trump it. A little tinge of alcohol pops right in the back, but only if you look for it.
Leaves your tongue like every other spiced beer out there--like you've just eaten a box of sprinkled Christmas cookies.
Score two home runs for the diversity of Frederick Brewing Co's. tanks--completely unlike Blue Ridge Snowball's Chance or Wild Goose Snow Goose.
841 characters
4.03
/5
rDev
+8%
look: 4.5 | smell: 4 | taste: 4 | feel: 4 | overall: 4
I can't beleave im this late with this review, for I ordered a case of this for the holidays,2002. The very festive packageing made this a perfect holiday brew for get togethers and even gifts and trade offerings to other BA's. It was late getting to me on Dec. 20th, but worth it. It pours a reddish amber with a light tan head that maintained itself well. The aroma of spicy malt and cinnamon. Taste also reflects the mild spice, nutmeg, cinnamon and cloves. The finish has a slight hop note followed by a rum-like warmth. Im glad to of shared this over the holidays, I've saved back a few for next year. Perhaps for santa, for it pairs well with sugar cookies.
663 characters
3.03
/5
rDev
-18.8%
look: 3.5 | smell: 3 | taste: 3 | feel: 3 | overall: 3
Pours amber/brown with a thick, foamy off-white head that fades away quickly leaving a thin lace. Aromas are quite malty with cinnamon, clove and nutmeg undertones. The taste is very similar to the aroma, there's virtually no hops noted. There's a bit of a spicy, clove aftertaste left. This is a decent Christmas beer, very nice.
332 characters
3.97
/5
rDev
+6.4%
look: 3.5 | smell: 4 | taste: 4 | feel: 4 | overall: 4
This is a good seasonal. Pours a red orange color and has a decent head that doesn't hang out and leaves little lace. Smells of sweet malt and spices of nutmeg, cinnamon, and ginger. Has a good malty backbone which hold up the delicate light spices. It has a great mouthfeel to it and is still easy to drink with a holiday meal or on its own.
342 characters

3.4
/5
rDev
-8.8%
look: 4 | smell: 4 | taste: 3 | feel: 3 | overall: 3.5
Kudos to Crooked River for changing up their normally boring label scheme. Pours a nice reddish-amber color with a thick and foamy light beige head. Very spicy aroma. Flavor was decent but I felt it was way too heavy on the cinnamon. Faint hops finish. Overall a fairly good seasonal but it needs better balance.
312 characters
3.58
/5
rDev
-4%
look: 4 | smell: 3.5 | taste: 3.5 | feel: 4 | overall: 3.5
Reddish orangish bronze, a truly beautiful color when brightly backlit. The creamy cap of orange-tinted beige looks like whipped butter and leaves tissue paper thin sheets of lace on the upper reaches of the glass as it melts.
The aroma is nothing special and certainly doesn't remind me of a winter warmer or a spiced beer of any kind. Toasted caramel malt and hops are present in roughly equal proportions. There's nothing wrong with it exactly, but I was expecting something a little more distinctive and a lot more festive.
Yuletide Ale is more winter warmerish on the palate. For starters, the body is on the full side of medium with a lightly creamy feel. In addition, holiday spices are much more noticeable than they were in the nose. The brewer has informed me (by telephone) that ginger, cinnamon bark and orange peel are added.
There's a significantly toasted malt backbone with less of a hop presence than the nose suggested there would be. In addition, both golden and dark fruit add something of value to the flavor profile. A light jab of well-integrated alcohol isn't unwelcome and gives the beer something of an old ale vibe.
Yuletide Ale is a pretty good little winter beer from Crooked River Brewing Company (contract brewed by Frederick Brewing Company, MD). It doesn't have quite enough personality for me, but one could do a whole lot worse in the seasonal ale category.
1,406 characters
4.3
/5
rDev
+15.3%
look: 4 | smell: 4 | taste: 4.5 | feel: 4 | overall: 4.5
Pours medium brown with a thick foamy tannish white head. An excellent winter beer, Solid malt backbone with a good dose of cinnamon and cloves; not really any hops, but it doesn't need them. If you like Holiday beers this one hits the spot.
241 characters
Yuletide Ale from Crooked River Brewing Co.
Beer rating:
3.73
out of
5
with
14
ratings