Brasserie Cornelyshaff á Heinescheid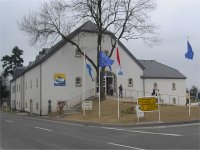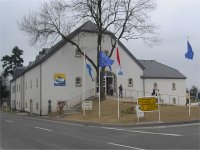 Brewery, Bar, Eatery
Maison 5
Kalborn
, 9757
Luxembourg
+352 (091) 998513 |
map
beo.lu
Notes:
TheLongBeachBum from California
3.53
/5
rDev 0%
vibe: 3.5 | quality: 4 | service: 3.5 | selection: 3
A small group of farmers in a quiet rural area of Luxembourg got together many years ago & decided to buck the trend of continually accepting EU agricultural hand-outs (French Farmers take note!!). They wanted to take control of their own produce, but with no experience, contacts or marketing skills they were really up against. Well from what I saw at Cornelyshaff they have succeeded.
Set in an immaculately cream painted and beautifully restored spacious old Farm building, the Co-Op have done themselves proud. All of their produce is on sale here, Mustard, Rapeseed Oil, Poppy Oil (honest), HanfOil (from Hemp!), Sunflower Oil, & Linseed Oil from Flax. It also makes and sells Buckwheat Noodles, Buckwheat Flour, Poppy Seeds and err….
…..oh, that's right - did I forget to mention the Beer!?
The Brewery can be seen to your right as you enter the building, and on your left is the main bar which is a semi-circular affair. The local produce is all on display and for sale. Service was above average whether buying the produce or beer. No food as yet, but it is planned.
Another custom built all stainless steel, fully automatic plant (where do these Luxembourgers get all their money from??) & a full time German Brew Master ensures consistent high quality beers. The Brewery only went commercial on the 4th April 2003 & our party was amongst the first to visit it. But this is no normal Brewery, for as with the products above, they use their local ingredients where possible, mainly the Buckwheat.
The Brewery makes two permanent beers.
Ourdaller Waïssen Tarwebier is 4.6% ABV, and is an unfiltered wheat beer that is quite different to your usual Wheatbeer.
Ourdaller Wëllen is also unfiltered, naturally cloudy beer brewed with Buck Wheat, Select Malts, Hops, Yeast & Fresh Water from the Ardennes. This offering was 6.8% ABV and my favorite of the 4 beers on Sale.
The other 2 beers on sale during our visit were both Specials;
Héinischter which was 4.2%ABV and a very respectable Pils and
Cornely, a dark 4.7%ABV strange 'mish-mash' Amber Ale that had some redeeming ESB character to it.
They also produce Ourdaller Béierdrepp, which at 42% ABV is a kick-ass clear spirit distilled from the Ourdaller beers. It makes a bloody great "chaser". A friend told me I enjoyed a few of these Ourdaller Wëllen- Béierdrepp chasers – not that I can remember!!!
Last Visit: Sat. 19th April 2003
May 01, 2003
Brasserie Cornelyshaff á Heinescheid in Kalborn, Luxembourg
Brewery rating:
0
out of
5
with
0
ratings