Ultra Délice
| Brasserie Scassenes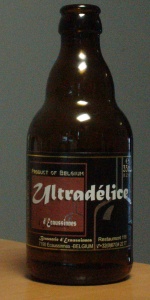 BEER INFO
Brewed by:
Brasserie Scassenes
Belgium
brasseriescassenes.be
Style:
Belgian Strong Dark Ale
Alcohol by volume (ABV):
8.00%
Availability:
Year-round
Notes / Commercial Description:
No notes at this time.
Added by TheLongBeachBum on 05-19-2004
Ratings: 9 | Reviews: 6
Reviews by Voss:

2.55
/5
rDev
-27.1%
look: 4 | smell: 1.5 | taste: 3 | feel: 3.5 | overall: 2
Best before 29/11/2010, I had this belgian on 28/05/2007.
Dark ruby red, tall beige head. Smell of vegetables, asparagus and unripe and tart tomato. Not good for me. Taste is what you expect from a candy sugar dessert beer, very sweet, with hints of what characterize the flavour. It matches foods like cookies and, because, I'm Italian, matches very well a "sbrisolona", Mantua's typical pie, a dry cake made with honey and almonds. It almost seems an "amaro alle erbe", a bitter drink made with various types of herbs or, but just a very little, a "barolo chinato", a wonderful dessert italian wine, or this is what it is ment to be. But, drunk alone, it's not very good, not as when paired with the right food or dessert/cake. Glad to have tried it, but that's enough for me.
778 characters
More User Reviews:

4
/5
rDev
+14.3%
look: 4 | smell: 4 | taste: 4 | feel: 4 | overall: 4
Interesting and enjoyable beer. Nice appearance. Great head retention. Subtle dark chocolate and spice in the nose as well as a touch of phenol. The flavor is similar with a touch of alcohol and some mild fruit in the background (apple, orange). Not rich, exciting, or intriguing, but well-executed and drinkable. Worth trying.
327 characters

4
/5
rDev
+14.3%
look: 4 | smell: 4 | taste: 4 | feel: 4 | overall: 4
Bottle: Poured a deep brown color ale with a huge foamy head with good retention and some good lacing. Aroma of candi sugar and Belgian malt is quite enticing. Taste is a well balance mix between some huge Belgian malt, candi sugar and some fruit cakes notes which is quite interesting. Body is full with some great carbonation and no alcohol was discernable. Very well done overall apart from being a bit too sweet.
416 characters
3.18
/5
rDev
-9.1%
look: 4 | smell: 3.5 | taste: 3 | feel: 3 | overall: 3
BB 22-12-09. Nice and very well lasting head and a dark brown beercollor. Nose is lots of cinnamon, dark candy, "speculaaskruiden" and litle maltyness. Taste is very sweet candy, spiced and alcoholic. Far from a beer and more like a ghluewine. Low bitterness and high carbonisation makes it extra strange also in mouthfeel and drinkability. Not a bad brew but IMO far too sweet te really enjoy.
394 characters
3.78
/5
rDev
+8%
look: 4 | smell: 3.5 | taste: 4 | feel: 4 | overall: 3.5
Brasserie d'Ecaussinnes: Ultra-Délice.
Strength: 8.0% ABV.
Style: Brune
Ecaussinnes Café Tasting Notes: Brune délicieuse et douce.
Served on Draft; 33cl Glass Goblet (€2.20).
Tasted at the Farmhouse Café (Sampling Room), during a return visit on Saturday 18th April, 2004. We had previously visited here during a Brewery Visit on 18th April 2003 during last years Belgium Trip. The Ultra-Délice was not available then, and is a new addition to the range since we came here last year.
Appearance: Decent looking ruddy and hazed brown color with a light tan head that had excellent retention. Served in one of those oversized goblets, the massive head aided the superb looks of this when static on the Table.
Smell: Chewy malts with some milk chocolate hints and toffee throughout. At times I got banana toffee and warming sweet malt aromas.
Taste: Starts with a spicy malt introduction, warming with dark toffee and caramel hints. Dark fruits in the middle, raisins, currants, plums and a light fig-toffee feel with some of the banana odors filling in the back end with some taste contributions. This is a very nice offering, mildy warming as it goes down leaving a spicy but malty & bitter aftertaste.
Mouthfeel: Decent for an 8% Brune, this is a very smooth offering where the spices bolster the solidity of the tastes and feel.
Drinkability: No problems with this one, but I would not too many of them, they certainly feel potent and more towards the sipping beer spectrum. Still I could easily manage a couple of these for a night-cap!
Overall: An excellent new offering from Ecaussinnes, and a pleasant surprise and nice addition to the current range.
The Brewer, Hugues, who instantly recognized our party although it had been 12 months since our last visit to the Ecaussinnes Café, chatted freely and told us that he was very happy with this new addition on draft dispense. Well worth trying, but I never did ask if this was going to be bottled in future.
Note: The Ultra-Délice is also available in the Café in its distilled version. Called "Ultraprès", and weighing in at a Kick-Ass 21% ABV, it is served warmed in the style of an Irish Coffee with an unhealthy dollop of thick cloying Cream – and its f**king good!!! Finish the night with one of these if you get to the Café.
2,334 characters

3.11
/5
rDev
-11.1%
look: 4 | smell: 3 | taste: 3 | feel: 3.5 | overall: 3
BB 04/01/13, served lightly-chilled in Westmalle's broad-rimmed chalice.
A: a dark mahogany hue with blood-purple-ish hues comes with rather restrained carbonation and a moderate dark beige froth (given a force-pour) that settles gradually to a thin cap.
S: for an ale of this type, the yeast sediments seem to overpower the more enjoyable aroma, showing astringent, sour mustiness and rusty spices (e.g. spiced dried olives with a touch of nutmeg and unnamed Chinese herbs), and a touch of sweet coke w/o carbonation any more... the malt elements (a tad liquid-caramely) come second in the overall balance, while the sour hint softens a bit gradually and reveals a little bit of black prunes in the background. Unbalanced overall, which is, IMO, totally due to the complication of the yeast sediments.
T: one-dimensionally sweet malty & sugary upfront, mixed with flat-bodied licorice syrup, cola beans, sweet prunes with a rusty edge; then, slowly, a slightly more pleasant tinge of nutmeg/cardamom-like chewy/spicy bitter-sweetness creeps up in an attempt to regain some (almost) lost grounds... As every sip goes, the finish turns rather sour-sweet as witness to how much impact the redundant sugary bits in a beer could bear upon the overall flavour. If not for the residual spicy undertones and precious little chewy bitter hoppiness or yeastiness, this beer might've been quite an insult to the drinkers that expect much more complexity for their money!
M&D: the carbonation is just okay, not lively at all but, against the thin body, doesn't come soft/smooth either. Just OK overall, I find this beer suffering a lot from the messy yeastiness that is apparently not quite well executed and the candy sugar certainly constitutes a complicating factor rather than contributing positively to the overall performance.
1,822 characters
Ultra Délice from Brasserie Scassenes
3.5
out of
5
based on
9
ratings.