Staffordshire IPA
| Marston, Thompson & Evershed, Plc.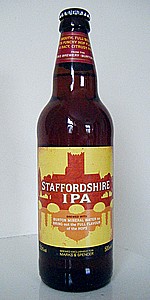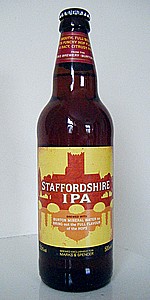 BEER INFO
Brewed by:
Marston, Thompson & Evershed, Plc.
England
,
United Kingdom
fullpint.co.uk
Style:
English India Pale Ale (IPA)
Alcohol by volume (ABV):
5.50%
Availability:
Rotating
Notes / Commercial Description:
No notes at this time.
Added by wl0307 on 01-11-2010
HISTOGRAM
Ratings: 14 | Reviews: 9
Reviews by cambabeer:
3.97
/5
rDev
+13.1%
look: 3.5 | smell: 4 | taste: 4 | feel: 4 | overall: 4
Yes this is good. It's not outstanding, or world-class, but its solid good beer. I agree with my buddy cervezango when he says that this is not that hoppy for an IPA. But "not that hoppy" for an IPA still means hoppy, crisp, and refreshing. Smells malty and grassy. Feels smooth and clean. The hops are really nice, not overpowering. This beer is good, pick it up at a Marks and Spencer.
387 characters
More User Reviews:
3.75
/5
rDev
+6.8%
look: 4 | smell: 3.25 | taste: 4 | feel: 3.75 | overall: 3.75
Poured into a Duvel tulip. The liquid is a completely transparent golden amber, with a modest white head that fades pretty quickly to a film, leaving a nice sudsy ring around the liquid.
Aroma is not very strong. I get some hints of sweet caramelly malt and a bit of orangey, lemony hops. There's also a surprising little funky bite to it... not sure if that will show up on the palate as well...
Flavor starts out with lemons and grapefruit, then follows up with a perfectly balanced caramel malt undertone. It maintains this balance through the swallow and on the finish... coming out just slightly more bitter than sweet. The finish is remarkably clean and pleasant. While this would definitely be a pale ale by American standards, there is a really pleasant citrusy hop character here.
Mouthfeel is medium-bodied, maybe a little light for the style, with a moderate amount of prickly carbonation.
It's not at all showy or flashy, but in a very British way, it is completely satisfactory. I imagine that I could drink this at any time, even though I will more naturally gravitate to more heavy-handedly hoppy beers.
1,129 characters
3.61
/5
rDev
+2.8%
look: 3.25 | smell: 3.5 | taste: 3.75 | feel: 3.75 | overall: 3.5

3.57
/5
rDev
+1.7%
look: 3.5 | smell: 4 | taste: 3.5 | feel: 3 | overall: 3.5
Pours the classic English IPA with golden amber body and thick tempting white head.
The aroma is the best thing about this beer fresh cut roses, ground black pepper, hops and malted milk biscuits.
The taste is nice cutting in with malt and joined by hops then unfortunately overwhelmed by a bottled mineral water taste
this makes the mouthfeel seem watery.
It has a nice low carbonation and a decent enough brew but not for me.
430 characters
3.08
/5
rDev
-12.3%
look: 3.5 | smell: 3 | taste: 3 | feel: 3.5 | overall: 3
The brew is hazy mild copper toned, an off-white smallish head that settles leaving good lacing, some curtains are seen.
The smell is toffee, lemon, lime, grass.
Starting with a soft bread sweetness, some toffee, ripe apples and pears, then a sharp bitter grape-fruit tang.
Medium low carbonation, soft and slightly oily, a rather big body, a coarse dry finish.
An ordinary IPA, on the bitter side.
402 characters
3.93
/5
rDev
+12%
look: 3.75 | smell: 3.75 | taste: 4 | feel: 4 | overall: 4
3.41
/5
rDev
-2.8%
look: 4 | smell: 3 | taste: 3.5 | feel: 3.5 | overall: 3.5
Too-pale amber with rocky piles of white head that rings. Flinty grain and vague hop spice.
Toast and tart apple then Earl Grey tea hops. Caramel pear drop finish and tightening linger.
Medium, chewy, round.
Nice bitter with some decent hops, but not an IPA by any definition I like to use.
294 characters
3.64
/5
rDev
+3.7%
look: 3 | smell: 4 | taste: 3.5 | feel: 4 | overall: 3.5
looks like watered down coke but and inviting two fingers of head.
smells like bready malt,citrus and hops
watery mouth feel very drinkable, but nice and hoppy not as hoppy as the best ipa's butnice amount. saltine cracker, lemon and granny smith apples.
its pretty refreshing.
not as hard core as and ipa shold be, but worth the buy
338 characters
3.62
/5
rDev
+3.1%
look: 3.5 | smell: 4 | taste: 3.5 | feel: 3.5 | overall: 3.5
Poured crystal clear brown/orange under a foamy cap of foam. Mild citrus scent of hops over sweet biscuit & honey malts.
Taste is mostly consistent with English bitter, but there is a heightened hop presence. Ends bitter. Not particularly strong, and the citrus is lost on the tongue. I'd like something like this on tap, especially on a nitro pull. Mouthfeel consistent with a bittered ale: light and nicely carbonated.
A step above even a best bitter, but this is not quite comparable to the best British IPAs. Nice.
520 characters

3.01
/5
rDev
-14.2%
look: 3.5 | smell: 3 | taste: 3 | feel: 2.75 | overall: 3

3.59
/5
rDev
+2.3%
look: 3.25 | smell: 3.5 | taste: 3.75 | feel: 3.5 | overall: 3.5
3.68
/5
rDev
+4.8%
look: 4 | smell: 3.5 | taste: 3.5 | feel: 4 | overall: 4
Purchased at the local branch of the Marks & Spencer chain store, this filtered bottled ale is said to be "brewed exclusively for Marks&Spencer". Now that the bottle-conditioned line of ales have all but disappeared from the shelves of this chain, I suspect this filtered product along with several other newly found bottled contract brews (brewed by other breweries, all "exclusively for M&S"), are introduced to compensate for the earlier failed bid to go "real"... Coming in a 500ml slim brown bottle, BB 11/2010, served cool in a straight imperial pint glass.
A: pours a very dark golden hue with glows of blood oranges, coming with an abundant amount of tiny bubbles ascending steadily in the nectar, and a well-lasting, thick layer of off-white froth.
S: light dustiness comes with a semi-thick, sweet theme of pale malts but also balanced by the citric-zesty fruity hops. Clean, and slightly sulphurous after a swirl, which is apparently attributed to the Burton water used to brew Marston's ales, while the fruitiness+grassiness of hops are also underlined as a result. Pretty decent.
T: the clean, mildly spritzy palate of zesty citrusness and earthy hops comes light and pleasant, followed seamlessly by a pronounced backbone of slick, aromatic pale malts along with faint, tolerably stinky, notes of sulphur; as the flavour settles, an undercurrent of medium-plus level of zesty/tannic bitterness takes over, leaving a pretty clean, faintly chewy, finishing touch.
M&D: despite added CO2 (as specified on the back label), the palate is not too fizzy at all; at the same time, the flavour comes quite light, clean-ish, and still decently bitter (as compared with the same brewery's Old Empire IPA), thus refreshingly quaffable. Not bad at all, this ale.
1,769 characters

3.24
/5
rDev
-7.7%
look: 3.75 | smell: 3.5 | taste: 3 | feel: 3.25 | overall: 3.25
A - Big rocky head atop a clear golden body with some lightly forced carbon and loads of sticky lace in the glass.
S - Pine needles as opposed to to the resin and wood some IPAs boast these days. Some mild musty fruit like damp figs in a cellar. Some spice but again it is light and musty.
T - Biscuit malt from the start with very light almost invisible hop flavour. Not bad but to be honest very disappointing. Gulping rather than sipping helps this one as it lets the bitterness come through.
MF - Good body but slightly powdery. Also light metallic element.
O - A bit sad and a let down but not the worst thing you will ever come across. Nor is it the worst thing to come out of Marston but equally it is not their best either
735 characters
Staffordshire IPA from Marston, Thompson & Evershed, Plc.
Beer rating:
3.51
out of
5
with
14
ratings