Hudepohl Festival Bock

Hudepohl-Schoenling Brewing Co.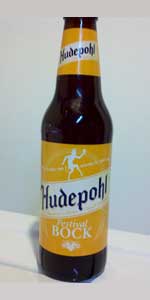 Rate It
Beer Geek Stats
| Print Shelf Talker
Style:

ABV:

6.5%

Score:

Avg:

3.54

| pDev:

11.86%

Reviews:

14

Ratings:

From:

Avail:

Rotating/Seasonal

Wants

Gots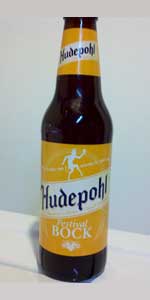 Notes:
KYGunner from Kentucky
3.64
/5
rDev
+2.8%
look: 3.25 | smell: 3.5 | taste: 3.75 | feel: 3.5 | overall: 3.75
It pours a kind of murky amber to dark copper color. The head is light and fizzy and too short lived.
The nose is rather light but quite nice. I catch maple, figs, caramel malt and a bit of darker fruits.
I'm a bit taken aback by the flavor as its nicely rich and diverse. Maple syrup, caramel malt, hints of chocolate and toffee, dates, figs and barley are found on the palate.
The feel is a little sharp with carbonation, but it has a nice thickness to it.
I had no expectation to get the flavors I found but this was a nice surprise and a tasty beer.
Aug 04, 2014

Brutaltruth from Ohio
3.36
/5
rDev
-5.1%
look: 3.75 | smell: 3.25 | taste: 3.25 | feel: 3.5 | overall: 3.5
A fairly decent offering from a mass produced beer. Hudy Festival Bock pours a deep amber brown with a 1 inch thick white tight bubbled head that dissipates quickly to a thin layer of white foam that light clings to the glass. Smell is sweet, almost like a soft drink with lots of medium roasted caramel malts. Taste is fairly one dimensional with sweetness up front with the taste of cola, caramel, and a light tin like aftertaste. Not awful by any means, but much less a bock that it was 20 years ago. Solid but not exceptional, although the price makes up for that from a mass produced bock for which they should be applauded for.
Jun 17, 2014

fastrodney from North Carolina
3.44
/5
rDev
-2.8%
look: 4 | smell: 3.75 | taste: 3 | feel: 3.5 | overall: 3.75
Poured from a bottle to a Sam hybrid glass.
A: Dark amber with a substantial head that dissipated slowly.
S: Malty sweetness.
T: Malty sweetness and a hint of bitterness to balance it out. Alcohol on the back and increasing as it warms.
M: Medium-bodied and medium-high carbonation.
O: The unbalanced sweetness that characterizes everything I've had from Hudy thus far is much less present in this Bock - it looks amazing and everything else is appropriate to the style. Taste of ethyl is a little off-putting on the back and as the beer warms, though, so don't expect a Hudy that is too upmarket.
Jul 13, 2013

rangerred from Tennessee
2.9
/5
rDev
-18.1%
look: 3 | smell: 3.5 | taste: 2.75 | feel: 2.75 | overall: 2.5
12oz bottle into a pint glass.
Pours a clear dark copper with a one finger white head. Ok head retention but not really much in the way of lacing.
Aroma has a good bit of cooked caramel along with a certain corn character. Some burnt toast and metal.
The flavor is quite sweet right off the bat along with a large amount of caramel. Burnt toast and toffee along with the same metal that was present in the aroma and is a bit distracting. Bitterness is light but the sweetness is not and that is something I found a little unpleasant. The sweetness really hinders drinkability and almost becomes cloying at times.
Overall, a fairly poor excuse for a bock. The sweetness is a bit extreme and the metallic taste is bad. Not really one I would pick up again.
Jun 08, 2013

barczar from Kentucky
3.28
/5
rDev
-7.3%
look: 3.75 | smell: 3.25 | taste: 3.25 | feel: 3.25 | overall: 3.25
Pours a brilliant burgundy with a fizzy half inch khaki head that dissipates fairly quickly, leaving a light film.
Cola, rubber, and caramel form the initial aroma. Seems fairly sweet, with a touch of nuttiness and floral notes.
Flavor reveals toasted malt as the backbone, with that caramel and cola sweetness and buttery diacetyl surfacing mid palate. There are underpinnings of dark berries.
Body is moderate, with fairly high carbonation and significant alcohol warmth.
The fruitiness and cola flavors are somewhat offputting. More complex than anticipated, but lacks the melanoidins and malt complexity typical of the style.
Jun 05, 2013

screamking from Ohio
3.38
/5
rDev
-4.5%
look: 3.5 | smell: 3 | taste: 3.5 | feel: 3.5 | overall: 3.5
12oz bottle poured into pint glass.
Pours a highly carbonated brown, the head comes in quickly and leaves just as quickly. Very malty in the nose and on the palate. Very easy to drink and actually quite enjoyable as well. This is a solid bock that you can find dirt cheap in the cincy area. I got my six pack for well less than a dollar a beer. Hudepohl tends to get a bad name but they put out beer that blows most macros out of the water.
May 29, 2013

brewdlyhooked13 from Ohio
4.18
/5
rDev
+18.1%
look: 4 | smell: 3.5 | taste: 4 | feel: 5 | overall: 5
Appearance - I got my wish - they bottled the bock. Glad to see this one available this spring. Pours a fine and clear orange amber with a somewhat watery manila head of a thin finger or so. Fading kinda fast but the Sam Adams glass does what it can to replenish the bubbles.
Aroma - malty, bready, lightly fruity, a touch of caramel...it's a bock.
Taste - toasty maltiness, my favorite part of a bock. The bready grains, light alcohol breath, and trace of hops are in great balance, like a Final Four-bound team. The aftertaste and finish are more of the same.
Mouthfeel - slightly heavy, mellow carbonation, right on.
Drinkability - most sessionable, not too high on the abv, thanks Greg and the crew at CM!
Mar 24, 2012

bluejacket74 from Ohio
3.25
/5
rDev
-8.2%
look: 3 | smell: 3 | taste: 3.5 | feel: 3.5 | overall: 3
12 ounce bottle. Served in a mug, the beer pours a clear amber/red color with a half inch off-white head. Head retention and lacing are both average. Aroma is light, but nice. The brew smells like bready and caramel malt, toffee, and a bit of dark fruit. Luckily the taste is stronger than the aroma. It tastes like toasted, bready and caramel malt, and a little bit of apple and toffee. Mouthfeel/body is medium, it's a bit sticky and slick and has good carbonation. I think it's an OK brew, but I wouldn't buy a six pack of this. But if you can find a single bottle like I did, you might as well try it.
Jun 26, 2011

keeganfrank from Ohio
3.58
/5
rDev
+1.1%
look: 3.5 | smell: 3 | taste: 4 | feel: 3.5 | overall: 3.5
Red-copper liquid, not much head or lacing. Smells bready and salty-sweet like butter. Caramel and fruit are the dominant flavors, with some slight citrus and yeast undertones. Very creamy body, not something you'd want to drink all day. This crispy-sweet brew is great for sipping on a cool Spring afternoon, though.
May 03, 2011

Beejay from Virginia
2.27
/5
rDev
-35.9%
look: 2.5 | smell: 3 | taste: 2 | feel: 2 | overall: 2
A: Red brown, and very clear. The somewhat aggressive pour barely yields any head at all, what if there dissipates in seconds.
S: Very cloying smell. Raisons and sweet bread. This is almost fusel like.. Something definitely seems off.
T: Overly sweet, at first, but that quickly fades to a tart flavor. The tartness is punctuated by metallic and fusel flavors and just a touch of 'cat breath'. The finish is chemically. There is some bready notes in there with the roasted bits, but I can't get over the off flavors in this.
M: Thick and slick with pin prick carbonation. Not a good thing.
O: Not impressed, the flavor is wicked off tasting and the appearance and mouthfeel are just insult to injury. Maybe it's just an off bottle, but it is an off bottle that is going down the drain.
Mar 30, 2011

notchucknorris from California
3.45
/5
rDev
-2.5%
look: 3.5 | smell: 3.5 | taste: 3.5 | feel: 3 | overall: 3.5
A: Golden color with a lasting cream colored head.
S: Grains and malts.
T: I wasn't a huge fan of this one. There's some nice malt flavor in here, but it feels pretty watered down to me. I feel like there was some good potential to this one but it just didn't quite come through for me.
Mar 08, 2011
chilidog from Ohio
3.83
/5
rDev
+8.2%
look: 4 | smell: 3.5 | taste: 4 | feel: 3.5 | overall: 4
Bought a sixer at Jungle Jims(at a fair price) after hearing of this bock release at the forementioned Bock-feast, which i could not attend.
It does pour a nice copper caramel amber. Head is off-white tan. Lace, not so much.
Aroma is malty and bread like.
Taste of sweet malts, slight toasted bread. Little hop note but a well balanced caramel,brown sugar accent.
The mouth is alittle thin, slightly watered. Left though with a slick buttery coat. The beer is not crisp but the 6.5% abv is a welcomed touch. Overall, I would buy again, worth a try.
Mar 01, 2011
cincybeernut from Kentucky
4.1
/5
rDev
+15.8%
look: 4 | smell: 4 | taste: 4.5 | feel: 3 | overall: 4
Revealed just a week ago at Cincinnati's winter beer fest Hudepohl Bock is back, available in bottles for the forst time in...well, a long time. The lable states "Bock to our lips, Spring in our souls"
This is my first beer review on Ba so here goes:
Appearance is good, a nice rich colored amber beer.
Smell is very desireable, not sure how to really describe the smell (rookie reviewer remember, sorry) but it smells good.
Tastes very light compared to the Dopple Bock produced by Christian Moerlein, Hudepohl's parent/sibling company. Obviously a dopple bock and regular bock are much different but I like this one more. Good flavor.
Mouthfeel is decent, goes down like beer. Leaves some flavor in your mouth after swallowing.
Drinkability is good, this will probably be my beer of choice until summer or until this seasonal beer runs out.
Not sure how wide spread the market is for this Cincinnati beer if you see it on the shelves or your in the area be sure to try it, it's worth it.
Feb 19, 2011

TheBierBand from Ohio
3.68
/5
rDev
+4%
look: 3.5 | smell: 3 | taste: 4 | feel: 3.5 | overall: 4
Had several of these during Bockfest 2007... The Bier Band drinks for FREE.... yeah!!! I brought my own litre mug to make sure that I got an adequate amount to form a review...
My first taste was in the rain at the Fountain Square beer and brats toast event.... there were about 20 of us hard-cores altogether braving the weather to drink a few beers and listen to a few tipsey people toast to the arrival of spring (March was coming in like a LION!) and Christian Moerlein.
OK... so the Hudy Bock was just released for this event. It arrived in my mug with a generous 1" head.... color was a deep amber/copper.
The scent was light... I was expecting something more robust.... but it showed hints of maltiness.
The taste revealed more malt and breadyness.... not much on the hops.... good balance.
Mouthfeel was light... not as heavy as a typical bock.
Overall.... very easy to down a few litres while playing some tunes.... but I also wanted to try the Christian Morlein Dopplebock.
Mar 22, 2007
Hudepohl Festival Bock from Hudepohl-Schoenling Brewing Co.
Beer rating:
81
out of
100
with
30
ratings