Cuppa

Lamplighter Brewing Company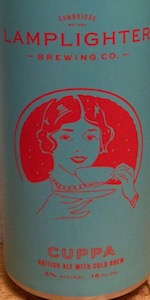 Write a Review
Beer Geek Stats:
| Print Shelf Talker
Style:

ABV:

5%

Score:

Avg:

4.11

| pDev:

8.27%

Reviews:

15

Ratings:

From:

Avail:

Rotating

Wants

Gots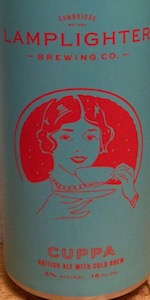 Notes: A British Ale with hot bloom Ethiopian cold brew produced by Longfellows.

Reviews: 15 | Ratings: 38
3.74
/5
rDev
-9%
look: 4 | smell: 3.75 | taste: 3.75 | feel: 3.5 | overall: 3.75
A thanks to the captain of coffee beer, woodychandler, for this beer. Poured from a 16 oz. can. Has an iced tea color with a 1/2 inch head. Smell is strong of coffee. Taste is also of coffee, maybe a hint of vanilla. Feels medium bodied in the mouth and overall if you like coffee, try this beer.
296 characters
2.7
/5
rDev
-34.3%
look: 3 | smell: 3 | taste: 2.5 | feel: 2.5 | overall: 2.75
Coffee flavor came on strong at the outset, truthfully a little too upfront. As the beer warmed, the coffee flavor receded, but so did everything. Overall, a bland effort.
171 characters

3.45
/5
rDev
-16.1%
look: 3.5 | smell: 3.5 | taste: 3.5 | feel: 3 | overall: 3.5
From Tavour, Seattle, WA. Reviewed 11/5/18.
"TinTin 08/15/21" on bottom of 16 oz can. Stored at 42 degrees and served at 42 degrees in a hand washed and dried Jester King snifter.
Appearance – 3.5.
Body – Medium amber, translucent.
Head – Average (Maximum 3.8 cm, controlled center pour), tan, dense, short retention, diminishing to a partial one to two mm ring and no layer.
Lacing – None.
First pour – Light amber, slight haze.
Aroma – 3.5 – Coffee, slightly fruity as well.
Flavor – 3.5 – Iced coffee. No alcohol (5% ABV), no malt, no hops, no diacetyl, no dimethylsulfide.
Palate – 3 – Thin, watery, soft carbonation.
Impression and interpretation – 3.5 – Adding coffee (Or for that matter, BBA) to the production of a beer does not automatically make it better. However, this time it kind of works. I think I'd name this beer "Coffee Lite" and sell it at McDonald's drive-thru.
926 characters

4.35
/5
rDev
+5.8%
look: 4.25 | smell: 4.25 | taste: 4.5 | feel: 4.25 | overall: 4.25
Poured from a can, dated 8/15/18.
Smell and taste have prominent coffee and malt character, with a mild earthy hop presence to lend some bitterness.
Medium full body, smooth and well balanced. Good full coffee flavor without any astringent roast character.
Overall a terrific coffee beer! Glad I picked it up, would certainly seek it out again.
346 characters

4.1
/5
rDev
-0.2%
look: 4 | smell: 4 | taste: 4.25 | feel: 4 | overall: 4
A dirty copper body with a nice, creamy head. Roasted grain and coffee ground aroma. Excellent toffee flavor infused with a suggestive hint of coffee and caffeine. Medium body; smooth and silky; semi-sweet with an edge of coffee dryness.
You want coffee infused light ale? You have it here. Bold and subtle with a tasty but subdued caramel beer base married with a prominent coffee headiness. Coffee beer with distinction...
425 characters
4.23
/5
rDev
+2.9%
look: 4.25 | smell: 4.25 | taste: 4.25 | feel: 4 | overall: 4.25
A charming copper-orange color with a popcorn colored head of 1 finger.
Aromas of coffee, hot caramel, orange pekoe tea, and dry grains.
Flavor is toasted malt, hints of bright orange, caramel, and bright coffee. Simple but delicious!
Feel is crisp, carbonated, and smooth. Light roastiness on the finish.
Overall, a fantastic execution of a coffee ale. It's not bitter, it's not harsh. It's a very enjoyable, easy-drinking coffee ale with hints of caramel, bread, and toasted malts. I can't say much else because it's so simple. Good stuff.
548 characters

4.16
/5
rDev
+1.2%
look: 3.5 | smell: 4.25 | taste: 4.25 | feel: 3.75 | overall: 4.25
Canned 10/17/17
A: Clear amber-reddish pour with a good sized brown head. Head dissipates quickly leaving no lacing or retention whatsoever. Looks still in the glass.
S: Glorious coffee beans and lots of it. Some vanilla sweetness. Oh man is that a nice coffee aroma.
T: More coffee of course, not as crazy strong as the aroma fortunately. Lightly bitter coffee beans with an earthy bite to them. Light vanilla and a bready male on the back end. Lingering cold brew on the back end, again with a light bitterness. Crisp, clean finish with almost no aftertaste.
M: Lighter bodied for sure.
O: Nice unique coffee english pale ale. It strikes the right combination of mildly bitter coffee flavors, balanced out by a mild english pale ale base. Great balance and a light body makes for good drinkability as well. Really hits the spot.
838 characters
3.83
/5
rDev
-6.8%
look: 4 | smell: 4 | taste: 3.75 | feel: 3.75 | overall: 3.75
L -- Pours a fairly filtered nut brown body with a two-finger off-white head produced with aerated pour out of the can. Good retention and lacing
S -- Nutty, roasty coffee and chocolate aromas dominate. Maybe a little smoke too. Smells a lot like Night Shift's Awake
T -- Interesting combination of ESB-style malts and a lightly earthy hop profile alongside flavors of low-bitterness cold brew coffee. The coffee is moderately fresh tasting. Easily the lightest tasting beer brewed with coffee that I've had
F -- Very mild, smooth, and drinkable thanks to the low ABV. Almost watery around the edges it's so light
O -- Unique and unexpected brew from Lamplighter. Can't say it's quite my cuppa tea ;)
77/100
728 characters
4.2
/5
rDev
+2.2%
look: 3.75 | smell: 4.25 | taste: 4.25 | feel: 4 | overall: 4.25
Pours a slightly cloudy deep Amber with a thin off white ring of head that left almost no lacing. Smells of medium roast coffee and roasted malts. Tastes like an excellent cup of medium roast coffee, caramel, a nutty flavor and sweet roasted malts. Light bodied, medium carbonation, thin mouth feel, slightly dry finish. Unique and very well done brew.
352 characters
3.99
/5
rDev
-2.9%
look: 4 | smell: 4.25 | taste: 3.75 | feel: 4.25 | overall: 4
Brownish amber color. Cloudy. Moderate head that settles to rim bubbles. Some streaks for lace.
Ample crystal malt to the nose. The hop is subtle -- slightly grassy. I also detect a smell of cream.
There's a touch of unexpected coffee to the taste. Relatively dry with a darker toasted malt base. The hop is nondescript and simply provides balance. If I were blindfolded, I might guess this was a rich bodied brown ale.
423 characters

4.57
/5
rDev
+11.2%
look: 4 | smell: 4.5 | taste: 4.75 | feel: 4.5 | overall: 4.5
Look: Copper/Orange with thin head. Medium carbonation.
Smell: Roasted coffee beans, bready malt, graham cracker, and raisins.
Taste: Roasted coffee beans, bready malt, graham cracker, and raisins.
Mouthfeel: Light body.
Overall: A shockingly good pale ale, that is very unique.
278 characters

4.19
/5
rDev
+1.9%
look: 4 | smell: 4.25 | taste: 4.25 | feel: 4.25 | overall: 4
16oz can. Had a few of the ales brewed with cold brewed coffee. This is one of the better ones. The coffee dominates with the hint of an ale. It's a crazy combo but it works well.
179 characters
4.04
/5
rDev
-1.7%
look: 3 | smell: 4.5 | taste: 4 | feel: 3.75 | overall: 4
British Ale with Cold Brew coffee. Coffee forward in smell and taste. Roasted coffee, caramel and nuts. Semi sweet malt profile. Hint of dry, bitterness on the finish. Pretty solid.
181 characters
4.27
/5
rDev
+3.9%
look: 4 | smell: 4.5 | taste: 4.25 | feel: 4 | overall: 4.25
Poured a cloudy ice tea color in a Stone Imperial pint glass, excellent for the style.
Aroma:Excellent. Very strong Ethiopian coffee which lasts for the tasting.
Unlike other coffee beers, this is an identifiable aroma- one of my favorite coffee varietals.
A lot of other coffee beers usually have a roasted coffee aroma and it's difficult to recognize the bean origin.
The body is very light- perhaps too light for the style, although the style is usually brewed with moderate carbonation as in this beer, and a lighter body.
The taste follows the aroma, although not as strong. Ethiopian coffee, finish with a light bitterness.
Overall, an excellent beer. I am looking forward to taste more beers from this brewery.
722 characters
4.61
/5
rDev
+12.2%
look: 4.5 | smell: 4.75 | taste: 4.5 | feel: 4.5 | overall: 4.75
16 oz. can dated 5/26/17
Pours hazy cloudy bronze amber orange with a creamy off-white foam head. Smells like big rich medium roast cold brew coffee, big rich toffee, nutty caramel, pecans, toasted bready malts, brown sugar, some mild dried fruit notes, with floral earthy herbal grassy pine. Tastes like nutty caramel, toasted bready malts, toffee, brown sugar, cold brew coffee, roasted pecans, some dried fruit, with floral earthy herbal grassy pine. Feels medium bodied, creamy with moderate smooth carbonation. Overall a really nice British ale with cold brew coffee.
573 characters
Cuppa from Lamplighter Brewing Company
Beer rating:
87
out of
100
with
38
ratings