Carling Ice
| Molson Coors Canada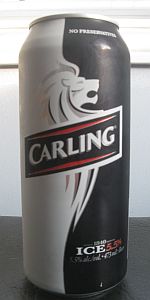 BEER INFO
Brewed by:
Molson Coors Canada
Ontario
,
Canada
molson.com
Style:
American Adjunct Lager
Alcohol by volume (ABV):
5.50%
Availability:
Year-round
Notes / Commercial Description:
Light in color and with subtle hop character, Carling Ice is a medium bodied lager offering smooth refreshment at 5.5% alcohol.
Added by Reinheitsgebot71 on 12-09-2009
Reviews: 7 | Ratings: 22
2.76
/5
rDev
+10.8%
look: 3 | smell: 2 | taste: 3 | feel: 2 | overall: 3.5
I may be young (22 years old, Ontarian, Canadian), but I've tried a good number of beers in my life time.
Never really been concerned about the look, looks similar to other beers ive dranken like Candian or Coors
Aroma is nice, not the best but not bad, plesent but not expensive.
Taste is a bit bitter, a teeny tiny bit metalic if you get it in a can, but its much more drinkable then some other ice beers.
Feel is pretty good, a nice carbonated feeling, close to a popular brand of Cola we all know, nice to feel that sharpe bubbly feeling.
Other then that, can design is nice, easy to find when you've bought it a few times.
Carling Ice currently is the only beer that actually gives me a good decent buzz without any nasty hangovers or bad taste.
The taste is much better then a Coors, but less crisp and clear then Canadian, its cheaper then Canadian though, so if your strapped for cash theres Carling Ice.
It doesn't have the head of other beers but thats never been a problem to me
The price and alcohol content are decent for my tastes, I'm no ghetto kid, though I do know a good cheap beer when I see one.
There are other better smoother beers then this, but if you need something affordable and drinkable, this if the stuff for you.
(Warning : Review from a Canadian, Carling is distributed outside of Canada and may change depending on Country like US or UK)
1,378 characters

2.39
/5
rDev
-4%
look: 2.75 | smell: 2.5 | taste: 2.25 | feel: 2.75 | overall: 2.25
Gold colour, small but tightly formed white head. Poor retention and lace. "Beery" aroma with a solvent note. Mildly sweet with doughy and corn cereal notes. Slight alcohol sharpness in the finish. Very mild green apple. Light-bodied and highly carbonated. Feels prickly, but not thin. I'll damn it with faint praise by saying it tastes slightly better than Carling Original. It still isn't good.
396 characters

2.07
/5
rDev
-16.9%
look: 3.5 | smell: 1.5 | taste: 2 | feel: 3 | overall: 2
473 mL can from TBS. #3 in a series of reviews dealing with the cheap lagers I would normally avoid, if not for the total dearth of decent options available here. Served ice cold, which seemed appropriate.
Pours a pale, translucent golden-yellow colour, topped with nearly two fingers of foamy, fizzy white head that quickly dissipates over the next few minutes. In its place remains a soapy, even cap on the surface, and a modest collar with some lace around the sides. It looks pretty good, but the aroma is borderline offensive - corny adjunct, solvent fumes and apple skin are the only odours I can pick out, and their combined presence do not exactly have me pumped to taste the stuff.
My first reaction upon tasting it? "Blech." It doesn't really taste much better than it smells, with the same culprits from the aroma being a prominent fixture in the flavour, as well. It is sickly sweet, with the initial grainy, corn-syrupy flavour being the highlight of the taste (sad as that sounds). This leads into an unpleasant finish that combines green apples, cooked vegetables, and that wincingly-unpleasant ethanol/solvent note surging forward near the end. There's also some of that 'damp cardboard' taste that I pick up in regular Carling. Very watery, and quite light-bodied, though perhaps a little thicker than most macro fare. The carbonation is fairly high, but not above average for the style.
More flavourful than standard Carling, but not in a good way. It is far too boozy for something of its abv, and the unpleasant, vegetal cardboard flavour does nothing to endear itself to me. Finishing this single can won't be a problem, but if I had been foolish enough to burden myself with a 6-pack I'd probably try to pawn the remainder off on someone else.
Final Grade: 2.08, a wretched D-. Honestly, I feel pretty silly sitting down and reviewing Carling Ice. It's not the worst beer I've ever had, but it's definitely in that ballpark - and given the price (and the fact that it has "ice" in its name), I obviously wasn't expecting anything different. This is swill in every sense of the word, and it is not something I would ever voluntarily consume again - in contrast to regular Carling, which is at least a tolerable fizzy yellow lager (bland and flavourless as it is). If you are looking for a dirt-cheap 5.5% beer with which to kill off your brain cells, I would recommend James Ready well before this.
2,427 characters

3.74
/5
rDev
+50.2%
look: 4.5 | smell: 3 | taste: 4 | feel: 3.5 | overall: 4
Appearance = 4.5
Since I pour my beers in order to minimize the amount of head/foam, the only things I can comment on for this beer are its color, its clarity, and its carbonation. It is a beautiful golden color just like that of a gold bar. It seems to have light to medium carbonation.
Smell = 20%
The smell is the typical smell from what one would perceive from a "cheap beer".
Taste = 4.0
Not too strong of a taste, it is a bit dry.
Take a deep sip of the beer. note any flavours, or interpretations of flavours, that you might discover. do they fit the style?
Mouthfeel = 3.5
Seems like the average medium bodied lager style beer.
Overall = 4.0
I dont have much experience reviewing beer but this is my go to beer. I usually get a 12 or a two-four of this every week (and have for the past 3 years) unless I feel like experimenting with a different beer or Molson Canadian is on sale. Its great tasting but it likely wont win beer of the century awards. Its a great easy drinking ice beer, gets you a good buzz for a cheap price. Carling Ice is not just for those on a budget or for those who are looking for a cheap fix it is a beer worth drinking. Its great for after work, or for BBQ.
1,199 characters

3.65
/5
rDev
+46.6%
look: 3.5 | smell: 3.5 | taste: 4 | feel: 3 | overall: 3.5
I just bought a pint glass and went to the beer store to get a single, this was one of the very few I could afford.
Appearance - a clear golden yellow colour, and poured about an inch and a half of a foamy white head that stayed for a bout half a minute, with some surprising lacing.
Smell - some grains, grassiness, and citrusiness, I was actually surprised that it didn't smell very bad.
Taste - not entirely unpleasant - At the beginning there is some odd bitterness or astringent flavour to it, some graininess and maybe some grassiness, no citrus, and some dry bitterness at the end.
Mouthfeel - a light body, almost watery, with a carbonation level somewhere between moderate and heavy. Again, not all that bad.
Overall - This is a pale, fizzy, budget lager and I wouldn't recommend this to anyone who wants anything other than anybody who needs to cure their sobriety on the cheap. No real hoppiness, and a slightly unpleasant off flavour at the beginning means this isn't all that great of a beer by any means, but it is certainly a pass, and it is quite drinkable in comparison to a few other macro lagers I've had - e.g. lakeport Pilsener, Steeler, and Boxer. I would recommend regular Carling, or maybe Laker over this - they're the same price give or take a few cents, and are slightly better tasting.
1,319 characters
2.06
/5
rDev
-17.3%
look: 3.5 | smell: 2.5 | taste: 1.5 | feel: 2.5 | overall: 2
Crystal clear golden colour with a white cap that disappeared after a few minutes except for a meager collar and fine skim of bubbles coating the surface. A bit of spotty stickage was evident after the first few sips. There's not a lot of aroma here, just some sweetness, grain, slight green apple, and very faint spicy character. Nearly imperceptible bitterness, malt sweetness was nearly cloying, slightly bready towards the end, alcohol and light green apple in the finish. Not very appealing. The texture was alright, fizzy with more body than your standard industrial lager, but still quite dry and with some unexpected alcohol warmth. This really wasn't very good. I expect the "ice" process isn't helping the flavour profile.
732 characters
2.16
/5
rDev
-13.3%
look: 3 | smell: 2 | taste: 2 | feel: 2 | overall: 2.5
Ah yes the second beer in the wonderful carling line missing from this site, I just can't let that go!
The brew pours a light gold with a quickly dissipating head, fairly prominent carbonation.
It smells of medicinal alcohol, grain and corn syrup; with hints of apple as well.
The taste is also of medicinal alcohol with a mild malt sweetness which is although subdued is initially cloying. A white bready sort of taste and a corn like tinge also show.
The body is light and watery with the alcohol presence making for a slightly rough guzzle.
Ice beers gotta love them, worse flavour more alcohol, let's get hammed!
629 characters
Carling Ice from Molson Coors Canada
2.49
out of
5
based on
22
ratings.