Vratislav
| Pivovary Staropramen
BA SCORE
79
okay
10
Reviews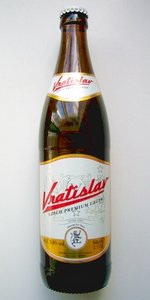 BEER INFO
Brewed by:
Pivovary Staropramen
Czech Republic
pivovary-staropramen.cz
Style:
Czech Pilsener
Alcohol by volume (ABV):
5.00%
Availability:
Year-round
Notes / Commercial Description:
No notes at this time.
Added by wl0307 on 05-01-2005
Reviews: 10 | Ratings: 18

2.65
/5
rDev
-15.6%
look: 3.5 | smell: 2.75 | taste: 2.5 | feel: 2.25 | overall: 2.75
Bottled
Crisp clear golden body with thin white duk... head
Smells like a decent enough lager malty with metallic ting
Slight lemon taste slight lager taste
Run of Mill lager
174 characters
1.55
/5
rDev
-50.6%
look: 2.5 | smell: 1.25 | taste: 1.25 | feel: 2 | overall: 2
Initially pours a very nice off white head that rapidly decipates leaving the golden coloured liquid behind that, although tastes crisp and sweet, really lacks any hop flavour or any edge that would make your taste buds beg for more. Potentially a very good beer, just too bland for my liking. Really needs an improved hop profile
330 characters

2.52
/5
rDev
-19.7%
look: 3 | smell: 2.25 | taste: 2.5 | feel: 3 | overall: 2.5
Golden amber in colour, simple bland green bottle with a simple label.
Hardly has a smell, just a little malty and slight hint of honey. I'd say it smells a little off.
The taste is very bland, little malty and boozy, nothing special. Feels smooth to start with slight crisp aftertaste. Overall OK, would not have it again though.
330 characters
2.67
/5
rDev
-15%
look: 4.5 | smell: 2.5 | taste: 2.5 | feel: 3 | overall: 2.5
Golden amber with white, bubbly head & good rention.
Hoppy, lots of adjuncts like corn and grain with some bread. Very skunky
Bread & corn, slightly sweet but contains too much grain. There is a mild bitter finish but like the smell it is a skunky one.
Smooth with good drinkability. It is light bodied and a crisp, dry finish.
Slightly below average pale lager with not much going for it other than the price.
1001 Beers Blog:
http://abarwithnoname.wordpress.com
468 characters
3.41
/5
rDev
+8.6%
look: 4 | smell: 3 | taste: 3.5 | feel: 3.5 | overall: 3.5
50cl Brown bottle, best before Aug 2008, drank Sept 2007.
Good looking lager, typical Czech pilsner colour.
No aroma, just like most golden pilsner/lager beers.
Fine flavours of a good quality pilsner.
Nothing special about this beer except the keen price and the front label which tells me it is selected for Tesco.
Good value summer beer.
345 characters
3.18
/5
rDev
+1.3%
look: 3.5 | smell: 3 | taste: 3 | feel: 3.5 | overall: 3.5
when it comes to lager, I definitely go Czech ... there is no match for the full body and appetising bitterness in the lager world (with the notable exception of Jever Premium and some East Asian brews) ... I would not consider this brew as a particularly great Czech lager, rather seems to be a budget line offspring from the famous Staropramen brewery .... and that's what it is really, a budget line Czech beer ... still way above your average lager, but lacking the smooth and elegant finish of the great Czech brews ....
525 characters

3.35
/5
rDev
+6.7%
look: 3 | smell: 3 | taste: 3.5 | feel: 3.5 | overall: 3.5
Returned to me from Prague, Czech Republic. Much appreciated!
Pours a typical pils, light golden body, clear, with light Saaz aroma. Body makeup is slightly grainy, medium malt presence with high carbonation and warm malt aftertaste. This one really had little flavour or aroma at all to grasp. I really struggled to find anything to say about it. Very bland. If sampled fresh, perhaps in the Czech Republic, I could see this being far more refreshing. But from my experience, I'm sorry to say, this was just another pilsner.
526 characters
3.45
/5
rDev
+9.9%
look: 3 | smell: 3 | taste: 3.5 | feel: 3.5 | overall: 4
500 cl dark bottle, nicely labeled. Pale golden color with bright sparks. Carbonation medium, head modest, dissipates rather quickly.
Aroma hoppy and herbal, with a pleasant fruity note.
Start a bit spritzy, overall mouthfeel smooth and delightful. Taste not too complex but well balanced - pale toasted malt and dry hops. Body a bit thinner than may be desired. Aftertaste hoppy, long.
A decent Lager, worth a try.
424 characters
3.75
/5
rDev
+19.4%
look: 3.5 | smell: 3.5 | taste: 4 | feel: 3 | overall: 4
500ml bottle
Pours with a light yellow body, head forms with fairly good retention
Smell, aromas are quite faint, slight hint of floral hops
Taste, dry and fairly crisp. Some sweetness on the finish, little bit of biting hops
A half decent pils, good if you're lookin for a cheap tasty summer beer. Good drinkability and enough flavour
347 characters
3.65
/5
rDev
+16.2%
look: 4 | smell: 4 | taste: 3.5 | feel: 3.5 | overall: 3.5
This beer is available at the Tesco supermarket at just 99p a bottle! At first I was suspicious about the whole thing: genuine Czech beer brewed and bottled FOR Tesco (as stated on the beer label)? After checking some facts on the internet, the beer is indeed brewed by Pražské Pivovary but not specified as such on the bottle. I think the supermarket should have been more responsible and provide at least the details of the brewery, like its name, address, etc. Nevertheless, I am satisfied enough to have bumped into such a quality brew at a decent (read "bargain") price over here in London~~
A: served chilled in a jug, it pours a clear, golden hue, with a big, foamy white beerhead dissipating slowly; moderate carbonation.
S: grassy hop aroma with a soft, juicy fruity touch (like orange+strawberry), semi-sweet honeyish maltiness with a hint of bread, followed by lightly vanilla-like, fruity note of hoppyness...
T: slightly sweet grainy and fruity on palate, but semi-dry and "root-vegetable" kind of hoppy taste does not go unnoticed; the aftertaste is smooth and not too demanding, while moderate bitterness gradually gathers force and lingers deep down the tongue...
M&D: the overall mouthfeel is refreshing, but the body is quite thin and the flavour apparently much less hoppy and less fruity than quite a few Czech Pilsners. If only it was a bit more aromatic hoppy I could drink two pints of it without second thoughts~~
1,446 characters
Vratislav from Pivovary Staropramen
3.14
out of
5
based on
18
ratings.