Centennial Wheatwine
| Bushwakker Brewing Company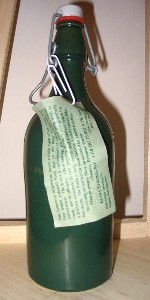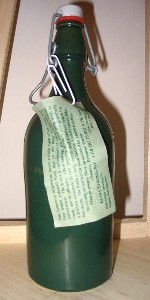 BEER INFO
Brewed by:
Bushwakker Brewing Company
Saskatchewan
,
Canada
bushwakker.com
Style:
American Wheatwine Ale
Alcohol by volume (ABV):
13.00%
Availability:
Limited (brewed once)
Notes / Commercial Description:
No notes at this time.
Added by Beersignal on 07-02-2005
This beer is retired; no longer brewed.
HISTOGRAM
Ratings: 11 | Reviews: 11
Reviews by markaberrant:

4.66
/5
rDev
+2.6%
look: 3.5 | smell: 5 | taste: 5 | feel: 4.5 | overall: 4
This beer was brewed in honour of our province's 100th anniversary. I chose to drink this bottle on the weekend of our 102nd anniversary.
A - pours a syrupy clear orange. Almost zilch for head, just a ring, likely due to aging and alcohol. No lacing.
S - overpowering sweet malt. Definitely the "thickest" malt smell I've come across. Not citrus or orange, but has an essence of fruit marmalade and honey. Rich, sweet alcoholic goodness!
T - Oh my god, the first sip is exhilarating! It is sweet to be sure, but the centennial hops creep in and provide just enough citrus bitterness to carry it through to the end. The finish has a dry woody element that wraps things up nicely. The alcohol is completely hidden in the taste, which is no small feat to be sure.
M - The mouthfeel is where the alcohol comes into play. This is the heaviest beer I've ever drank. My tongue stays coated long after the finish. There is a lot of alcohol warmth, but it is most enjoyable. Low carbonation matches the beer perfectly.
D - This is obviously meant to be enjoyed in moderation, but I'm thoroughly enjoying the entire bottle on my own.
Boy am I glad I held onto this bottle, it was well worth the wait. Simply incredible.
1,227 characters
More User Reviews:
4.52
/5
rDev
-0.4%
look: 4 | smell: 4.5 | taste: 4.5 | feel: 5 | overall: 4.5
Served out of a clay 500ml swig-top bottle, a real treat that I just had to share with a few BAs, Beersignal and 3Vandoo (just don't get him started on Saskatchewan, they already put out a song about his story there!). This was our first taste of wheat wine for all of us.
Appearance: As stated below, we didn't expect it to come out crystal clear honey golden, with a veil of head that, at a whopping 13% ABV, understandably dissipated quickly.
Smell: My girlfriend took my glass and smelled it before I could, and her verdict was unequivocal: Fruit loops! It had the fruity sweetness and cereal aroma we found in the breakfast cereal we all loved as kids!
Taste: Wow, I sincerely have never tasted a Beer with this much body before, the wheat really gives it a rich, earthy, complex mouthfeel and the alcohol balances things out perfectly. If all wheat wines are like this, I may just have a new favorite style! And if this Beer adequately represents Saskatchewan, I better get my french-canadian-québecer ass over there and check it out!
1,050 characters

4.82
/5
rDev
+6.2%
look: 4 | smell: 4.5 | taste: 5 | feel: 5 | overall: 5
This rare and majestic bottle was sent to me by Dave (rudge75) during last year's CanBIF #2. I was spoiled rotten, and it's a rare treat to receive such a thing, especially when the sender also brewed it himself, and that it was a commercial release at that.
Comes in a 500 ml green ceramic flip top bottle. Pours out a hazed apricot hue, some suspended particles. The head is a creamy off-white, and recedes quickly to a thin ring.
The aroma is very pleasant, flowery and citrus up front. Resin from the hops as well as a thick chewy malt can also be easily discerned. Tropical fruit and bubblegum begin to appear as it warms.
The flavour is incredibly contained for the whopping abv%. Big malt up front, spicy from the yeast and alcohol. Sweetens up in the middle, notes of dried and candied tropical fruit, plus dates. By the time the hops become noticable they simply seem to join the parade, blending in nicely, not overpowering, and not being overpowered. For the horsepower and high octane that this wheat wine contains, it's one of the most balanced beers of any style that I've ever sampled, really this is nearing alchemy.
The mouthfeel is also incredibly kept in check for the forces that are at work here--it's full and rounded, resinous yet quaffable, very smooth. The alcohol blends in with the rest of the flavour profile, and in doing so almost gets dwarfed by the big yet balanced malt and hops.
With only a quarter of a glass left I'm still exploring this beer, it's all gone by too fast, yet the presence of the abv% is making itself *very* apparent right about now. It's ironic as Dave asked me via beermail about 4 years ago now regarding my high score and maudlin ramblings of Unibroue's 10, a beer that sits tucked away nicely in a corner of my brain in a sort of holy grail niche. Four years later now, with a greater understanding and far broader palate, I will humbly admit that this Centennial Wheatwine has firmly dislodged it, and has easily taken its place. Granted that this is the first of this style that I've sampled, but wow, this is also one of the most exceptionally put together beers I've ever sampled as well. And along those lines it's a one shot deal and I'll probably never get to try it again. Here's to a new string of maudlin ramblings from now on...
2,303 characters

4.79
/5
rDev
+5.5%
look: 4 | smell: 5 | taste: 5 | feel: 4.5 | overall: 4.5
Had the pleasure to taste this beer with Goldorak and Beersignal. And yes don't get me started on Sask, but this beer just made peace with Sask, thefore "Deana I do forgive you, thank the brewmaster at Buswakker!"
Appearance was quite clear and with bubble, actually it was quite pale and clear reminding me of a sparkling wine.
Smell: Was wonderful, very cerealix, like Goldorak's girlfriend said "fruit loops" Oooorah for the Tucan's beer(sorry Guinnness!) notes of clover with a shy note of honey.
Taste was very pleasant and an orgasmic pleasure to drink, what hit me first was the similarities with sparkling wine, but actually "white wine" the same notes you'll find in whites. Spicy, cereal, note of sweetness from honey kind of flavours, a very complex beer!
Now if they could ship some barrels to me, im gonna forgive Saskatchewan for everything that happened in the past, I swear!
902 characters

4.23
/5
rDev
-6.8%
look: 4.5 | smell: 4 | taste: 4.5 | feel: 4 | overall: 4
thanks to Viggo for sharing this bottle with me.
pours a nice golden yellow colour with a big white head. the head is slow to drop and leaves tons of lace behind.
aroma is nice. lots of hops with a nice malty backbone. bready/biscuity malt. apricot and mild citrus. alcohol.
taste is a blast of hoppy bitterness and alcohol, then a nice biscuity malt, and finishing with a slight lingering sweetness. hops are mostly present in the bitterness, but there's also a little apricot present. almost like an apricot syrup in the finish. warm on the way down.
mouthfeel is good. carbonation is fairly light. good body.
drinkability is good. the alcohol is a little warm, so i can see this aging well and rounding out nicely. i'll have to see if i can find this one again and try to keep it around for a while.
818 characters
4.45
/5
rDev
-2%
look: 4.5 | smell: 4.5 | taste: 4.5 | feel: 5 | overall: 4
500ml ceramic bottle with a swing-top cap. Tag attached to the swing-top identifying the contents.
Reminds me of honey as it pours from the bottle, seems quite thick. Honey gold in colour and pretty clear. A bit of a white head forms around the edges, but quickly disappears.
The first whiff of aroma is largely a nice citrus fruit hoppy scent. There is a bit of underlying sweetness, but surprisingly (with such a high alcohol content) no alcohol smell.
The first sip reveals alot of complexity, but also produces a nice warming sensation. Thankfully, there isn't a real strong alcohol presence in flavour, but you definitely know it's there. The flavours jump right out at you from the start. Beginning with the citrus hop bitterness and a soothing sweet honey aspect dancing together in harmony. Kind of a unique brew in that it is balanced, but has no real malt presence. Instead, the balance is between the hops and the honey sweetness. Finishes just as it starts with the honey sweetness and citrus hop bitterness simply fading into the aftertaste that is mildly hop-bitter. As it warms, the alcohol begins to show itself more in flavour. Similarly, the hops bitterness at the start increases as the brew warms.
Mouthfeel is thick, full and round. Subtle carbonation. Leaves a nice crispness in the mouth after the swallow.
Centennial Wheatwine is an appropriate brew as I hit the century mark in BA reviews. I was saving this beer for just this occassion and I was not disappointed. This is definitely first class, but simply not a beer I would drink on a regular basis. After awhile I found the sweetness a little annoying, and as the alcohol flavour increased, my interest waned. I am glad, however, that the alcohol wasn't simply overbearing. While the sweetness and alcohol don't detract from the beers flavour, they cause it to lose a little in the drinkability department as this becomes basically a sipping beverage similar to a white wine.
1,971 characters

4.62
/5
rDev
+1.8%
look: 4 | smell: 4.5 | taste: 4.5 | feel: 5 | overall: 5
Purchased at the brewery in July 2006. Held onto this bottle for almost 2 years before the opportunity to share with fellow wheat wine fans presented itself. This bottle was "double imported" as it traveled from Regina to PA and then to Montreal where it finally was emptied.
This gorgeous, green ceramic, flip top succumbed to drinking at almost 3 years of age.
A-Golden yellow blonde with a thin white head. Almost elixir like!
S-Big blast of sweet caramel like malt. Very sweet like dried evaporated milk. Luscious.
T-Strong sweetness of caramelized milk, dried fruits (date and fig) and a touch of spiciness. WOW! This is serious good for such a malty bomb. Like a vanilla cream pie!
M-Medium-heavy body and oh so smoooth! The resinous of the alcohol comes sneaking trough at the end and a touch of burn.
D-Can I get more...no! :-( This was worth waiting two years to drink. A most fantastic beer...way to go Dave! Nice job and what a way to honor the 100th anniversary of Saskatchewan!
996 characters
4.32
/5
rDev
-4.8%
look: 4 | smell: 4.5 | taste: 4.5 | feel: 4 | overall: 4
Comes in the awesome green ceramic swingtop, thanks for trading Jason (Noxious28).
Pours a clear golden, small white head forms, settles down quick, but leaves some spots of lace. Smell is sweet, very malty, grapefruit, citrus and caramel, amarillo-y apricot. Taste is sweet and toffeeish up front, vanilla, citrus and grapefruit, nice and balanced between the huge hops and malt. Mouthfeel is medium bodied with low carbonation. Definately a fantastic wheatwine, balanced and smooth, packs a punch.
504 characters

4.5
/5
rDev
-0.9%
look: 4.5 | smell: 4.5 | taste: 4.5 | feel: 4.5 | overall: 4.5
Sampled at the brewpub with the brewer. Darg golden with a skim layer of froth that hangs around on the glass. Aromas of sweet/citrusy centennial hops (lots of them) and a big bolshy boatload of malts as well. Bready in the aroma with a wonderful tannic zestiness that reminds me of hopped up bitter lemon. Taste is a bit hot, but so smooth with honey drenched sweet hops and malts dancing together in harmony :-) Aftertaste is all grapefruit rind hops and booze, in a good way. Mouthfeel is thick and fulling, drinkability remainds high considering the abv! Great stuff...Me wants more!
587 characters
4.54
/5
rDev 0%
look: 3.5 | smell: 4.5 | taste: 5 | feel: 4.5 | overall: 4
This beer is as limited an edition as they come, having been brewed for Saskatchewan's 100th anniversary. Availability is zero in these parts and I have to thank Goldorak for sharing this sample, that he recieved via the CANBIF#1, with me!
Centennial poured a stunning and surprising golden colour and retained remarkable clarity. The head was thin and shortlived, leaving only a ring at the surface.
The aromas were well defined and firm making it a pleasure to revisit as the brew warmed. Solid notes of cereal, clover and honey were quite evident up front and were followed by hints of spices and a mild hint of alcohol. This would age magnificently I'm sure, and gain even more complexity.
As pleasing as were the aromas, the taste is where this beer knocked me out. The mouthfeel was very full and heady, and notes of vanilla and honey immediately came forth. I can't say I really felt a noticeable tartness from the wheat but a mild spicyness emerged in the middle to complement the softness of the honey and vanilla. The finish was heady and long allowing all of the flavours to jostle around one last time.
Superb nightcap brew that is well worth a trip to the prairies for. I hope Rudge75 will keep brewing gems like these.
1,245 characters
4.47
/5
rDev
-1.5%
look: 4 | smell: 4.5 | taste: 4.5 | feel: 4.5 | overall: 4.5
Sampled at Winnipeg Brew Bombers Homebrew club meeting. Dark gold in colour with medium carbonation. Orangey Centennial hop aromas are mixed with notes of wildflower honey and vanilla. The mouthfeel is full without being at all syrup-like. Some flavor contributions from the Centennial hops combine with other notes of cotton candy, honey, and sweet malt. Some nice lingering bitterness on the finish. The alcohol is extremely well hidden too. You could probably drink a pint of it easily, but standing up afterwards might be a problem. Fantastic stuff
552 characters
Centennial Wheatwine from Bushwakker Brewing Company
Beer rating:
4.54
out of
5
with
11
ratings