Pickard's Oatmeal Cream Stout
| Bushwakker Brewing Company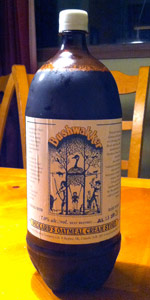 BEER INFO
Brewed by:
Bushwakker Brewing Company
Saskatchewan
,
Canada
bushwakker.com
Style:
Oatmeal Stout
Alcohol by volume (ABV):
7.00%
Availability:
Rotating
Notes / Commercial Description:
No notes at this time.
Added by Noxious26 on 10-18-2005
Ratings: 10 | Reviews: 6
Reviews by markaberrant:

3.98
/5
rDev
+3.9%
look: 4 | smell: 3.5 | taste: 4 | feel: 4 | overall: 4.5
A - completely black, small tan head, lots of lace
S - creamy espresso
T - roast flavours are nicely balanced by a rich malt sweetness, a touch of oat, finished off with a combo of earthy hop bitterness and dry roast finish.
M - silky smooth, there is some weight to the body, mild carbonation still manages to dance on the tongue, alcohol is completely hidden
D - One of my favourites from Bushwakker, never have I failed to enjoy this.
This is a truly great stout in my opinion; well balanced in roast, malt sweetness and hopping, plus a great chewy body. As others have said, it's not overly complex, but the quality comes through in the simplicity. Full flavoured, even though it is not overly agressive like an American style, nor is it fruity like some English stouts. Would pair very well with red meat.
815 characters
More User Reviews:


4.08
/5
rDev
+6.5%
look: 4.5 | smell: 4 | taste: 4 | feel: 4 | overall: 4.25
Appearance: It has a nice dark brown (almost black) color to it. It has a nice thick-creamy tan head that dies down moderately/slow and leaves lovely lacing.
Smell: The aromas definitely give out hints of roasted malts, coffee, chocolate, some nuttiness and some faint earthy undertones.
Taste: Like the aromas, it has a some rich roasted malts, coffee, dark chocolate, a dry earthy bitterness and a slight nutiness.
Mouthfeel: It has a medium carbonation with a nice overall balance and feel.
Drinkability: It's a very smooth drinkable beer accompanied by good flavors and aromas. This one took me by surprise. It turned out being alot better than I originally thought it would be.
690 characters
3.65
/5
rDev
-4.7%
look: 3.75 | smell: 3.75 | taste: 3.5 | feel: 3.75 | overall: 3.75
3.93
/5
rDev
+2.6%
look: 4.5 | smell: 4 | taste: 3.5 | feel: 5 | overall: 4
650ml bottle poured in a pint glass.
Opaque black, but when held to the light it gives up a red tinge around the edges. Light brown dense head is 1/4 inch at the pour. Head retention is decent, but still reduces to a thin cap by mid-glass. Clumps of sticky lace.
Aroma is strongly of roasted malts with burnt accents. Hints of sweetness pop in here and there.
Rich, roasted malt with burnt highlights. Acidic, bitter burnt finish. With a burnt aftertaste. Undertones of dried fruit give it a light sweetness.
Rich, smooth, creamy mouthfeel. Oh ya baby, that's oatmeal! Full bodied and lightly carbonated.
This was the first craft beer that really drew me in during the early 90's. Because it is a rotating offering, there were a few years there where I didn't have it at all. Finding it available in the fall was a pleasant surprise. Nothing really beats the mouthfeel of an oatmeal stout. Just is so smooth and creamy. I found that the taste lacks a little complexity, and perhaps has a little more burnt quality than I'd like, but all in all it's still one I look forward to seeing available.
1,109 characters
4
/5
rDev
+4.4%
look: 4 | smell: 4 | taste: 4 | feel: 4 | overall: 4
Thanks to Dr Malt for this tasty brew, finally got around to drinking it!
A nice looking brew, bottled in 2006. Oily blackness in my snifter covered by a nice two finger tan coloured head. Somewhat decent retention, fades to a thin tan collar which leaves intricate and thin lacings.
Creamy oatmeal accented with roasted aromas of bittersweet chocolate and espresso, some nutty and bready malts also present. Some fruity esters also present, and add depth to the nose, with their aromas of dark fruit that has me thinking blackberries. A touch of char, smoke, anise, as well as an earthy, leafy hop bitterness also present.
A pretty nice stout. Creamy oatmeal and charred malts make up the bulk of the flavour, although bready and slightly nutty malts are also present. The hint of dark berries also carries over to taste, still getting blackberry. A very nice espresso character shows up just before the finish, where the hop bitterness takes over with its quality of decaying organic matter, along with a hint of anise.
Almost medium bodied, the oats smoothen the body almost to the point of a velvety feel. Slightly creamy, and the ingredients are very nicely balanced and play well with each other.
This is a pretty drinkable stout, especially considering it is somewhere between a regular or a double/imperial stout. Slightly warming from the alcohol, but that only increases my enjoyment of this roasty brew on this frigging cold day in March. A quality, craft brew that i certainly would recommend, and be more than willing to drink again.
1,551 characters


3.9
/5
rDev
+1.8%
look: 4 | smell: 4 | taste: 4 | feel: 4 | overall: 3.5
650ml bomber pours a light-defying black into the mug....2 finger tan frothy cap with good retention and lacing.
Aromas of nuts, figs, burt toast and some wet grass.
Bulky body, phenominal malt spine, thick viscous mouthfeel.
Not overly complex but very rich and flavorful. Big chewy oatmeal and bready tastes up front that mellow and you get the light sweetness with dried fruit, nut, anice tones, the long wet finish gives more fruity and taost flavors as the hop bittering becomes pronounced and mingles with the choclate malts.
A very nice oatmeal stout every bit as good as Sam Smith's
602 characters


4.01
/5
rDev
+4.7%
look: 3 | smell: 4.5 | taste: 4 | feel: 3.5 | overall: 4
2L plastic bottle courtesy of rudge75. Thanks! Dated BB July 13, 2011.
A: Pours opaque and seemingly viscous and black, yet very little head and no lacing. Is low carbonation meant to be? Who knows, but I know this was quiet fresh...
S: Strong roasted notes, dominated by fresh roasted coffee beans with a slight burnt nature to it, along with some chocolate. The coffee just keeps coming back over and over.
T: Enjoyable. Roasted malts are prevalent, some burnt flavours along with coffee. At one point I got the taste of cigarette butts, but oddly enough this was an enjoyable flavour. The primary perceptible bitterness is seemingly from the roasted malts.
M: Initially I thought it gorgeous and silky, but maybe the palate got used to it but the beer seemed a touch thin at times, which is odd for a beer so heavy on the roasted malts. Carbonation was low, perhaps that was the reason. Initially the 7% isn't noticeable, but after a pint and letting it warm a bit some heat linger in the throat.
O: Flawed (carbonation, thin mouthfeel) but overall more than just nice, quite enjoyable... A beer to go and get next time I am in the queen's city...
1,155 characters
Pickard's Oatmeal Cream Stout from Bushwakker Brewing Company
3.83
out of
5
based on
10
ratings.