King Porter
| Baron Brewing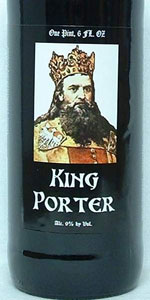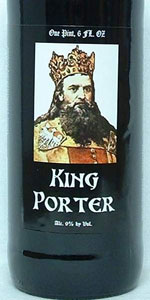 BEER INFO
Brewed by:
Baron Brewing
Washington
,
United States
baronbrewing.com
Style:
Baltic Porter
Alcohol by volume (ABV):
9.00%
Availability:
Winter
Notes / Commercial Description:
No notes at this time.
Added by rye726 on 07-26-2008
This beer is retired; no longer brewed.
HISTOGRAM
Ratings: 10 | Reviews: 10
Reviews by flagmantho:

2.88
/5
rDev
-10.8%
look: 4 | smell: 3.5 | taste: 2.5 | feel: 3 | overall: 2.5
Poured from 22oz bottle into a pint glass.
Appearance: entirely black with hints of red when held up to a light source. Thin layer of tan foam for a head. Quite nice.
Smell: deep roast malt aroma; not especially complex. Definitely toward the bitter/coffee side of the roasted spectrum. Not bad, but not particularly exciting.
Taste: pretty mediocre. There's what I can only assume to be unintentional sourness to it that does not work well with the already-bitter roasted flavors. This may be a baltic porter in ABV, but not in stylistic complexity: roastiness and sourness is basically all you get. The more I think about it, the less I like it.
Mouthfeel: rather light for a baltic porter. Carbonation level is OK; call this one average.
Drinkability: this one will be hard to finish, but I will soldier on ahead in the name of giving this beer a chance. Normally an intriguing flavor is what I need to down a giant bottle of high ABV darkness, but this beer does not have that. Not disgusting, but not recommended.
1,023 characters
More User Reviews:
3.72
/5
rDev
+15.2%
look: 5 | smell: 3 | taste: 4 | feel: 3 | overall: 4
Pours an opaque black, no translucence when held to the light. Mocha-coloured, creamy 2 finger head that laces and clings in big clumps.
Light, inoffensive nose with pumpernickel bread and vanilla. Taste is subtle and complex, but not as rich or deep as a porter should be. Toasted malts, nut-butter yeastiness, floral hibiscus hop flavor. Very light chocolate note, but all flavors are subdued. I believe this bottle would be better with a year or two under it's belt.
Mouthfeel is finely carbonated and light with a slightly oily finish, not as creamy as I'd like in a porter like this. Highly drinkable, though, for all it's ABV.
635 characters

3.32
/5
rDev
+2.8%
look: 3 | smell: 3.5 | taste: 3.5 | feel: 3 | overall: 3
pours a jet black with a wisp of a tan head, some lacing.
smell is a touch of cocoa, touch of coffee, some nuttiness.
taste is carbonated, a little sour, cocoa, some vanilla, some licorice, a little roastiness, some coffee, finishes dry and slightly bitter and a little sweet.
278 characters
3.23
/5
rDev 0%
look: 2.5 | smell: 2 | taste: 4 | feel: 3 | overall: 3.5
First hit of the aroma I got a pretty unpleasant fuesal alcohol aroma. That went away but what is left is some fruit yeast fermentation character, very little hops, and almost no discernable malt aromas.
Almost black colored but when held up to the light it has some nice red highlights. Had a smallist head to start but that faded right away and there is no head left. Almost looks like a glass of coke with lots of rising carbonation, but nothing that keeps a head going.
Flavor works for me. Here's where I get a lot of roast malt, almost a smokey character. Then it's folowed up by sweet base malt. Nice hop bitterness but appropriate for the style, there is no hop flavor. I like the fruity yeast character I get too and a level of spicy yeast too.
Feels pretty thin for a 9% beer. Plus the high carbonation level is a little biting.
Don't know about this one. It actually drinks pretty well but at this alcohol level I want a bigger beer. I don't dislike it but I'd rather have something more complex and interesting if I've got a strong sipper on my hands.
1,068 characters
3.95
/5
rDev
+22.3%
look: 4 | smell: 4 | taste: 4 | feel: 3.5 | overall: 4
A local Port Angeles grocery store got a few cases of this in, decided to give it a try.
First off, let me state that I have bought 7 bottles of this, and two of them had gone bad. While they were exchanged, keep this in mind if purchasing from an outside source. Don't know if this is an ongoing problem, or a simple case of a couple of bad bottles.
When you get a good bottle, this is a pretty decent Imperial Porter. Nicely balanced, the higher alcohol content is well masked. Not overly sweet. A little thin in the mouthfeel department for a Baltic Porter, but no biggie.
If you are a fan of Imperial/Baltic porters, this one is well worth a try.
654 characters

3.58
/5
rDev
+10.8%
look: 4 | smell: 3.5 | taste: 3.5 | feel: 4 | overall: 3.5
22 oz bottle poured into my Samuel Smith imperial pint, King Porter is a dark blackish brown with a creamy tan head that has long last and leaves very light, scattered lace. I really like the old fashioned looking label, really simple, just a cool image of a gothic looking king.
Smell is a little funky, slightly sour, with a light sweetness, but develops some nice milk chocolate notes.
Taste is pretty robust, lots of caramel and chocolate, bittersweet at first, getting more grape-like as it warms. While it's not infected, there's a bit of that house Barron flavor that I don't love, an overly acidic bite to the malt, and was probably what I was getting from the nose.
Mouthfeel is has a dry, mineral spritz in spite of the chewy, malty medium body.
Drinkability is ok, not a bad Baltic porter, pretty smooth, rich flavor, but I don't care for the tangy aroma. Still, it kept growing on me, nice depth.
917 characters
3.68
/5
rDev
+13.9%
look: 4 | smell: 3.5 | taste: 3.5 | feel: 4 | overall: 4
This porter pours a very dark brown and has a tan head with poor retention. The nose has roasted malts, chocolate, coffee and sweet fruits. The taste is well balanced between the bitter hops, roasty malts and sweet sugars. Full body goes down well. Nothing amazing, but a quality Imperial Porter.
296 characters
2
/5
rDev
-38.1%
look: 2 | smell: 2 | taste: 2 | feel: 2 | overall: 2
I was 0 for 3 with this beer, all had bottle infections. My buddy was luckier and said it is a decent brew but I wasn't lucky enough to taste it.
I know this isn't informative as to what a good bottle tastes like but I hope it is informative that you are playing Russian Roulette with these because the beer buyer at Whole Foods said they had seen a lot of returns on it. I'm leaving straight 2's to combine my friend's sentiments and my bad luck.
449 characters
1.96
/5
rDev
-39.3%
look: 2.5 | smell: 1.5 | taste: 2 | feel: 2.5 | overall: 2
Usually I try to drink beers where they're brewed. Since Baron has scaled back their tasting room, I had to rely on purchasing a bottle at Full Throttle in Georgetown. One might expect that a refrigerated brown bottle of 9% ABV ale might easily survive half a year or more from bottling until consumption. This one absolutely did not. Moreover, I suspect this King Porter was doomed before they capped it.
Classic brewing off-notes were present in the form of a dilute sour-cherry diapers aroma, and the wanton flavors of cardboard and sherry. The recipe itself is given no opportunity to achieve fruition. Rather, this would-be Baltic porter is undercut by serious flaws in its execution, which, while not overpowering, are too prominent to ignore. The beer is dark brown with a ruby glow in direct light, with minimal head, no lace, and stagnant carbonation. Alcohol is negligible in taste and effect. The mouthfeel is like soda pop.
Damaged goods. Anything of worth that was once here was long gone by the time I showed up.
1,030 characters
3.95
/5
rDev
+22.3%
look: 3.5 | smell: 3.5 | taste: 4 | feel: 4 | overall: 4.5
bomber by way of riversideAK.
pours thin a dark brown near black body. i had to work really hard to get a small tannish head to appear. shortly after it climaxed it disappeared to nothing again.
the aroma is very roasty/malty with a rubbery tar-like quality. also noted are toasted nuts, coffee, toffee, mild cocoa and black licorice candy.
there's a distinct lager yeast element behind flavors of roast, wood, toasted nuts/pecan cream, cocoa, vanilla and coffee with floral and spicy hops coming in on the clean crisp finish. the palate stays interesting and evolves quite a bit as it nears room temperature where the alcohol is barely noticed. the body is on the thin lager side but spice and crispness make up for it. prickly carbonation keeps it clean and terribly easy to drink!
7/3/8/4/15/3.7
805 characters
King Porter from Baron Brewing
Beer rating:
3.23
out of
5
with
10
ratings