Rumpelstiltskin Rauch Doppelbock
| Baron Brewing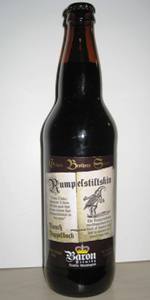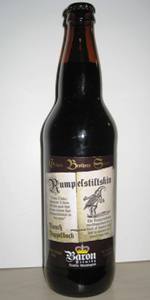 BEER INFO
Brewed by:
Baron Brewing
Washington
,
United States
baronbrewing.com
Style:
Doppelbock
Alcohol by volume (ABV):
9.50%
Availability:
Limited (brewed once)
Notes / Commercial Description:
No notes at this time.
Added by mnapier on 07-31-2008
This beer is retired; no longer brewed.
Ratings: 9 | Reviews: 8
Reviews by mnapier:
3.7
/5
rDev
+14.2%
look: 3.5 | smell: 3.5 | taste: 4 | feel: 3.5 | overall: 3.5
Service Glassware, 12 ounce tulip. Service Temperature, 50 degrees Farenheit.
This Rauch-Doppelbock (is there even such a thing) pours dark & dense, with little light passing though it. The foamy head profile is a light khaki and it quickly dies out, leaving a tiny halo of lace.
An interesting lager, with the waft of grape (or some plum?), smoke, and slight bit of cocoa.
Sipping this I hit bits of smoke, some plum, and a lingering stickiness.
Mouthfeel, is mild to medium.
A good attempt, but I think that some people might be confused between the doppel & rauch.
Cheers
582 characters
More User Reviews:

3.53
/5
rDev
+9%
look: 4 | smell: 3.5 | taste: 3.5 | feel: 3.5 | overall: 3.5
22oz bottle. Bottle stamped Limited Edition 2008.
Poured a deep brown color with a smaller sized off white head. Aromas of smoked meats, roasty, caramel, chocolate, and some nuts. Tastes of dark tart cherries, lighter smokiness, and some caramel. Not sure if the tartness was intentional, but it did grow on me and since I liked it, I'm not going to knock it for it. Alcohol content well hidden. Smokiness was subtle all the way around.
438 characters

3.54
/5
rDev
+9.3%
look: 3 | smell: 4 | taste: 4 | feel: 2 | overall: 3
pours black with a red tint when held up to light, just a wisp of a tan head that is gone as soon as you blink, not much on the lacing.
smell is of campfire smoke, beef jerky, salt, a hint of cocoa, a little malt, graham cracker.
taste is watery, smoke, some malt, few hops, touch of cocoa, ends a little dry and bitter.
322 characters

3.58
/5
rDev
+10.5%
look: 4 | smell: 3.5 | taste: 3.5 | feel: 4 | overall: 3.5
This came out in 2008, and I've cellared it since. Bomber poured into my Delirium snifter, Rumpelstiltskin is cola brown with a pretty tight tan head that leaves scattered, foamy lace.
Smell is fruity, sour, a hint of smoke. Strange, if I'd not had their other beers.
Taste is classic Baron. These guys brew the most consistently acidic beer I know. And as much as I love acidic beers, it always seems a little of in the clean, traditionally German styles they brew. I thought they were infected, but the perfect carbonation after 2 years of cellar time indicates that is clearly not the case with this one. Taste is acidic and fruity, like sour grapes or cherries, with a moderately smoky finish. Weird . Not unpalatable, but strange - think home brewed wee-heavy fermented with a Belgian ale yeast! Rating this to style would be ridiculous, but I'm a Belgian drinker first and foremost, and this was good in an interesting / experimental kind of way. Very homebrewish though.
Mouthfeel is dry, and spritzy - the acid adds a rerfreshing quality and makes what is normally a thick, sipping beer much lighter on it's feet.
Drinkability is ok. A ton going on, it took me a while, but wasn't a chore. Not something I'd be in a hurry to revisit though, ever.
1,262 characters
3.13
/5
rDev
-3.4%
look: 4 | smell: 3.5 | taste: 3 | feel: 3.5 | overall: 2.5
A 22 oz. bottle (reviewed from notes, May 2009). Poured to a pint glass. This one came from Beaumont Market back in the spring, though it had lingered awhile, and was handed over as an 'extra'. I love my local beer store.
From Baron's 'Grimm Brothers Series'...released in 2008.
A: Deep, dark chocolate-brown, garnet tinged. Short dusty tan/gray head, halts at 1/2-finger and slowly ebbs. Smoky film, a taut clingy ring, modest lace in small flecks.
S: Husky aroma, definite 'smoke'. Cereal sweetness melds with a light charcoal, then the odd fruit/berry backing. Not sure adding smoke to a doppelbock was a great idea, but it makes for an interesting aroma.
T: Astringent cherry tartness upfront, followed by a smoky/peaty malt. Souring is modest (I don't blame this on aging; heard reports of it from early reviews when this was first released), then it mellows to be more earthy/dry. Citric tang with the sweeter spice, mild fruit.
M: Smooth, mellow carbonation. Crispness subdued, a softer fizz. Hardly any fusel heat - 9.5% ABV seems more like 5.9%...
D: Would have preferred 'fresh', but was definitely worth a taste. I've liked the Germanic stylings I've tried from Baron; though this isn't one of the better efforts (as I recall it sold for around $10/bottle and sat, unsold, for months), it still had some value. Good effort, but a 'miss'.
1,354 characters

3.48
/5
rDev
+7.4%
look: 4 | smell: 3.5 | taste: 3.5 | feel: 3 | overall: 3.5
2008 Bottling; Sampled December 2008
A vigorous pour into my 25cl tulip glass produces a tightly beaded, initially three-finger thick, well browned, tan colored head. The beer is an almost black, dark brown color that shows a brilliantly clear, deep ruby / plum color when held up to the light. The aroma brings a smile to my face as it has a nice beechwood smokiness to it. This smokiness is dominant, but is not as noticeable as it could be; in fact the beer could use a bit more malt richness to carry the smoke as it comes off as a bit thin and phenolic at times. The aroma is best if you don't spend any time lingering over it (something I usually like to do with good Rauchbiers), as you don't notice the flaws this way.
The beer has a light, but complex sweetness to it up front that is coupled with a malt, somewhat rich body and viscous texture. Notes of raisins up front are then backed by a touch of toasted, almost roasted character that contributes a touch of acidity and then of course a smoky flavor that also contributes to the perceived tartness as well as contributing a soft richness to this beer. The smokiness also helps to dry out the finish quite a bit, though I would never describe this beer as sweet (rich, yes but definitely not on the sweet side). This actually ends up light bodied / drinking quite easily for a beer of this strength. The light, smoky tartness couples with the malt to produce a flavor somewhat similar to prunes.
Not quite rich enough to stand up to the smoke character, at least it is missing that rich depth that I want to see in a Doppelbock. It could use a bit more body as well as the smoked malt seems to thin things out a bit.
Purchased: Liquid Solutions
1,711 characters
2.42
/5
rDev
-25.3%
look: 4.5 | smell: 2.5 | taste: 2 | feel: 2.5 | overall: 2.5
Bottle. Nice looking beer, a dark ruby color, with a full, long lasting tan head. Not much too the nose besides some intense smoke. Mouth feel needs more weight and texture. Flavor is mostly sour and doesn't have any malt depth besides smoke. Too sour.
252 characters
2.81
/5
rDev
-13.3%
look: 3.5 | smell: 2.5 | taste: 2.5 | feel: 4 | overall: 3
Appearance: Pours a dark brown, near black body with a very thin, beige-hued head.
Smell: Nearly meaty nose of smoked grains with notes of chocolate, licorice, and wait... oh, here we go again, there's some suspiciously tart, sour fruit wafts lurking within. Oh dear.
Taste: An initially promising taste of bittersweet chocolate mingled with roast and smoke and hint of licorice quickly degrades into a presumably infectious flavor of tart, sour fruit with a thin vein of acidity. Touches of roast uncomfortably juxtaposed against further soured fruit tastes. Regrettably, it's more of a doppelflop than a doppelbock.
Mouthfeel: Medium-bodied. Medium carbonation.
Drinkability: Showing early signs of an infection. Once again, Baron's slipshod quality control issues are at play. A beer from Baron is like playing the slots at Vegas -- chances are you're going to LOSE. In past years, it's been one problematic beer after another, and, against my better judgement, I keep giving them a shot, hoping they'll hit a grand slam home run. But no longer! I'll give you have one last chance, Baron.
1,095 characters
Rumpelstiltskin Rauch Doppelbock from Baron Brewing
Beer rating:
0
out of
100
with
9
ratings