Three Skulls Cutthroat Red
| Baron Brewing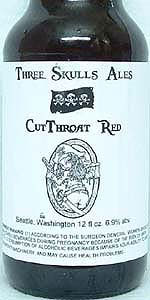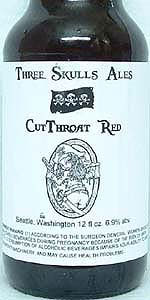 BEER INFO
Brewed by:
Baron Brewing
Washington
,
United States
baronbrewing.com
Style:
American Amber / Red Ale
Alcohol by volume (ABV):
6.90%
Availability:
Year-round
Notes / Commercial Description:
No notes at this time.
Added by RedDiamond on 03-03-2009
This beer is retired; no longer brewed.
HISTOGRAM
Ratings: 9 | Reviews: 9
Reviews by RedDiamond:
3
/5
rDev
+2%
look: 3 | smell: 3 | taste: 3 | feel: 3 | overall: 3
Last year Baron shifted gears away from their exclusive production of German lagers and launched a separate in-house brewing company to brew English-style ales. Three Skulls Brewing, as it is known, has adopted a Pirate theme and has currently released three ales. These beers are available at the brewery in 22-oz bombers but have thus far seen only modest distribution. Their simple white labels with black print show a lusty cartoon pirate wench adorned with cutlass and pistol. In the case of Cutthroat, she's holding a tankard of ale and displaying her exaggerated features with considerable poise.
Cutthroat Red is deep garnet and pours with a rich ivory head that quickly recedes. It is perhaps easiest to describe for what it is not. It's not fruity, it's not hoppy, and it's not especially yeasted or malty. It shares some nutty qualities with a nut brown, especially in the aroma, which suggests honeyed hazelnut. And there may be a thread of noble hop spice, but even that seems misplaced and in short supply. Mostly the beer suffers from a case of rancid butter flavor. It's not overwhelming, but it is an inescapable deficit. Cutthroat isn't a complete disaster, but it fails to distinguish itself. Maybe Baron ought to stick with German beers.
1,262 characters
More User Reviews:
3.14
/5
rDev
+6.8%
look: 2.5 | smell: 3.5 | taste: 3 | feel: 3.5 | overall: 3
Pours a pale cloudy reddish orange, bubbly head that dissipates quickly. Smells of strong caramel malt, faint dark fruits, some earthy hops, very malty. Tastes of fruity and caramel malt with a very fruity and almost tart like finish. Has an almost sour tart candy flavor. Lemony bitterness leads to a fairly sweet if not neutral finish. Mouthfeel is average, fairly carbonated.
Pretty mediocre, i feel like this beer doesn't know what it wants to be. Is it an Irish ale with its malty body, or an American Amber with its citrus components. Together, its kind of a mess. Not terrible, but not really good either.
613 characters

3
/5
rDev
+2%
look: 3 | smell: 3 | taste: 3 | feel: 3 | overall: 3
A: Poured a flat orange wit a good clarity topped off by a spongey head that was spotty, 1 finger high, and only moderately retaining. Random release of macro bubbles make their way to the surface. Overall a red that was more orange and a bit sloppy looking at times delivers only moderate visual appeal on its best day.
S: Soft nose, fresh orange peels and not much hop aroma. Some wet bread and orangey presence but otherwise very limited in appeal, strength, and complexity making me wonder if I'm reviewing this by the right style. yup.
T: The flavor is orangey, again with some light tart citrus. Hops? I've yet to encounter much here or at least not up to my expectations. The malting is very sweet and fruity with perhaps just enough hops used to balance so it is barely tolerable. If you bought this in hopes of experiencing an American amber/red like I did with a malty presence and boat load of American citrus hops...well your going to be disappointed as opening a pirates chest and finding nothing but babble, because that's all this is, pretty much empty value and cheap looks.
M: A decent fullness for a mouthful but came off juice like, softly carbonated. Dry with a powdery malt lacing is left behind on the swallow.
D: A bit to sweet and fruity for me, one would be more then enough for me as this lacks any quality or character for repeatability. Average regards all around and your not missing much here. I would pass if id knew better.
1,462 characters
3.03
/5
rDev
+3.1%
look: 3.5 | smell: 3 | taste: 2.5 | feel: 4 | overall: 3.5
Had on tap at the PDX Green Dragon.
- Clear amber/copper... thin half-finger of white foam...
- Light caramel scent.. a bit tart, and light pine and bitter hops...
- Taste of malt was great... thin caramel, grain, barley.. and some good bitter hops... but there was a tart, almost sourness to it that I didn't care for... not that it was infected.. but just maybe green?
- Thin to medium bodied... slightly dry, and tart enough to make the mouth water....
- Overall I finished the pint... and as red's are a favorite of mine... this one isn't worth a second take unless they fix it or get a little more consistent. Hopworks next please!
641 characters
2.06
/5
rDev
-29.9%
look: 3 | smell: 2 | taste: 2 | feel: 3 | overall: 1.5
Only purchased this because the guy at the liquor store "recommended" it; clearly he was trying to unload this stuff.
Pours a amber red which is nice looking with a quickly dissipating white head (never a good sign for a beer of this style/ABV. This beer is lacking in all aspects in my opinion, not hoppy, not malty, not yeasty (thankfully on the last note). Reminds me of my first homebrewed beer that I made from a kit, except I think that was better.
It has some bready/maltiness and a little honey maybe, the beer trys to express itself, but it almost tastes watered down. Weird, don't waste your time with this or any other from this line.
648 characters

3.68
/5
rDev
+25.2%
look: 4 | smell: 3.5 | taste: 3.5 | feel: 4 | overall: 4
Appearance: pours a reddish amber color with a 1" head that lasts a while. Some spotty lace develops.
Smell: caramel and dark fruit sweetness is easy to detect.
Taste: big caramel flavor here with red apple and grape sweetness. Bitterness is mild.
Mouthfeel: medium bodied beer. Lightly crisp at the start, smoother towards the finish. Aftertaste is long as the flavors linger in the mouth.
Drinkability: this was a straight forward red ale that isn't overly exciting but it is not bad. Newly delivered bottle to a store, so it was pretty fresh.
550 characters

3.67
/5
rDev
+24.8%
look: 3 | smell: 3.5 | taste: 4 | feel: 3.5 | overall: 3.5
pours a semi-clear copper-red with a small off-white head, and okay lacing.
smell of spice, roasted malt, and caramel.
taste is of caramel, brown sugar, a little fruit, and spice, ends on the dry side with slight amount of bitterness.
overall a decent red ale.
263 characters

1.92
/5
rDev
-34.7%
look: 4 | smell: 2 | taste: 1.5 | feel: 3 | overall: 1.5
Appears a dark amber/red color. With a small white head.
It smells very sweet there is a kind of nasty molasses flavor. There is also a slight caramel flavor.
It tastes unfortunately a lot like it smells. It has this awful unbalanced molasses flavor. It has this nasty sweet flavor. It almost tastes rotten. It is thick and it has a lot of flavor; the flavor is nasty though. There is a slight grassy hoppy bitterness but it doesn't blend well with the molasses flavor.
Carbonation is about medium.
Drinkability is horrible I dumped out a third of this beer. The flavor is nasty and unbalanced.
Overall cool label, shitty beer. I wouldn't give this to my wenches!
670 characters

3
/5
rDev
+2%
look: 3 | smell: 3 | taste: 3 | feel: 3 | overall: 3
Pours, well, not very red. Kind of brown, really with a slight, disappointing head. The aroma is malty and bready with a little flowery hops. The flavor is disappointingly conventional, a little tea-like, with some bitter caramel and some overripe hops. Quite a bit of lemony bitterness. The effect is like a good homebrew, but not very inspiring.
347 characters
Three Skulls Cutthroat Red from Baron Brewing
Beer rating:
2.94
out of
5
with
9
ratings