Memminger Gold
| Memminger Brauerei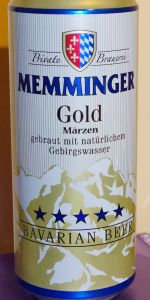 BEER INFO
Brewed by:
Memminger Brauerei
Germany
memminger-brauerei.de
Style:
Munich Helles Lager
Alcohol by volume (ABV):
5.30%
Availability:
Year-round
Notes / Commercial Description:
No notes at this time.
Added by Nerudamann on 12-14-2010
Reviews: 7 | Ratings: 15
3.25
/5
rDev
-2.7%
look: 3.75 | smell: 3 | taste: 3.25 | feel: 3.5 | overall: 3.25
CAN
Leggy pale gold. 3.75
Creamed corn! 3
Light cracker, sickly honey, rotten grass and random bitterness. 3.25
Light, clingy, round. 3.5
DMS fest on the nose. Also, thin yet cloying somehow, oxidized, and weirdly herbal. Truly awful. 3.25
240 characters

3.48
/5
rDev
+4.2%
look: 3.5 | smell: 3 | taste: 3.75 | feel: 3.5 | overall: 3.5
Served in a pint glass.
Appearance: Straight gold color with a light dusty haze on the body. Medium to heavy bubbles creates a white head roughly one finger's length off the body.
Smell: Light sweet corn and malts.
Taste: Simple light lemon. Little sweet. Malts are there but little light, goes down pretty smooth.
Mouth: Medium carbonation lightly sticky with a somewhat banana feel finish at the end.
Overall: Easy beer to drink but wouldn't hunt the world for it. Always in a glass my friend.
505 characters

2.79
/5
rDev
-16.5%
look: 2.5 | smell: 2.25 | taste: 3 | feel: 3.5 | overall: 2.75
The can for Memminger Gold states it as a Marzen, but every source I can find on the beer calls it a Munich Helles Lager, and it certainly has all the characteristics. And hey, if it looks like a duck and acts like a duck, you review it like a duck, right?
The beer poured with almost no head, and the head that was there quickly dissipated. The beer is hazy, which is odd for the style; I thought maybe it had chilled a bit too long, but the haze remained present as the beer warmed.
Either my sense of smell is gone today, or Memminger Gold has very little to it in the aroma department. There is a bit of grain in the aroma, and I get the lightest hint of citrus. I get the citrus in the flavor as well. It tastes a bit like lemon. This is odd, as citrus in beer usually comes from American hops and it's very unlikely those were used here.
The beer does have a clean lager taste, which is nice. There is a little bite from the carbonation, especially on longer swallows. There's very little sweetness, and even less hop flavor, though they both have a presence.
Memminger Gold is probably my least favorite beer so far from the Brewer's Advent Calendar. It's not a bad beer, but it's a weak example of one of my least favorite styles. I can't imagine ever ordering it if anything else as available.
1,307 characters

3.06
/5
rDev
-8.4%
look: 4 | smell: 3 | taste: 3 | feel: 3 | overall: 3
L: Bright golden yellow with a beautiful, two finger satin white head.
S: Lightly toasted grains and apples.
T: Rather bland, but I'll attribute it to the fact that the can is almost a year old. Even though the flavor is lacking, it's quite crisp and smooth with a mildly dry/bitter/fruity bready flavor.
F: Low-mid weight with low carbonation.
O: Purchased as part of a beer advent calendar. This was probably fantastic when it was first canned, but for some reason they brew the beer in Janurary and intend for you to drink it in December. Even though it's old it was still enjoyable.
590 characters
3.5
/5
rDev
+4.8%
look: 4 | smell: 3.25 | taste: 3.5 | feel: 3.75 | overall: 3.5
From the can, it pours a slightly hazy light golden color with a modest head that lasts a while. The scent is light, with a modest grain and some grass possibly. The flavor is also light malt with possibly a bit of hops. Easy drinking.
The can says "Gold Maerzen", but it seems more of a helles to me.
307 characters
3.28
/5
rDev
-1.8%
look: 3.5 | smell: 3 | taste: 3.5 | feel: 3.5 | overall: 3
Light in colour, a sort of clear golden yellow with a big & bubbly head, good retention & some lacing.
Quite clean with grain & a light grassy hops aroma to it. It was pleasant although a little weak.
Corn & grassy hops accounting for most of the flavour. It was sweet upfront with some citrus like taste that was followed by a light bitter finish.
A light beer that was quite crisp and refreshing, easy to drink with nice carbonation & well balanced.
This was an okay beer that scores about average on all counts, coming out a lot better than most pale lager type beers but it's not up to the same standard as other German helles out there.
1001 Beers to Try Before You Die:
http://abarwithnoname.wordpress.com
716 characters

3.8
/5
rDev
+13.8%
look: 3.5 | smell: 3.5 | taste: 4 | feel: 3.5 | overall: 4
Poured from a bottle (bought and reviewed in Germany) into a flute glass.
I think that this is a Helles, but I'm not quite certain. The bottle's label says "Vollbier"
Look - pale straw color, clear, with a little bit of foam that dissipates quickly.
Smell - a little hoppy and a bit like a pilsener but with a crispness to it.
Taste - spiciness (but more herbal rather than hot). Also a bit of hoppiness, but very light or balanced. A little bit of a dull finish, but no aftertaste. Texture is pretty well-balanced but more toward the watery side.
Drinkability - Good brew with a good balance and fairly high complexity in the taste. Balance is pretty low and not too filling.
692 characters
Memminger Gold from Memminger Brauerei
3.34
out of
5
based on
15
ratings.