Master Tmavy
| Pivovar Velké Popovice a.s.
BA SCORE
84
good
20
Ratings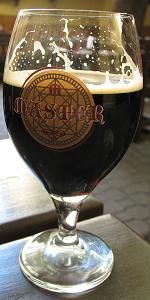 BEER INFO
Brewed by:
Pivovar Velké Popovice a.s.
Czech Republic
beer-kozel.cz
Style:
Euro Dark Lager
Alcohol by volume (ABV):
7.00%
Availability:
Year-round
Notes / Commercial Description:
No notes at this time.
Added by AllThingsNinja on 10-26-2007
Reviews: 13 | Ratings: 20

3.66
/5
rDev
-4.7%
look: 4.25 | smell: 3.25 | taste: 3.75 | feel: 3.75 | overall: 3.75
I bought this beer when i was in the Tsjech republicanisme this week. This beer is for sale in the Tescoshops, à supermarkt.
Poured the beer in my Struise glass. This beer looks very Nice with it's dark, deepdark colour. Only when you have à light behind the glass you van see the fluid is actually very darkred.
Smell is normal, nothing special, some hints of anice. Soft taste, à very drinkable beer.
407 characters

3.87
/5
rDev
+0.8%
look: 4 | smell: 4.5 | taste: 3.5 | feel: 3.5 | overall: 4
Pours a dark brown with garnet highlights. A thin tan head settles to a ring.
Aroma is rich melanoidins, toasty malts, some prune and very light roast.
Taste is toasty with some caramels, dark fruits and alcohol on the finish. Fairly complex, good.
Mouthfeel is medium bodied with moderate carbonation.
Overall this beer is drinkable and showcases nice malt flavors, slight alcohol heat.
391 characters

3.92
/5
rDev
+2.1%
look: 5 | smell: 3 | taste: 4 | feel: 5 | overall: 4
Kozel Master tmavy 18
.4l draft served in stem ware in Pilsen
A - near black and opaque with reddish mahogany at edges/ Generous creamy tan head that leaves patchy lacing. Remnants of head lasted until the end during an entire meal.
Aroma: rather faint and not enticing aromas of medium and dark roasted malt.
markedly more flavorful than aroma suggests: a somewhat spicy rich malt flavor that leads to a fine and lasting finish featuring dark roasted malts. Excellent balance of sweet and bitter, leaning towards bitter.
Exceptionally creamy feel with perfect (med) carbonation
O – not great in every respect, but wonderful mouthfeel makes this worth seeking out.
Paired ok with brocolli in cheese sauce; excellent with pork in gravy.
746 characters

4.5
/5
rDev
+17.2%
look: 4.5 | smell: 4.5 | taste: 4.5 | feel: 4.5 | overall: 4.5
appearance: deep dark brown, huge head retention, stout like
smell: dark roasted coffee
taste: wow, winner here. like a stout lager.
amzing coffee flavor while being a light easy drink, bitter back.
mouthfeel: medium, well carbonated
drinkability: this is the ber to seek out in czech rep. a must for BAs!
309 characters
3.61
/5
rDev
-6%
look: 4 | smell: 3 | taste: 4 | feel: 3.5 | overall: 3.5
A: The beer is clear but very dark amber in color. A light to moderate amount of carbonation is visible from the rising bubbles. It poured with a creamy tan head that rapidly faded away, leaving only a ring of bubbles around the edge of the glass.
S: The smell isn't very strong but has notes of caramel malts, molasses and sweetness.
T: Like the aroma, the overall taste is relatively sweet and has caramel flavors along with some hints of alcohol.
M: It feels light- to medium-bodied and a bit watery on the palate and has a high amount of carbonation.
D: The high amount of sweetness in this beer reduces its drinkability. The light-bodied nature makes it relatively easy to drink although I would not consider it to be sessionable because of all of the sweetness.
767 characters
3.55
/5
rDev
-7.6%
look: 3.5 | smell: 3.5 | taste: 3.5 | feel: 3 | overall: 4
Poured from the 330mL bottle into a large pint glass in Prague.
A: The beer is a solid brown color that has a quickly dissipating 2.5 finger thick tan head, settling down to a half finger layer that sits on the beer or a long time. Looks cola-like.
S: Pleasant malty character with hints of toast and slight roasted coffee. Caramel malt also in the balance. Solid.
T: Lots of malt in this one, but kind of thin on the palate. Solid roast base and some lighter notes on top like slight caramel and toffee.
M: As stated before somewhat watery, and a rough patch of carbonation... but typical of the style.
D: A very solid beer that can be put down pretty easily. I might buy this again while in the area.
708 characters
3.22
/5
rDev
-16.1%
look: 3 | smell: 3.5 | taste: 3 | feel: 3 | overall: 3.5
dark color, with amber edges. Beige head, quite creamy, cmpact and sticky.
A good roast in the smell, intense. Underlying, a light caramel, Pleasant, and not tto invading on the sweet side.
Again an intense roast in the taste, on a malty base, with light caramel. Pleasant, balanced, not cloying at all.
Easy to drink, with again a good roast note in the aftertaste.
Not bad.
375 characters
4.13
/5
rDev
+7.6%
look: 4.5 | smell: 4 | taste: 4 | feel: 4 | overall: 4.5
Bottle poured with a large, foamy, frothy, fluffy, tan head that lasts and some lace. Color is a dark brown with garnet highlights. Aroma is malt, toasted barley, toffee, caramel, and nutmeats. Flavor is similar with some malty sweetness coming out but not too much. Tasty. Body is good and so is carbonation. Finish is like flavor, medium in length and has a alcohol present. Easy drinking, good beer. Session
410 characters
3.97
/5
rDev
+3.4%
look: 3.5 | smell: 4 | taste: 4 | feel: 4 | overall: 4
I bought this at our local Tesco Supermarket in Prague 5. It is newly available there and Master seems to be doing a fair amount of promotion in the area. Previously I had only had their Master 14 which is more of an Amber.
Pours with a nice light brown head. You can taste the higher alcohol in this one, but it blends in pretty nicely. Has a full flavor with some hint of tobacco it seemed to me. My wife has finally found a Czech beer she likes so I guess we will be stocking this one.
489 characters
3.81
/5
rDev
-0.8%
look: 4.5 | smell: 3.5 | taste: 3.5 | feel: 4 | overall: 4.5
I was delighted to find this beer on chance at a small restaurant in Prague. The most popular Czech beers are pilsners from what I've found so this was a real treat.
appearance: strong, dark color with ruby hues visible when backlit. nearly a two inch mocha colored head. served in a labeled wine glass.
smell: toasted and almost burnt cedar with a touch of sweet caramel and finally a hint of diesel, which was unexpected.
taste: moderately sweet but quite blunt like burnt caramel with a heavy undertone of something stronger, perhaps I think being the alcohol shining through and overtaking the flavor towards the finish.
mouthfeel: heavy carbonation in my opinion, and lighter feeling than a typical alternative, but this adds to the drinkability, especially with a meal. nothing startling here.
drinkability: very light and not particularly filling despite the %abv and rich taste. as easy to drink as any cheaper porter, but heartier by far than any Czech pilsner. like any beer of substance this will probably satisfy after 2-3 glasses.
1,048 characters
3.83
/5
rDev
-0.3%
look: 4.5 | smell: 4 | taste: 4.5 | feel: 2 | overall: 3
(From my notebook, since I tried it last summer at "U Sadu" in Prague)
Appearance: Master Tmavy is served in a maroon-to-dark brown colour with a latte brown-coloured, rich and thick crown that remains for several minutes and leaves plenty of lacing on the Master-goblet.
Smell: Sugary, mild and cream like. Not much, pretty simple but satisfying nonetheless.
Taste: Burnt sensations mixed with molasses finished of with a greatly bitter aftertaste wrapped in a overall toffee-like presence.
Mouthfeel: A bit thin and low in carbonation - especially for a dark beer.
Drinkability: Poured from the taps of U Sadu into the aforementioned goblet, and despite the smokey - but somewhat appealingly rustic - ambience this ones sure to be experienced again, but suffice to say is that I wont make a returned to the Czech Republic solely for this one!
849 characters

3.4
/5
rDev
-11.5%
look: 3.5 | smell: 3.5 | taste: 3.5 | feel: 3.5 | overall: 3
It was very dark, with a coffee coloured head, and sweet nose. The first taste was ok I guess, nothing more than that really, just ok. Lightly roasted flavours, a touch of sweetness and a mild hoppiness, as I say nothing special. The thing that worried me was that after about 15 minutes, was drinking slowly yesterday, it started to smell overwhelmingly of sauerkraut. This was the first Master I had tried, so I am not sure if it always smells of sauerkraut or if it was a bum batch, but I won't be hurrying to find out anytime soon.
535 characters
4.31
/5
rDev
+12.2%
look: 5 | smell: 4 | taste: 4 | feel: 4.5 | overall: 5
I sampled this beer in a Cafe in Kolin, CZ's central square. It was served in a labeled wine glass with three fingers of head. The thick creamy froth capped, a deep and dark beer with ruby hues. It's subtle aroma hinted of malt, licorice, and tobacco. It was a smooth, medium bodied, and very drinkable despite its strength. The flavors mingled between kettle caramel, tocacco, dark fruit, and licorice with a sweet undercurrent. It was masterful.
447 characters
Master Tmavy from Pivovar Velké Popovice a.s.
3.84
out of
5
based on
20
ratings.