Queue De Charrue Triple
| Brasserie Vanuxeem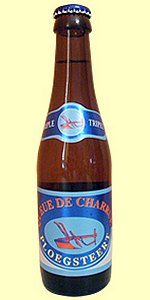 BEER INFO
Brewed by:
Brasserie Vanuxeem
Belgium
vanuxeem.com
Style:
Tripel
Alcohol by volume (ABV):
9.00%
Availability:
Year-round
Notes / Commercial Description:
No notes at this time.
Added by thierrynantes on 02-05-2008
Reviews: 7 | Ratings: 21

3.84
/5
rDev
+6.7%
look: 4 | smell: 3.75 | taste: 3.75 | feel: 4 | overall: 4
Now being brewed by Brouwerij Van Steenberge.
330ml bottle, poured into La Chouffe tulip.
A: Golden, slightly hazy, very large thick head, decent retention, lots of lacing.
S: Fruity phenols, more and more starchy towards the end.
T: Apple, phenolic sharpness, starch, sour fruits and a hint of sour dough at the finish.
M: Thick chewy texture, well carbonated, coarse edge from the booze.
O: A typical Van Steenberge beer, it's very similar to Augstijn ale and Bornem tripel. I've sampled quite a few Van Steenberge beers and they've never let me down, one of my favourite breweries worldwide.
611 characters
4.4
/5
rDev
+22.2%
look: 4 | smell: 4.5 | taste: 4.5 | feel: 4.25 | overall: 4.25
Bottle 33 cl. Nice white big foam. Color is very pale, almost as a white beer, and cloudy. Aroma is fruity, spicy, glazed fruits, cake, some lemon, coriander. In the mouth I feel cake, some fruits, maybe apple or pear, cream. Slightly sourness and very refreshing.
264 characters

2.88
/5
rDev
-20%
look: 3.5 | smell: 3 | taste: 2.5 | feel: 2.5 | overall: 3.5
A-Large but not all-too-dense head...overflowed on the pour. Attractive darker yellow-gold and clear, bits of tracing.
S-Picked up adjuncts on the initial smell, but also smells of chiffon cake and alcohol.
TM-Metallic mouthfeel upfront...otherwise light-to-medium bodied with variety of malted grain flavors, pleasant spiciness, and slightly hoppy finish that leaves some dryness and balance, and some alcohol heat.
D-An okay beer worth trying.
448 characters

2.8
/5
rDev
-22.2%
look: 2.5 | smell: 2.5 | taste: 3 | feel: 2.5 | overall: 3
Bottle served in Guinness brewhouse series pint glass in Belfort, France. Reviewed live. Hazy yellow colour. Semitransparent.
A: Clear yellow colour. Four finger head is thin and ugly with good retention but no cream.
Sm: Light barley with some lemon esters. Nothing special.
T: Full barley body with some lemon/citrus esters. Not horribly complex, but full and somewhat refreshing. Some layered hops, but not many, which don't necessarily culminate for the climax. A bit restrained. Balanced but fairly simple.
Mf: Smooth and wet, but featuring adequate coarseness for the climax to bring out (what little...) flavours (it has). Sort of suits the flavours on the body. A bit too coarse on the finish.
Dr: Drinkable enough, and very high ABV for its absence of flavours. Not unique, bold, or special. Very fairly priced in France.
840 characters
2.98
/5
rDev
-17.2%
look: 3.5 | smell: 3 | taste: 3 | feel: 2.5 | overall: 3
The nose is both hoppy and a little safe with yet a touch of fruit but quite significant it must be said. Low in the body, mix a little corn and hops on, and the mixture is not really extraordinary and most importantly, do not make the easy-drinking beer. In addition, there is a lack of spice and finish.
305 characters

4.07
/5
rDev
+13.1%
look: 4 | smell: 4.5 | taste: 4 | feel: 3.5 | overall: 4
I believe this beer, despite what the site says, is not retired. I picked up a couple in Aarschot just last week. The expiry date reads 19 April, 2012, so I believe this is still in circulation.
On to the review ... what a golden, clear appearance for this beer. Much clearer than the triples I'm accustomed to drinking. Head originally was about a quarter-inch, but rather quickly slimmed down to an eighth-inch. Rather bubbly as well.
A grainy, flowery smell, which likes it color also seemed different from the standard. The alcohol was very cleverly disguised by a fruity, spicy sensation in the taste. Well done.
Very happy I lucked upon this beer. I plan to return to the shop and purchase a few more, and while there I will inquire about whether it is indeed "retired".
779 characters

3.85
/5
rDev
+6.9%
look: 3.5 | smell: 3.5 | taste: 4 | feel: 4 | overall: 4
Beer bottle (25cl), tasted in 2008.
Appearance: golden blond colour, clear and bright. White foam with medium-sized bubbles, good persistency
Smell: Well malty, slightly influenced by alcohol, fruity
Mouthfeel & Taste: fruity attack, a lot of freshness. Spicy aromas, floral and herbaceous. low bitterness.
Drinkability : a strong beer (style triple), great freshness. A beer distributed by Vanuxeem and brewered by Van Steenberge (Ertvelde).
442 characters
Queue De Charrue Triple from Brasserie Vanuxeem
3.6
out of
5
based on
21
ratings.