Golden Spike Light Ale
| Tustin Brewing Company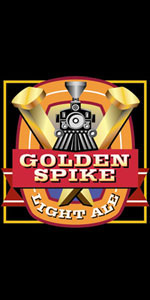 BEER INFO
Brewed by:
Tustin Brewing Company
California
,
United States
tustinbrewery.com
Style:
American Blonde Ale
Alcohol by volume (ABV):
5.00%
Availability:
Year-round
Notes / Commercial Description:
No notes at this time.
Added by charlzm on 04-16-2008
Reviews: 9 | Ratings: 18
3.35
/5
rDev
+10.6%
look: 3.5 | smell: 3.5 | taste: 3.5 | feel: 3 | overall: 3
i actually thought this was pretty decent for such a light beer. golden in color with a medium sized but short lived white head. smells a little sweet and a little herbal, hints of coriander like a belgian in the nose if i fixate on it, but i dont taste any of that. a little sweet pale malt up front, slightly bland finish that could stand a little more hops, but i really dont think this one is as bad as people are making it out to be on here. i think for a session beer it does the trick, maybe needs a little more carbonation, but the body is really light, the flavors arent off in any way, and its pretty tasty as an all day beer really. my first beer from these guys is nothing real special, not at all, but its also pretty passable beer. always good to try new breweries even if they dont come with all the hype in the world. this is a low B or high C for me.
867 characters
3.81
/5
rDev
+25.7%
look: 3.25 | smell: 4 | taste: 3.75 | feel: 4 | overall: 3.75
On tap at the Bootlegger's 5th Anniversary Celebration held at The Muckenthaler Cultural Center in Fullerton, CA.
Pours a clear gold with a foamy off-white head that settles to wisps of film on top of the beer. Small dots of lace form around the glass on the drink down. Smell is of malt, grain, and hay and grass aromas. Taste is much the same with grain and hop flavors on the finish. There is a mild amount of hop bitterness on the palate with each sip. This beer has a good level of carbonation with a crisp mouthfeel. Overall, this is a pretty good beer that is easy to drink.
583 characters

3.55
/5
rDev
+17.2%
look: 3.5 | smell: 3.5 | taste: 3.5 | feel: 4 | overall: 3.5
8/26/2011
On tap at Tustin Brewing.
A: Hazy light gold with a small white head.
S: The aroma displays a nice balance of grassy noble hop character and biscuity malt. Notes of grain and bread are evident.
T: Biscuity and crackery malt blend with an insistent lower moderate bitterness. Noble hops are grassy and well balanced by the malt. There's graininess as well. The finish is dry, clean, and crisp.
M: Light in body with upper moderate carbonation. The mouthfeel is crisp and dry.
Overall: A solid American Blonde.
524 characters
3.86
/5
rDev
+27.4%
look: 4 | smell: 3 | taste: 4.5 | feel: 3 | overall: 4
Tasted in at the brewery on a breezy December day in Tustin.
Aroma minimal. Just a little bready.
Pale gold in color, minimal head. Some chill haze.
Light body with a noticeable grain sweetness. A very easy touch of floral hops.
An excellent example of a drinkable light ale.
279 characters
2.73
/5
rDev
-9.9%
look: 3 | smell: 2.5 | taste: 2.5 | feel: 3.5 | overall: 3
I have seen the original Golden Spike in Utah, but what about this beer? Let's have a pint and find out. On to the beer:
Pale yellow color, faded and looking like a macro lager. There's a little stringy lacing clinging to the glass. Like the look, the nose has a macro-ish aroma to a small extent. There's a little sweet milled corn and a hint of DMS. But overall, fairly clean.
The key to this style is a beer with no majors faults but with enough little flavors to keep you going. Some citrus splashes are welcome, light corn tastes not the most optimal. The more I drank, the less citrus I got, so it became, well, more bland. The crisp clean bite in the mouth is enjoyable. In the aftertaste are minrerals and a bite of lime.
Sure, it's a light ale, but I've had better ones than this. As a GABF gold winner last year, I was dissapointed with TBC's Golden Spike. Don't let that distract you from seeing the real thing in Mormon country.
945 characters

2.88
/5
rDev
-5%
look: 3 | smell: 2.5 | taste: 3 | feel: 3 | overall: 3
On-tap at Tustin
A: The pour is a clear, pale gold (bordering on yellow) color with a small white head.
S: This smells more like a (light) lager with a lot of sweet grain aromas, along with some hints of fruit and malt.
T: Like the nose, nothing very impressive in terms of the flavor. A sweet and slightly malty flavor with perhaps a touch of fruit and yeast.
M: Very light in terms of body with a moderate level of carbonation.
D: A low ABV beer, so it's easy to drink. But a rather uninspiring interpretation of a blonde ale. Not one of TBC's better offerings.
568 characters
4.43
/5
rDev
+46.2%
look: 4.5 | smell: 4 | taste: 4.5 | feel: 4 | overall: 5
A- Nice fluffy white head, golden straw color, brilliant clarity
S- Light bready aromas and some subtle noble hop notes. Also some light yeast quality.
T- Bready character persists into flavor- firm bitterness is forefront, but a subtle grainy sweetness helps balance.
M- Nice carbonation, light bodied, finish is smooth.
D- Very drinkable. And at 4.8% abv, I could drink a few more. Overall, a nice light blonde ale with some subtle characteristics that make it refreshing and quaffable.
492 characters
2.2
/5
rDev
-27.4%
look: 2.5 | smell: 2.5 | taste: 2 | feel: 2.5 | overall: 2
On tap at the Tustin Brew Pub in Tustin, CA.
Poured a light yellow color with a small sized white head. Aromas of mainly grains. Tastes grains and some corn. Thin body. This one ended in a corny sweetness. Rather boring, but then again it is a Blonde Ale. Light lacing left on the glass.
288 characters
2.25
/5
rDev
-25.7%
look: 2.5 | smell: 2.5 | taste: 2 | feel: 3 | overall: 2
Consumed 04/14/08.
Crystal clear light yellow. A few bubbles rise here and there.
A sweet aroma of grain. Has an odd, sweet barbecue sauce component as well.
Flavor has a sweet, weird little fruit flavor (apricot? cherry?) going on. No malt or hop flavors. Cardboard aftertaste.
Take a pass on this one.
315 characters
Golden Spike Light Ale from Tustin Brewing Company
3.03
out of
5
based on
18
ratings.