Olde Pelican

Orlando Brewing Partners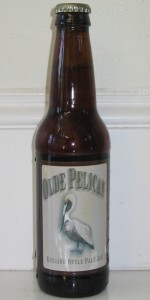 Write a Review
Beer Geek Stats:
| Print Shelf Talker
Style:

ABV:

6.82%

Score:

Avg:

3.67

| pDev:

14.17%

Reviews:

15

Ratings:

From:

Avail:

Year-round

Wants

Gots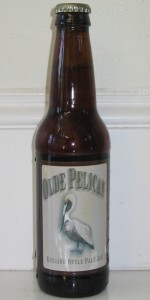 Notes:
Reviews: 15 | Ratings: 45

3.92
/5
rDev
+6.8%
look: 4 | smell: 3.25 | taste: 4.25 | feel: 4 | overall: 4
This smooth, round and drinkably semi-bitter ale shimmering of amber and topped by a creamy white head that clings at the edges has a biting hop combo of grapefruit and pine with a nicely contrasting toasty, biscuity brown malt nuttiness, leaving you with a tangy finish.
271 characters
3.4
/5
rDev
-7.4%
look: 3 | smell: 3 | taste: 3.5 | feel: 4 | overall: 3.5
The lost beer reviews of Spring Break 2012, #1
Dark reddish amber body, smallish off-white head.
Earthy and bready aroma. Pleasant, but not assertive enough.
Taste is earthy, bready, and a dollop of caramel.
Very creamy medium plus mouthfeel.
A very nice English style ale, a pleasant surprise overall.
307 characters
3.62
/5
rDev
-1.4%
look: 3.5 | smell: 4 | taste: 3.5 | feel: 3.5 | overall: 3.5
A: half finger head on a clear amber body. Not what I was expecting from the style.
S: fairly hoppy with notes including musty, earthy and mildly floral notes. malts in the background.
T: caramel malts with a wet sock/mustly hop flavor. A little tangy in the finish as well as a little bitter.
M: medium body and moderate carbonation.
Overall: Not really what I was expecting from this one but still a good beer.
416 characters

3.93
/5
rDev
+7.1%
look: 4 | smell: 3.5 | taste: 4 | feel: 4.5 | overall: 4
This was my favorite offering by the Orlando Brewing Co. The beer poured clear copper color with an decent white head that left a good lacing on the glass. The smell was mostly bitter hops and malt. The taste carried much the same. The mouthfeel was a nice medium body with good carbonation. This is a great beer for Orlando to build on.
337 characters
3.88
/5
rDev
+5.7%
look: 4 | smell: 3.5 | taste: 4 | feel: 4 | overall: 4
The beer was served on-tap at the Orlando Brewing tasting room, and served in a pint glass. The beer is a light copper coloring with a thin, white head that settles and disperses. The nose is a slight dark caramel malt, and even a bit of chocolate. Flavors are a bit of coffee and chocolate malt, with a slight bittering from hops at the end, with a drying sensation. The body is a little light and crisp, and leaves a good lacing along the glass. There is a dry finish after the aftertaste that is slight citrus, bitter coffee, and dry hops. Very tasty.
554 characters
4.08
/5
rDev
+11.2%
look: 4.5 | smell: 4 | taste: 4 | feel: 4.5 | overall: 4
This pours glassy copper and has a nice fluffy off-white head. There is also a nice amount of lacing and retention to this beer. There is a lot of malt on the nose. My first impression of the taste is big bitterness. I really like how the toasty malts are preempted by this massive amount of bitterness. The malt flavor does come through, and this beer almost reminds me of a red ale, however, the malt is slightly more mild and bready. This medium bodied beer finishes off crisp and refreshing. This is a great English Pale Ale that could pass as an English Bitter.
566 characters
3.23
/5
rDev
-12%
look: 3.5 | smell: 3 | taste: 3.5 | feel: 3 | overall: 3
12 oz. bottle tried 10 Feb 2010. Gift from M, thanks!
Served in a Sierra Nevada Celebration shaker pint. Medium tight foramy off white head. Medium carbonation. Aroma is somehow briny and sweet, reminiscent of saltwater taffy, caramel, some earthiness. Nutty, a bit astringent. Toasty sweet malts. Mild ethanol. Bittersweet finish. Aftertaste is like toasted whole wheat bread. Medium to light body.
Nothing to get too excited about.
435 characters
4
/5
rDev
+9%
look: 4 | smell: 4 | taste: 4 | feel: 4 | overall: 4
The color is a fairly deep yellow-amber. A nice, compact head retains quite well, and a consistent thick foam remains the entire way, leaving some nice rings of lacing partway down the glass.
There's a fair hops and malt balance in the aroma with the addition of a slight caramel sweetness. The aroma is more malt than hops and a little light with a subtle earthy note.
Hops flavor really comes up to the forefront, and is surprisingly strong given the aroma. The balance in the flavor is better than I got on the nose, and the fresh hops taste really makes for a good EPA. There's a gentle sweetness underlying and a good grains flavor as well.
This one was really quite smooth and crisp with just a bit of a bite from a moderate carbonation. Body is medium.
759 characters

4.02
/5
rDev
+9.5%
look: 3.5 | smell: 4 | taste: 4 | feel: 3.5 | overall: 4.5
The beer poured a nice "stereotypical beer" color. Nice head that fades into a maintained ring and a little in the middle. Good lacing.
Smells of malts with a little, very little, hoppy bitter. Smells much better than a macro English Pale Ale that will go nameless. There is some body to the smell, too.
Taste is pretty damn good, too. It has some sweet, grainy notes with a great aftertaste. Very nice English style pale ale. No frills, just a good beer.
The mouthfeel is nice. Good carbonation. Slight film left behind isn't too unpleasant, but still present.
I could drink a couple of these a day. All in all a good beer.
628 characters
3.6
/5
rDev
-1.9%
look: 3.5 | smell: 3.5 | taste: 3.5 | feel: 3.5 | overall: 4
Draft sample at the brewpub.
Poured clear brown color with an average frothy white head that was mostly lasting with good lacing. Moderate caramel malty aroma. Medium body. Medium bittersweet flavor with an average smooth bittersweet finish of moderate duration.
263 characters

2.5
/5
rDev
-31.9%
look: 2.5 | smell: 2.5 | taste: 2.5 | feel: 2.5 | overall: 2.5
The aroma is light but it does have some hops and maybe a touch of caramel malt and yeast. The color is light amber with a small head. The taste is actually quite bitter and grassy considering the weak aroma. It is also metallic and astringent with any malt character being lost. The palate is thin. Overall not very good but drinkable.
336 characters

3.97
/5
rDev
+8.2%
look: 3.5 | smell: 4 | taste: 4 | feel: 4 | overall: 4
A dark, copper goldenlike body with minimal lacing. A hoppy smell with a good amount of cocoa malts. A little more hoppy than most pale ales, but still a good malt backbone and a dry backbite. With a smooth flow over the tongue, this beer is quite enjoyable.
258 characters
3.23
/5
rDev
-12%
look: 4 | smell: 3.5 | taste: 3 | feel: 3.5 | overall: 3
The Olde Pelican was not one of my favorites, of the many they had on tap. I think their American brown ale beats the heck outa this one, but here we go:
Cola brown pour, nice ivory head. But this one had a dry, resinous taste to it, fairly bitter, which finished with to much harshness for an English PA. Not one I would order again, they had too many better brews to be stuck working on this brew.
400 characters

3.88
/5
rDev
+5.7%
look: 4 | smell: 3.5 | taste: 4 | feel: 4 | overall: 4
Olde Pelican pours a reddish copper color with a thick off white head from a one gallon brown twist off growler that was bottled yesterday at the brewpub. I'm getting a pleasant sweet malty aroma. This is one of their more complex flavored beers that I've tried from them. It's fairly hoppy and not completely to style, but that's okay. The sweet malt is fairly balanced and there is a touch of woodiness, perhaps from diacetyl, which the notes at the brewpub indicated would be present. If there is diacetyl I'm fairly impressed with how it's handled here, I've had some beers that were complete diacetyl disasters and this isn't one of them. The growler held up well thus far, this being one of the few places in Florida that offers them and this my first sampling by growler. Be forewarned though, the one gallon growler was $10 and they had some beers they would fill for $20 and some for $30, so it can get pricey. Worth a try, it was enjoyable. As a followup, I drank about half the growler on Saturday and finished the rest on Wednesday and I'd have to say the beer held up nicely, it was still well carbonated.
1,118 characters

3.75
/5
rDev
+2.2%
look: 4 | smell: 4 | taste: 3.5 | feel: 3.5 | overall: 4
Pours a dark brownish amber color with a thin white head that laces the sides of the glass. The aroma is piney hops with a little bit of malt in the background. The taste is much like the nose in that it is centered around the hops with just a slight malt presence. I would like to see the taste a little more balanced but it certainly is enjoyable regardless. Overall, this is a solid brew that is recommended.
411 characters
Olde Pelican from Orlando Brewing Partners
Beer rating:
82
out of
100
with
45
ratings