Tarantula Hawk

Wild Acre Brewing Company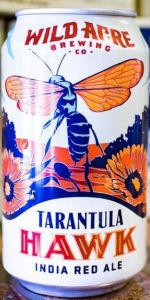 Write a Review
Beer Geek Stats:
| Print Shelf Talker
Style:

ABV:

6.5%

Score:

Avg:

3.9

| pDev:

9.74%

Reviews:

11

Ratings:

From:

Avail:

Year-round

Wants

Gots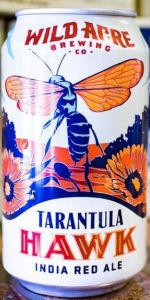 Notes:

Thankin_Hank from Texas
3.95
/5
rDev
+1.3%
look: 3.75 | smell: 3.75 | taste: 4 | feel: 4.25 | overall: 4
Light hazy straw color. A nice but thin head. Good carbonation. A light hoppy aroma. A buttery smooth mouthfeel that compliments the hoppy taste. Overall it's interesting and I'll be trying another. From a 12 ounce can into a tumbler at The Old Crystal Bar in Alpine, TX.
Mar 20, 2019

Rootscipio from Texas
4
/5
rDev
+2.6%
look: 4 | smell: 4 | taste: 4 | feel: 4 | overall: 4
Now re-branded as T-Hawk IPA. This made allot more sense when I found out it was a red ipa. It is a solid red ipa but really does not conform to a straight ipa. you got me why they went away from calling it what it is.
Feb 12, 2019
mjaynes87 from Texas
4.26
/5
rDev
+9.2%
look: 4 | smell: 4.25 | taste: 4.5 | feel: 4 | overall: 4
I really enjoy this beer! We'll balance hops and citrus with a beautiful color and clean head. This is one that get remembered and perfect for a chilly evening. LOVE IT!
Feb 11, 2019
ordybill from Georgia
4
/5
rDev
+2.6%
look: 4 | smell: 4 | taste: 4 | feel: 4 | overall: 4
Poured from a 12 OZ can into a pint glass. The appearance is a semi cloudy dark gold to Amber color with a large almost tan head. The aroma is sweet hops. The taste is hops and a hint of molasses. it looks like this beer is now called T-Hawk.
May 27, 2018

puck1225 from Texas
4.02
/5
rDev
+3.1%
look: 4.25 | smell: 4 | taste: 4 | feel: 4 | overall: 4
Had it with a sausage and pistachio pizza after the Dallas Stars won their last game of the 2018 season.
From a can into a shaker pint. Dear reddish brown with a beautiful head and lacing. Sweet malty smell and taste. A very good red ale. Dallas - Fort Worth seems to have many examples of this style. Will get again!
Apr 01, 2018
LoveGame from Texas
4.69
/5
rDev
+20.3%
look: 4.5 | smell: 4.75 | taste: 4.75 | feel: 4.25 | overall: 4.75
Tarantula Hawk is an interesting one. Apparently it's been around for a while, but I only started seeing it in my local HEB a few months ago. Picked up a single can on a whim and honestly loved it. Ended up going back for a six pack every now and then and now it's one of my go-to beers.
Poured from a can into my 12oz Mewtwo glass my girlfriend got me. It has a distinct pine and cedar smell to it with a deep red color. The taste is quite hoppy like you'd expect with grassy undertones. One has to note the affordable price point as well. Where I live, this beer is only 8 bucks and some change for a six pack. Makes me wonder why you'd choose some generic stuff like Bud Light when it costs the exact same, but to each their own. A lot of beers like this might break the bank, but this one'll do you good.
Overall, this is a beer that captures the spirit of Texas. Makes you long for those nostalgic afternoons just chillin in the country. Not sure if they sell it outside of Texas, but you should definitely give this one a try, it's easily in my top five.
Mar 23, 2018

Thomas_Wikman from Texas
3.81
/5
rDev
-2.3%
look: 4 | smell: 3.5 | taste: 4 | feel: 3.75 | overall: 3.75
The Tarantula Hawk India Red Ale is a Red Ale with some IPA flavor. I thought it was an interesting and creative concept from a new brewery, and I liked it. It had Hop Sting.
Look: dark red copper hue with an inch thick creamy white head
Aroma: it has a modest piney aroma
Taste: The flavor is grassy and fruity, mango or peach, with hoppy pine resin.
Feel: it's light and crisp yet flavorful.
As a side note:
As a side note; a Tarantula Hawk is a big black wasp that kills Tarantula Spiders. It is common in Texas and Oklahoma. It has the most painful insect sting in the Northern Hemisphere. There's worse in South America and Australia, but its allegedly a horrid sting. My daughter and I (and her friends and parents) saw a Tarantula Hawk sting a Tarantula and then drag it about 50 feet through the grass. My daughter wanted me to put the lovely pair in her jewlery box to take home (she was 10 at the time). I am glad I didn't.
Aug 28, 2017
teromous from Virginia
3.65
/5
rDev
-6.4%
look: 4 | smell: 4 | taste: 3.5 | feel: 3.5 | overall: 3.5
I don't see any can date.
Appearance: It has a slightly hazy orange-brown body with a nice thick creamy textured tobacco stained yellow and cream colored head.
Aroma: It has a great tangerine aroma mixed with some savory garlic and onion. The aroma is not overwhelmingly strong but it does leap out of the glass and it is really pleasant.
Taste: The flavors closely mimic the aroma. It has a nice bit of tangerine flavor. While it doesn't taste like garlic and onion, it does have a bit of an herbal character. It is a bit woody as well. Just a bit of alcohol flavor pops in here and there. There is just a bit of grain husk at the end.
Mouthfeel: It has really good bitterness with a nice clean overall character.
Overall: It's a good beer. It's not something that will blow your socks off or really hold a place in the memory banks but it is good enough to grab a six pack of cans and enjoy once.
Apr 26, 2017

TX-Badger from Texas
4
/5
rDev
+2.6%
look: 4 | smell: 4 | taste: 4 | feel: 4 | overall: 4
Pours a reddish color with off-white colored head. Citrus, pine, caramel malts, and some grass on the nose; follows onto the palate. Medium bodied. Finishes with pine and malt.
Oct 17, 2016

Sabtos from Ohio
3.29
/5
rDev
-15.6%
look: 3.5 | smell: 3.25 | taste: 3.25 | feel: 3.5 | overall: 3.25
Copper red with an immense, thick khaki head.
Dank mint and onion on the nose, unique for the style, with a little classic toffee and biscuit.
Bready toast and toffee taste with onion jam. Not as much of that dank hop from the aroma comes through in taste.
Fluffy yet crisp brew.
Sep 09, 2016

Mortarforker from Texas
4.23
/5
rDev
+8.5%
look: 4.25 | smell: 4.25 | taste: 4.25 | feel: 4 | overall: 4.25
New brewery in Fort Worth Texas.This is a very tasty brew,india red ale that is sticky and malty that quickly fades to piney hop bitterness.I really like this brew and can't wait to try more beers from this brewery.
Aug 04, 2016
Tarantula Hawk from Wild Acre Brewing Company
Beer rating:
85
out of
100
with
41
ratings