Buckleys Pilz
| Yarra Flats Brewery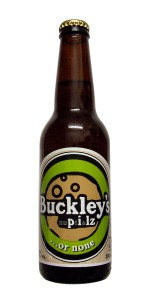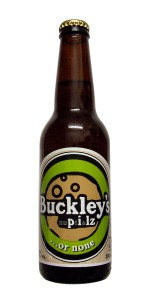 BEER INFO
Brewed by:
Yarra Flats Brewery
Australia
Style:
American Adjunct Lager
Alcohol by volume (ABV):
4.50%
Availability:
Year-round
Notes / Commercial Description:
No notes at this time.
Added by rastaman on 05-28-2003
HISTOGRAM
Ratings: 10 | Reviews: 10
Reviews by Hoptron_3000:

2.81
/5
rDev
+11.1%
look: 2 | smell: 2.75 | taste: 3 | feel: 2.75 | overall: 2.75
Hmmm. I'm conflicted. I love Brett beers but this claims to be some kind of Pilsner. Nothing Pilsner like about it except the dry finish which is probably due to the Brett. Nice tropical fruit aroma and a tiny bit goaty/horsey. Is there supposed to be Brett in here???
268 characters
More User Reviews:
1.06
/5
rDev
-58.1%
look: 2 | smell: 1 | taste: 1 | feel: 1 | overall: 1
I think my bottle is bad, though I haven't mistreated it. Bought it about a month ago in Victoria, kept it in a cool, dark place, and now I have an orange ale-like beverage that has no retention and bears little resemblance to a pilsener. It tastes like it has either been infected or overhopped in a really bad way. I'm not impressed by this beer at all - I bought a Bock from the same brewery as well, and the quality of that brew should tell me if this brewer deserves my time.
480 characters
2.16
/5
rDev
-14.6%
look: 3 | smell: 2 | taste: 2 | feel: 3 | overall: 2
Draught AIBA 2003: As with other beers from this brewer, quite light and crisp, there is definitely something Grolschy about it, the Holgate Woodened Pilsener (that was at the same stand at the festival), kicked its butt, this had some light malts and a touch of saaz, but perhaps not enough, maybe it was not soft enough? as a good czeck pils should be.
354 characters
2.58
/5
rDev
+2%
look: 3 | smell: 2.5 | taste: 2.5 | feel: 2 | overall: 3
Pours gold with a quickly fading head.
Aroma of off-putting cooked vegetables (cabbage), spicy and grassy hops, ginger and some soft malt underneath.
More spicy hops and ginger as flavours along with cardboard notes and grainy malt.
Watery body.
A good attempt but a couple of flaws (DMS, grainy malt).
302 characters

2.93
/5
rDev
+15.8%
look: 2 | smell: 4 | taste: 2.5 | feel: 3.5 | overall: 2.5
Pours a slightly cloudy golden yellow color with a minimum of foamy head that fades away into a thin layer rather quickly. Smells sweet and a little spicy, almost like... orange and cinnamon? The taste is also fairly sweet, but can't really taste any malt. There is some spicy and citrusy hoppy bitterness though, enuff that you really can't taste much else. Mouthfeel is creamy with some tingling from the carbonation. Overall, it's fairly drinkable, a bit too bitter for me though, and not in the good IPA way.
512 characters
2.95
/5
rDev
+16.6%
look: 3.5 | smell: 3.5 | taste: 2.5 | feel: 3 | overall: 3
Batch - 123
I have tried this in the past and had an off bottle. Decided to give it another go.
This pours a hazy bright golden colour with a generous white head.
Surprising spicy and citrus notes on the nose. Unexpected for a pils. Not unattractive though.
A bit of malt on the palate. More bitterness than expected and more than I like in a pils.
I'm a bit confused about what this is trying to be. Fails as a pils. Just ok as a pale ale.
445 characters
3.27
/5
rDev
+29.2%
look: 3 | smell: 3.5 | taste: 3 | feel: 3.5 | overall: 3.5
Hazy orange in colour that is poured into a 'buckleys' pot glass. Strong head, with good retention.
Aromas of leafy hops and sweet malts are well balanced and actually create a rather pleasent smelling beer.
Good bitterness on the palate (still, nothing to bitter) with some fruit hops flavours and a nice malty aftertaste.
Much nicer on tap thatn out the bottle, but still suffers an identity crisis (still like a pale ale, not a pils) but enjoyable none-the-less.
474 characters

2.55
/5
rDev
+0.8%
look: 3 | smell: 3 | taste: 2 | feel: 2.5 | overall: 3
well its not a bad beer, but fair dinkum its not a pilsener. its o.k, but if your going to align yourself to a style you gotta get it right. and this doesnt.
pours too cloudy for the style, tho a has a clean white head thats not too bad. has some malt and hops on the nose, thats a little flowery, but not the same zing as a pilsener. taste is more like a standard pale ale than a pils. its fair in the malt department, but doesnt follow with anything of note. not crisp enuff on the back palate to be a pilsener despite a decent hop presence.
ive had this a couple of times, and i cant change my asssesment. its not a pilz no matter what the label says. not a whole hell of a lot different in its misguidedness to the monteiths pils. im starting to feel like pilseners are joining IPA's in the ranks of no mans land beers. brewers cant seem to define them accurately. this is no exception.
898 characters
1.99
/5
rDev
-21.3%
look: 1.5 | smell: 2.5 | taste: 2 | feel: 2 | overall: 1.5
Batch #79 - Drank the same day it was bought.
Appearance - Cloudy/Hazy Orange - much more suited to a pale ale than the pilsener that it claims to be - 1.5 fingers head with average head retention
Smell - Fresh, strong citrusy smell - strange for a pils, but not offensive. Distinct sourness noted in the nose, apples, sweet strawberries. Strange, but I'm getting whiffs reminiscent of ultra-sour lambics woven with hoppy citrus notes.
Taste - This beer doesn't really know what it is... yeastiness dominates throughout with a sour aftertaste - hops not as strong as smell predicts. I give it a 2, because I find *something* pleasant in drinking it (tho not much) - but it is certainly a big "miss" as far as nice, clean pilsener goes.
Mouthfeel - flat, watery feel - strange, but not pleasant
Drinkability - Glad I just bought one bottle. It's just a strange beer in general, but an even stranger attempt at a pilsener... go figure. Good luck taming your yeast strains guys, but either this one is contaminated or just a piss-poor attempt at a pislener. Try again.
1,081 characters
3.01
/5
rDev
+19%
look: 4.5 | smell: 3.5 | taste: 2.5 | feel: 3 | overall: 3
This poured out impressively.just a hint of opaqueness in a a mid gold beer.The head ws big and sustained and it laced well
There is a distinctive spicy smell to my beer .Not the usual suspects of cloves ,etc but more along the lines of turmeric.with a touch of ginger.
Not what I would expect from a pils but not unwelcome at all
The taste is abit all over the place That earthiness in the smell is apparent on the palate .there is not a lot of maltines in it at all
it is watery in the mouth but is quite bitter
This I think is another beer that has all the right intentions and just needs to be tuned a little to straighten it out.
It seems a common story with this breweries beers.t
696 characters
Buckleys Pilz from Yarra Flats Brewery
Beer rating:
2.53
out of
5
with
10
ratings