Ambush Pale Ale
| Brew Brothers Brewery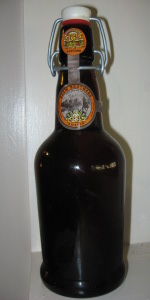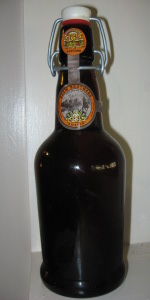 BEER INFO
Brewed by:
Brew Brothers Brewery
Alberta
,
Canada
Style:
English Pale Ale
Alcohol by volume (ABV):
5.50%
Availability:
Year-round
Notes / Commercial Description:
No notes at this time.
Added by IronDjinn on 06-21-2004
This beer is retired; no longer brewed.
Ratings: 8 | Reviews: 6


3.21
/5
rDev
-13.7%
look: 4 | smell: 3 | taste: 3 | feel: 3.5 | overall: 3.5
A mason jar pint at the Rhino.
This beer appears a clear, dark orange-caramel colour, with two fingers of silken, tight foamy off-white head, which sinks away rather slowly, leaving a decent array of streaked lace around the glass.
It smells of pale, grainy malt, a slightly astringent pitted fruitiness, and mild floral, weedy hops. The taste is citrus liqueur, light caramel/toffee malt, floral, perfumed hops, and a strange whirling alcohol underbelly.
The bubbles are moderate, and just a tad frizzy, the body medium-light in weight, and a bit too hallow in its attempt at smoothness. It finishes off-dry, the middling caramel malt still addled by that strong floral/perfume essence.
Not really all that much of an IPA - more of a flowery pale ale, which, of course, could be used to describe this style of beer, but not in this day and age, boychuk.
858 characters
3.8
/5
rDev
+2.2%
look: 4 | smell: 4 | taste: 4 | feel: 2 | overall: 4
Pour with a nice penny-coloured body and a thick frothy head that sticks around for a while, and clings to the sides of your glass. Slightly hazy brew with visible particulates.
Smells fantastic. There's a fresh bread aroma from the grains and the yeasts, and a definite hops presence.
Taste is a straightforward example of what an IPA should be - a slight carbonation fizz, lots of citrus-y hops to greet you, and a malty grain character holding everything together. Finish is short and hoppy.
Initial mouthfeel is full bodied and big, but it fades quickly to something a little more watery, with little to no finishing flavours.
A good, solid example of this style, although hardly outstanding
701 characters
3.4
/5
rDev
-8.6%
look: 3.5 | smell: 3.5 | taste: 3.5 | feel: 2.5 | overall: 3.5
Bottle (courtesy of Presario): Poured a light amber color ale with a medium white foamy head. Aroma of floral hops is clearly dominant and very enjoyable. Taste is quite sweet with nice citrus and floral notes and a light bitter finish. Body is a bit thin for the style. Overall, I would say this is a very refreshing IPA, kind of like a light DFH 60min.
354 characters

4.19
/5
rDev
+12.6%
look: 3.5 | smell: 4.5 | taste: 4 | feel: 4 | overall: 4.5
Finally this beer is bottled! The near-500 ml flange-top bottle with a small orange label covering the flip. I have always liked these bottles for some reason. A bright-white head forms immediately with decent creaminess, sitting atop a light nectarine, near-orange coloured beer. Choppy lacing, but my glass was a little wet to begin with. A fine looking beer from the bottle. The balance of this beer's aroma is exceptional--just enough hops to let you know it is an IPA, and just enough malt for balancing body. Biscuit aromas, fresh grain, hints of vanilla and caramel. The East Kent Goldings hops are what really make this aroma one of my favourites--they seem to add a smoothness that NA hops cannot. Spicy, citrusy notes tickle the nose, along with definite cinammon and cloves. Pumpkin, green leafage, and some other vegetable smells from the hops. Ambush is soft and creamy on the palate, again giving supremely balanced tastes, nutty maltiness with just enough hopping to give a dry but pleasing finish. I think it is the malt that Brew Brother's uses that makes me like their brews so much--they always taste fresh to me(and they probably are, as Brew Brother's uses local Alberta barley and wheat.) The beer is not overly thick, but medium bodied and highly drinkable for an IPA. Besides the appearance, this beer is very close to the tapped version. (The tap version obviously has better head and retention--after all it is served through creamer taps.) I have to applaud Brew Brother's again here in opting for balance rather than knocking you over the head with hops. Even then, I think most hopheads would still love this brew. Finally BB's stuff is available to take home and enjoy!
1,699 characters

3.83
/5
rDev
+3%
look: 4 | smell: 3.5 | taste: 4 | feel: 3.5 | overall: 4
Served on tap at Brew Brothers. Pint glass arrived with a dark golden beer, and full white head. Slightly cloudy appearance when held up to the light. Strong smell of hops (like you expect from a true IPA), full, but not overpowering. Taste is a bit sweet, light malt and a finish of bitter hops. Extremely hoppy, but very nicely balanced. Full flavoured, easy to drink, thirst quenching with the greasy or spicy food served at BB.
431 characters

3.83
/5
rDev
+3%
look: 4 | smell: 3.5 | taste: 4 | feel: 3.5 | overall: 4
Served with a creamy yet bubbley head, presented with a nice amber body and left a fair amount of lacing. Biscuity caramel malt on the nose, along with grassy hops. The hops are more predominant up front in the flavour, with biscuity malt in the middle, and coming full circle with the hops rounding it out as well. Good balance. Smooth mouthfeel, not oily at all due to the hops. While not a hop monster by any standards this is a very pleasant IPA that works well with the malt content, would easily make a fine session beer.
527 characters
Ambush Pale Ale from Brew Brothers Brewery
Beer rating:
0
out of
100
with
8
ratings