Rainier Ice
| Rainier Brewing Co.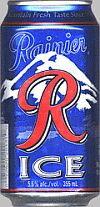 BEER INFO
Brewed by:
Rainier Brewing Co.
Texas
,
United States
rainierbeer.com
Style:
American Adjunct Lager
Alcohol by volume (ABV):
5.60%
Availability:
Year-round
Notes / Commercial Description:
No notes at this time.
Added by brewdlyhooked13 on 10-19-2002
This beer is retired; no longer brewed.
Reviews: 4 | Ratings: 5
2.46
/5
rDev
-10.2%
look: 3 | smell: 2 | taste: 2.5 | feel: 2 | overall: 3
This stuff actually ain't that bad....all things considered. Compared to other crappy ice beers...actually all ice beers are crappy...this one is by far the best I've had.
Poured a decent head that actually stuck around a while and left a good lace. The color was yellow....that's about it. Smells were expected, kind of skunky and very grainy. Tastes like a cheap beer, kind of skunky, with lots of grains and corn. But still not an overall horrible taste. And for that, I give it a glowing review!
502 characters
2.71
/5
rDev
-1.1%
look: 3.5 | smell: 2.5 | taste: 2.5 | feel: 3 | overall: 3
This is probably the best ice beer out on the market. Pours a nice gold yellow with a bubbly head that fades, lacing stayed on the glass as I drank. The smell is sweet, little skunk and blast of grains and hops. The taste is quite sweet and grainy with hop tone on end. Feels full and crisp in mouth. A very drinkable ice beer, great for summer BBQ's!
351 characters
2.91
/5
rDev
+6.2%
look: 3.5 | smell: 2.5 | taste: 3 | feel: 2 | overall: 3.5
Appearance – The body is shiny yellow in color. The head actually wasn't bad. It foamed up big at the pour, hung around for a while, and laced the glass.
Smell – Typical American grain with a bit of sucrose.
Taste – The cheap sweetness really overtakes this one. That's pretty much all I can taste, along with a few alcohol notes and a funky aftertaste.
Mouthfeel – Relatively flat compared to the head.
Drinkability – This actually went down with some semblance of smoothness, although I'll never buy again.
528 characters

3.12
/5
rDev
+13.9%
look: 2.5 | smell: 3 | taste: 3 | feel: 3.5 | overall: 3.5
I had a bottle of this tonight which I purchased at an LCBO in Ontario. It was brewed by the Sleeman company in Guelph Ontario. I was first introduced to this beer in Montana in the early 80s on an Elk hunt. Our guide brought out an ice filled Igloo cooler of the stuff after the 5 of us had struggled down an aspened high mountain slope packing out elk meat all day. It was a mule's job on an unusually hot early November day. The stuff went down like Odin's kiss to a thirsty skank who just peeled his ass off the side of a mountain slope. Other than the immediate thirst quenching qualities, the beer remained undistinct in my memory. I passed it in the beer stores in Alberta for years and never felt obliged to buy a 6-pack.
The rainier dry I had tonight was a delightful surprise after the first impression I had with this brand. It had fair color, a faint hoppy nose and.....suprise....flavour! I think this may have more to do with the fact that the Sleeman brewery made it more than anything. If you fellow Yanks get a chance to taste Sleeman wares....do it! you won't be disappointed. Quality all the way. I suspect that is what happened to this Rainier I tasted.
1,177 characters
Rainier Ice from Rainier Brewing Co.
2.74
out of
5
based on
5
ratings.