Thule Export Beer
| Viking Brewery - Vifilfell Ltd.
BA SCORE
70
okay
12
Reviews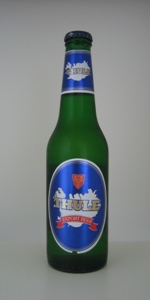 BEER INFO
Brewed by:
Viking Brewery - Vifilfell Ltd.
Iceland
vikingbeer.com.au
Style:
American Adjunct Lager
Alcohol by volume (ABV):
5.00%
Availability:
Year-round
Notes / Commercial Description:
No notes at this time.
Added by NJpadreFan on 08-27-2005
Reviews: 12 | Ratings: 33
3.1
/5
rDev
+26.5%
look: 3 | smell: 3 | taste: 3.25 | feel: 3 | overall: 3
While Gull is the most ubiquitous (and terrifyingly sweet) beer around Reykjavik, Thule appears to be the preferred alternative outside the city.
It's an absolutely okay American adjunct. Light floral aroma, medium sweetness, decent cereal roughness. There's nothing at all exceptional about the beer other than it's much more quaffable than Gull.
This probably won't withstand international travel too well, but if you're in Iceland it's a decent standby.
★
463 characters

2.65
/5
rDev
+8.2%
look: 2.75 | smell: 2.75 | taste: 2.5 | feel: 2.75 | overall: 2.75
brought over from Gimli Manitoba ( biggest Icelandic pop. outside Iceland) . This is a very weak lager that is not offensive but lacks even the flavour of say Faxe or tuborg. The beer works with food but on its own it suffers from the watery aftertaste and the lack of any real nose. cool drinking an beer from Iceland ( none are available in BC) but this is not a good beer and hopefully Iceland has some better beers to offer
★
427 characters

2.37
/5
rDev
-3.3%
look: 3 | smell: 2.25 | taste: 2.25 | feel: 2.5 | overall: 2.5
500mL can (canned 2/14/2013) into an English pint glass. Pours a clear golden color w/ a fluffy white head that leaves behind some sticky lace. Moderate carbonation.
Aroma is mildly floral, coarsely grainy. Barely smells of anything at all.
Taste is weak and watery. Some bland grainy sweetness from the malt, tea-like floral qualities from the hops. Blech.
Mouthfeel is thin and watery. A slight crispness is the only thing letting me know this is beer.
Overall, an unremarkable watered-down beer. No need to ever drink this again.
★
536 characters

2.46
/5
rDev
+0.4%
look: 3 | smell: 2 | taste: 2.5 | feel: 3 | overall: 2.5
500ml Can
Appearance – Clear yellow colour with an average size fizzy white coloured head. There is a high amount of carbonation showing and there is a fair amount of lacing. The head lasted for around 4 minutes before it was gone.
Smell - Grains, bread, malts, corn, and lots of skunk
Taste & Mouth - The beer has a high amount of carbonation. I can taste breads/grains mixed with light hops and some corn. I can also pick up on some malts and some light floral notes. It finishes with a corn syrup sweet and spicy aftertaste.
Overall – The taste comes across as slightly harsh.. For that reason I wouldn't want to drink more than 1 of these at a time.. or maybe even ever again. A lager should be refreshing and highly drinkable..
★
740 characters
2.2
/5
rDev
-10.2%
look: 3 | smell: 3 | taste: 1.5 | feel: 2 | overall: 2.5
Poured from the green glass bottle into a flute at Keflavik airport in Iceland.
A: Pale gold with a lot of visible carbonation. Head was 1.5 fingers with ok retention.
S: Sour, almost skunky aroma comes through on the pour. Typical Euro pale sort of thing. An Icelandic Heineken?
T: Very watery, going down a bit like seltzer water with a touch of sour grain. Awfully tasteless.
The label reads "From pure Icelandic water." Seems to me they forgot to add the other ingredients as well... Expensive to boot.
★
511 characters
2.55
/5
rDev
+4.1%
look: 2 | smell: 2 | taste: 2.5 | feel: 2.5 | overall: 3.5
Poured from a 500cL can into a Gouden Carolus chalice.
A: All Icelandic beers look the same -- pale, clear, no head -- but this is paler than most, with fewer obvious bubble trails.
S: Light grain and not much else.
T: Not too great. It's watery and slightly bitter, hinting at a sour grain. Middle taste is neutral and aftertaste is unremarkable.
M: Meh. It feels like an American light lager of the least sort.
D: It may not be good, but it's drinkable and not downright offensive. Not bad so much as overwhelming ungood.
★
528 characters
2.33
/5
rDev
-4.9%
look: 2.5 | smell: 2 | taste: 2.5 | feel: 2 | overall: 2.5
Thanks Mark for bringing back. A better thn averag for this pale lager style, it was a bit better than expected. Pours whitish pale lager with some malt taste and bubbles. Smell is bearish, light mouthfeel. It is drinkable on a hot day in Iceland in a pinch.
★
258 characters

1.83
/5
rDev
-25.3%
look: 2 | smell: 1.5 | taste: 2 | feel: 2.5 | overall: 1.5
Pours a one finger white head that fades quickly leaving traces of lace. Crystal clear pale amber color. Light-medium carbonation and light bodied. Almost a skunky nose. Flavor is grassy, some hops similar to a Heineken, slight bitter aftertaste. 500ml bottle 243 ISK ~ $2.92 Vínbúõin Hvolsvelli, Iceland. From my notes - 7/22/2008.
★
335 characters
3.6
/5
rDev
+46.9%
look: 3.5 | smell: 3.5 | taste: 3.5 | feel: 3.5 | overall: 4
16oz(? - no notation) can - Thanks to Erich for lugging this back for me.
Pours a clear, pale straw color with a fluffy white head that thins. Nice lacing on the glass.
Nice, light aroma of pilsner malt with a mild hint of spicy hops. Smells like a pilsner.
Light, crisp pilsner malt flavor with a mild spicy hop taste. Clean, dry finish.
Light body, zippy carbonation.
Well now, this beer was added as an American macro, but everything about this beer says it's a pilsner - and a rather decent one at that.Past reviews have noted the smell and taste of corn, but this sample is all malt as far as I can tell. It could stand to have a bit more flavor, but it's still enjoyable and easily drinkable as it is.
★
713 characters
3.24
/5
rDev
+32.2%
look: 2 | smell: 3 | taste: 3.5 | feel: 3 | overall: 3.5
Thanks to bruskiator for allowing me try this one after his daughter brought it back on a trip from Iceland. My favorite of the two Icelandic beers I've tried. Very, very pale, nice carbonation, small stream of carbonation. Seems to have used maize for clarification purposes. Some pepper and bitterness, could be good with some spicy foods. Little bit of yeast sediment floating around the bottom. Not too bad.
★
411 characters
1.41
/5
rDev
-42.4%
look: 2 | smell: 1 | taste: 1.5 | feel: 1.5 | overall: 1.5
In 1998 this beer won an award at a Danish beer festival (Dansk olnyderforening) and shortly after that became one of the most popular beers in Iceland, especially amongst the younger generation. It says export beer on the label, making me think that the beer is Dortmunder export style, but on the breweries homepage it is said to be in the style of beers brewed in Plzn, Czech republic.
Ingredients stated on bottle: icelandic water, malt, corn, sugar and hops. (hmm, no yeast?)
Appearance - very pale, waterlike colour. White fluffy, fizzy head.
Smell - not much smell at all. Only slight corn aroma.
Taste - grainy. Sweet upfront, then the most subtle hint of bitterness hits the palate. Not much taste at all.
Mouthfeel - light and spritzy. Lots of fizz, wait a second is this selzer water? ;-)
Drinkability - if you want a very inoffensive beer when in Iceland, this is your pick!
★
904 characters
2.03
/5
rDev
-17.1%
look: 2.5 | smell: 2 | taste: 2 | feel: 2 | overall: 2
Thule Export Beer
Brewed by Viking Brewery
Akureyri, Iceland
Best Fyrir: 05 2006
Appearance- cloudy yellow (almost a lemon yellow) with a decent bubbly white head. Very carbonated like champagne.
Smell- cheap sugary corn aroma like an american macro. Sweet with a touch of skunkiness.
Taste- sugar water! No hops, slight sweet malt heavily diluted with water.
Mouthfeel- Too sweet made my cheeks hurt. Of course watery no bitterness or aftertaste.
Overall- Basically this is Iceland's version of Coors Light. No flavor!
★
533 characters
Thule Export Beer from Viking Brewery - Vifilfell Ltd.
2.45
out of
5
based on
33
ratings.