Víking Light Beer
| Viking Brewery - Vifilfell Ltd.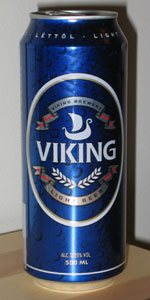 BEER INFO
Brewed by:
Viking Brewery - Vifilfell Ltd.
Iceland
vikingbeer.com.au
Style:
Low Alcohol Beer
Alcohol by volume (ABV):
2.25%
Availability:
Year-round
Notes / Commercial Description:
No notes at this time.
Added by EPICAC on 12-31-2006
Ratings: 5 | Reviews: 4
1.85
/5
rDev
-12.7%
look: 2 | smell: 2 | taste: 2 | feel: 1.5 | overall: 1.5
Up until 1989, the strongest beer Icelanders were allowed to buy was 2.2%. That's horrible. Even now, there's only a small handful of state-run stores that allow you buy stronger beers, outside of restaurants. But everywhere you go, you can find this and a couple other "light" beers. And for Iceland, they're almost kind of reasonably price.
This tasted okay. Surprisingly flavorful, I guess, for such a light beer, but nowhere near as crisp and refreshing as, say, Coors Light, or even O'Douls. Also, this was a 16 ounce can and I just could not finish it. I chugged and chugged and like magic the fucker wouldn't get below halfway done. So... it's not good. Not worth your time. It won't even get you drunk.
723 characters
2.29
/5
rDev
+8%
look: 2.5 | smell: 2.25 | taste: 2.25 | feel: 2.5 | overall: 2.25
2.1
/5
rDev
-0.9%
look: 3 | smell: 3 | taste: 1.5 | feel: 2 | overall: 2
Recent gift from a friend who went to Iceland.
Pours a gold color with a finger of bubbly white head. Head quickly evaporates to a crown. No lacing.
Smell consists of light malt and grain.
Some light sweetness. Overall, it makes me feel like I am drinking a Coors. Somewhat excessive carbonation.
Not something I would want to drink long term. The low ABV thankfully made it possible for me to pound this back and move on to something better.
446 characters

2
/5
rDev
-5.7%
look: 2 | smell: 2 | taste: 2 | feel: 2 | overall: 2
Pours a one finger white head that vanishes leaving no lace. Crystal clear amber color. Light-medium carbonation and light bodied. Slight hoppy nose. Flavor is hoppy, bitter and musty, slight lingering bitter aftertaste. Green 330ml bottle 600 ISK ~ $7.20 from a GullFoss Kaffi. From my notes - 7/21/2008.
305 characters
2.34
/5
rDev
+10.4%
look: 3.5 | smell: 2 | taste: 2 | feel: 2.5 | overall: 3
A friend had a layover in Iceland and brought me back a can since he knows I like beer. This comes in a blue 500mL can. I served it right out of the fridge in on of my Harpoon IPA glasses.
Appearance: Pours a crystal clear, light golden with a two-finger, fluffy, white head that fades to a heterogeneous film leaving patchy lace.
Smell: Light sweet malts and a light graininess.
Taste: Lightly sweet upfront, almost flavorless in the center, with some grain and an almost imperceptible bitterness in the finish.
Mouthfeel: Light-bodied and watery with moderate carbonation.
Drinkability: Decently drinkable until it starts to warm.
647 characters
Víking Light Beer from Viking Brewery - Vifilfell Ltd.
2.12
out of
5
based on
5
ratings.