Víking Lite
| Viking Brewery - Vifilfell Ltd.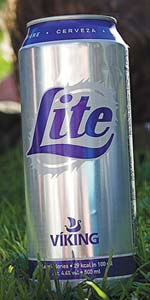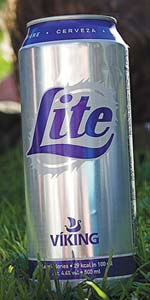 BEER INFO
Brewed by:
Viking Brewery - Vifilfell Ltd.
Iceland
vikingbeer.com.au
Style:
Light Lager
Alcohol by volume (ABV):
4.40%
Availability:
Year-round
Notes / Commercial Description:
No notes at this time.
Added by stulowitz on 12-01-2008
HISTOGRAM
Ratings: 11 | Reviews: 4
Reviews by spinrsx:

2.67
/5
rDev
+5.5%
look: 2.5 | smell: 3 | taste: 2.5 | feel: 3 | overall: 2.5
500ml Can
Appearance – Clear light yellow colour with an average size fizzy white coloured head. There is a high amount of carbonation showing and there is a fair amount of lacing. The head lasted for around 2 minutes before it was gone.
Smell - Grains, bread, light hops, malts, corn, skunk
Taste & Mouth - The beer has a high amount of carbonation. I can taste breads/grains mixed with light hops and some cooked corn. There is actually quite a bit of taste going on here for a light beer. It finishes with a grainy slightly bitter/spicy aftertaste.
Overall – It really doesn't taste like a light beer.. and at 4.4% I'm not even really sure it is one. Anyways, the taste has a bit of a harshness to it. If it were just a little bit more balanced it would be a pretty decent brew.
789 characters
More User Reviews:
3.29
/5
rDev
+30%
look: 3.5 | smell: 3.25 | taste: 3.25 | feel: 3.5 | overall: 3.25

2.75
/5
rDev
+8.7%
look: 3.5 | smell: 2.75 | taste: 2.5 | feel: 2.75 | overall: 3
A- Tallboy pours into a goblet with the palest golden yellow that man has ever witnessed. Clear as can be as a thick, creamy cap rises up atop the brew to one finger showing great retention. Small sheets of lacing.
S- Very... light and bland. Pale base grains, lagery yeast funk, bread, a touch of pale fruits and corn. Really faint and not much going on.
T- Just that classic, first beer you ever had taste through and through; well if you are part of the people who had light adjunct lagers as your first beer. Beery lager yeast, funkyness, corn, pale barley, bread, white grapes, a bit of a strange tartness but not at all sour, apple and skunk.
MF- A very light body but not really thin as the texture comes out as intensely foamy and somewhat creamy. Carbonation is on the very high side and it ends with a light sweetness.
A decent light lager with a basal level of that funk, corn and skunk would expect but nothing even close to what you get in the super mega macro AB Inbev brews. Pretty good for beer water but not much else and some obvious flaws.
1,062 characters


2.31
/5
rDev
-8.7%
look: 2.75 | smell: 2.25 | taste: 2.25 | feel: 2.5 | overall: 2.25
500mL can (canned 1/25/2013) into an English pint glass. Pours a pale yellow w/ a fluffy white head that leaves behind some sticky lace. Moderate carbonation.
Aroma is mildly floral, coarsely grainy. Barely smells of anything at all.
Taste is weak and watery. Some bland grainy taste from the malt, a vaguely metallic aftertaste.
Mouthfeel is thin and watery. The gentle bite of carbonation is the only thing that reminds me this is beer.
Overall, an unremarkable watered-down beer.
486 characters
2.67
/5
rDev
+5.5%
look: 2.5 | smell: 3 | taste: 2.5 | feel: 2 | overall: 3
Poured from a half-litre can into a small flare glass.
A: Piss-pale and clear. Light foam, but no head.
S: Nice and sweet. Light malty notes and a hint of something else...maybe citrus?
T: Not bad at first. Beery and grainy and little sourness, with a background of mild, sweet malt.
M: Oddly bitter and not that great. A little sharp, and carbonation is a bit off. Light and not lasting.
D: I wouldn't drink more than one or two. To be fair, I don't love light beer.
472 characters

2.5
/5
rDev
-1.2%
look: 2.5 | smell: 2.5 | taste: 2.5 | feel: 2.5 | overall: 2.5
Víking Lite from Viking Brewery - Vifilfell Ltd.
Beer rating:
2.53
out of
5
with
11
ratings