3 Ravens Bock The Ravenator
| 3 Ravens Brewing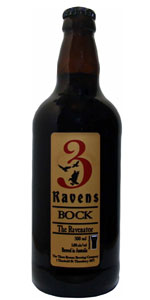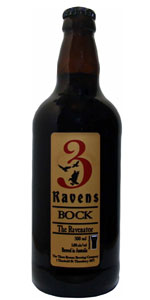 BEER INFO
Brewed by:
3 Ravens Brewing
Australia
3ravens.com.au
Style:
Bock
Alcohol by volume (ABV):
5.80%
Availability:
Limited (brewed once)
Notes / Commercial Description:
No notes at this time.
Added by ADZA on 09-02-2010
This beer is retired; no longer brewed.
HISTOGRAM
Ratings: 7 | Reviews: 7
Reviews by dansmcd:

4.12
/5
rDev
+7.6%
look: 4 | smell: 4.5 | taste: 4 | feel: 4 | overall: 4
A - Two fingers of frothy light tan head. Body is dark brown, full of big chunks of sediment. Spotty lacing.
S - Very malty. Fresh brown bread, honey on toast, dried fruit.
T - Earthy roasted malts, bread, yeast and spicy fruitcake. Bitter at the end.
M - Nice medium body and carbonation. Dry, bitter finish.
O - Big, roasty, flavourful, German bock.
355 characters
More User Reviews:
3.64
/5
rDev
-5%
look: 3 | smell: 4 | taste: 3.5 | feel: 4 | overall: 3.5
Pours very dark copper with ruby hints and a creamy off-white head quickly fading leaving nice lacing.
Nose is rich and dark, with loads of sweet bready malt and plenty of melanoidin characters. Restrained spicy hops also show along iwth soft molasses and nutty hints.
Flavours are more roasty but still quite sweet. Charred oak mixes with sweet bready malt and finishes with a big roasty bitterness that suggests a higher alcohol content than is actually present.
Soft carbonation suits the style. Body is quite rich.
518 characters

3.62
/5
rDev
-5.5%
look: 3.5 | smell: 4 | taste: 3.5 | feel: 3.5 | overall: 3.5
Harry Houdini head, leaves nothing, just a dark coppery red body.
The aroma is pretty subtle but rewarding if you take your time to enjoy it, sweet dark plum with blackberries, cranberries, the latter which lend it a fresh character.
The flavour is dominated by malts, but begins with spicy, fruity flavour, a bit like a fruitcake. The notes of plum and port which follow are soon dominated by caramel and toffee notes which build to a dry earthy, mineral finish. The dry aftertaste lingers long and has a faint nutty character to it.
This beer has slightly syrupy, medium body, it goes down easily enough, but is best sipped slowly as the characteristics and dominance of various tastes change as the beer warms.
This works well as a seasonal release, I wouldn't want to drink it all the time but I will enjoy revisiting it on a seasonal basis. A nice beer to leisurely sip on a winter's evening.
903 characters
4.2
/5
rDev
+9.7%
look: 4 | smell: 4 | taste: 4.5 | feel: 4 | overall: 4
Bottle purchased from Plonk in Canberra, when I thought 3 Ravens were going out of business. Perhaps the fact that I didn't buy it *before* I thought they were going out of business means I'm part of the problem.
Pours a pleasant deep red-amber hue, with a fine, but persistent head of dusty beige. Lacing is patchy but streaking. Body looks nicely solid. Carbonation is fine. All of these things add up to a good-looking beer.
Nose is pleasant, but oddly dichotomous. Big sweet estery banana characters form one half, while a most definite smoky, slightly roasted tone forms the other. Under this is a slinky, dark earthy tone, that gives a basis, but doesn't ever get in the way of the fight for supremacy. Who wins? Maybe the palate will reveal.
Taste is certainly laced with smoke, and the banana characters sit back a little, perhaps showing submission. Deep dark, slightly bitter roasted characters get to drive through the centre of the palate, leaving a direct trail in their path: a sharp vector of roasted crispness. They don't provide depth and sweetness, and that's a good thing in a bock: this is still a lager true to its roots. The fragrance from the banana is still noticeable on the back, providing a dancing counterpoint, but never detracting from the solidity of the beer and its genesis. Yes, yes, yes. This is a very good palate for a Bock.
Feel is light, but structured, providing enough basis for the beer, but not pushing its own agenda.
Overall, magnificent stuff from 3 Ravens. I always like the solidity of their beers, but this is the first time I think they've actually made me effusive in my praise.
1,634 characters
2.82
/5
rDev
-26.4%
look: 4 | smell: 2 | taste: 3 | feel: 3 | overall: 3
My last beer for tasting tonight and im looking forwards to it as this is a one off brew from this brewery,it pours a dark cherry hue with decent carbonation that leaves behind a two finger caramel glazed head and a nice rim of lacing,to me the smell is abit of a let down its almost exactly like Kola beer with a hint of liquorice not what i want in a Bock,the mouthfeel is pretty average too quite sticky but yet light and the tastes i encounter are roasted expresso,toffee,some fruity hops,alcohol and it finishes with a touch of bitterness but not much,overall i reviewed this beer as a beer and not to the style because if i did this brew would not come up to any of the real decent Bocks i have encountered before and in saying that this really needs some work if they are to repeat.
789 characters
4.07
/5
rDev
+6.3%
look: 3.5 | smell: 4 | taste: 4.5 | feel: 3 | overall: 4
This beer pours a very dark brown with an oily sheen. Attractive 1-2cm dark tan head.
A sweet caramel nose. Also hints of fruit bread/cake.
Delicious sweet caramels to taste. A light bitterness with a roast coffee and almost smoky aftertaste. A nice little journey for the taste buds.
A medium to full body. Possibly a little too thick (syrupy was mentioned earlier by EasyR which sums it up well) as it took me a while to make headway down the glass (unusual for me). Light to medium carbonation works well.
Overall good flavours from the sweet caramels to roast bitterness and even slightly smoky. A good experience.
622 characters
4.35
/5
rDev
+13.6%
look: 4 | smell: 4 | taste: 4.5 | feel: 4.5 | overall: 4.5
Fairly clear, very dark amber colour with a small but smooth tan head. Good head retention.
Rounded bready malt with some lightly fruity notes. A touch of caramel. Quite nice really.
Rich, toasted, bready malt with slightly roasty, smokey highlights. Some esters come out. Complex.
Medium-full body with moderate carbonation. Rich.
A very nice bock with lots of interesting malt notes going on. The overall beer is slightly smoky which I like.
447 characters
3 Ravens Bock The Ravenator from 3 Ravens Brewing
Beer rating:
3.83
out of
5
with
7
ratings