Celis Pale Bock
| Brouwerij Van Steenberge N.V.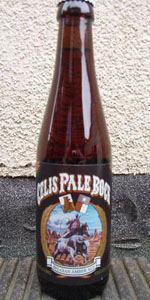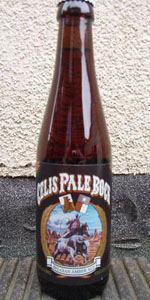 BEER INFO
Brewed by:
Brouwerij Van Steenberge N.V.
Belgium
vansteenberge.com
Style:
Bock
Alcohol by volume (ABV):
5.50%
Availability:
Year-round
Notes / Commercial Description:
No notes at this time.
Added by rastaman on 01-27-2003
This beer is retired; no longer brewed.
HISTOGRAM
Ratings: 9 | Reviews: 7

3.25
/5
rDev
-0.3%
look: 3.25 | smell: 3.25 | taste: 3.25 | feel: 3.25 | overall: 3.25
Pours a light caramel and honey kind of color with a significant white head in the 1" range. Aroma is pale light toasted malt and a light lager like yeast. Mild spice rack.
Taste is similar to Dead Guy Ale, its malty, although this one distinguishes itself with some orange and grapefruit peel additions and the aforementioned spice rack. Was more bitter than I was expecting. I would consider offering this to someone who doesn't like really hoppy beers, but at the same time, I have a little hesitation because there is something like 35 ibu on this . . . eh, can I also say original was, well actually not better, pretty similar actually. Oh yeah, the mouth feel was seemingly more alcohol than 5.5%. And what is the deal with the review saying this was sweet? Crazy.
778 characters
4
/5
rDev
+22.7%
look: 4 | smell: 4 | taste: 4 | feel: 4 | overall: 4

2.03
/5
rDev
-37.7%
look: 2.5 | smell: 2 | taste: 2 | feel: 2 | overall: 2
Amber color, with a beige foam, average in compactness, and quite sticking.
In the smel: malt, biscuit and caramel. But all is overwhelmed by a fruity black cherry, or anyway, a red fruit, and candy sugar.
The taste: well, no. The name is Pale Bock, but why? In the end it is a belgian ale, too fruity and sweet.
What will it be?
332 characters
3.8
/5
rDev
+16.6%
look: 4.5 | smell: 4.5 | taste: 3.5 | feel: 3.5 | overall: 3.5
I've been looking for one of these for quite a while now. Not easy to come by. And though I know it isn't the real Austin brew anymore. I just hope that Celis will give me what I want.
Served it in a "Cristal" or normal Belgian café glass.
The head wasn't really convincing. It didn't actively develop and it collapsed very fast too. It did leave some nice lacing on the glass and on top of the beer.
The colour is not really Bock, but it does say "Pale Bock". It's more a rusty copper, Cognac like. Moderate carbonation running through.
The scent is convincing, Roasted grain, lush hop and (chocolate) malt. Smells like a very full and fresh / fruit beer. And if I think of Celis, I think of spices. Or is that just wishful thinking?
Taste is good, but not as complex as I wanted / expected. Full body, milky / creamy, fills the mouth with a pleasant soft bitter dry taste. Malt, hop and orange peels.
Aftertaste is dryer, malt takes over combined with some herbs and the orange peel. Ends off bitter.
In all a good beer, but can imagine the original Austin one was much better. It gets you all worked up by the view and the odour, and even the taste is quite satisfying. But it's more like one element is missing to really spice it up.
1,309 characters
3.77
/5
rDev
+15.6%
look: 3 | smell: 3.5 | taste: 4 | feel: 3.5 | overall: 4
My first pale bock and I loved it. This beer is *special*. Nice coarse head, neither intrusive nor shy. Golden color. Carbonation perky. Smells . . . here starts the difficulty in describing this beer. Smells like little girls. . . at least what I remember I smelled like. That combination of hard candy and fresh wild flowers. Tastes herbal, floral, and a kick of a new zealand style sauvignon blanc taste at the end. One of the longest finishes I've experienced in a lighter beer: bitter through and through but not unpleasant bitterness, a welcome bitterness that balances the slightly numbing smoothness of this beer which arrives in the middle. I love this beer, and I've no idea what other pale bocks taste like! Have fun!
***
second tasting: 6/7/04. hmmm. must have been lucky the first time. the celis is still good, but not as complex in flavor as the first time. and no smell beyond a whiff of caramel malts. bitter the whole way, as before, and still a long finish, but the flavor profile beyond that is a vegetal front and a touch of sweetness that sweeps out with the bitter finish.
1,097 characters
3.2
/5
rDev
-1.8%
look: 3.5 | smell: 3.5 | taste: 3 | feel: 2.5 | overall: 3.5
The Pale Bock poured lighter than a traditional bock and was redish brown. It was indeed very clear.
The aroma was all malt with an occasional hint of chocolate. There were no hops in the aroma.
The taste was balanced very much to the grains but it was not rich nor complex. I did not detect any hops. The beer finished mildly sweet.
The mouthfeel was more light than medium and had very little carbonation. The beer did not play with my tongue.
This beer is better than Shiner Bock and probably marketed to a similar audience. It is not on the par of the German bocks but is a nice session beer.
609 characters
3
/5
rDev
-8%
look: 3 | smell: 3 | taste: 3 | feel: 3 | overall: 3
Red orange color, with a light body. Absolutely no head, and a low carbonation.
This beer was all about caramel. Maybe sone hints of coffee in the smell, but then defintely caramel all the way. Something like caramel candy, or some watery kind of caramel (i.e. not the best one...). Kind of malty, and I couldn't taste the hops at all.
Easy to drink, but not that enjoyable. It lacks complexity.
399 characters
3.33
/5
rDev
+2.1%
look: 3.5 | smell: 3 | taste: 3.5 | feel: 3 | overall: 3.5
NIce and light, not overly complex, spicy, slightl gingery flavour, on the dry side (which is good), very nice session ale, and reminded me a hell of a lot of De Koninck, creamy mouthfeel. I think this was quite solid, malty, with perhaps a touch of hops towards the finish, not too bad.
287 characters
Celis Pale Bock from Brouwerij Van Steenberge N.V.
Beer rating:
3.26
out of
5
with
9
ratings