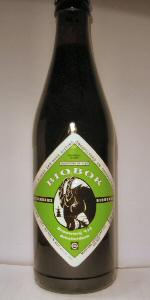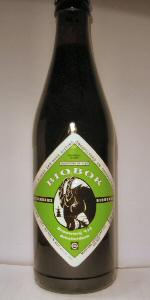 BEER INFO
Brewed by:
Brouwerij 't IJ
Netherlands
brouwerijhetij.nl
Style:
German Bock
Alcohol by volume (ABV):
6.50%
Availability:
Fall
Notes / Commercial Description:
No notes at this time.
Added by Absumaster on 12-22-2006
This beer is retired; no longer brewed.
HISTOGRAM
Ratings: 6 | Reviews: 5
Reviews by PapaEugene:

1.28
/5
rDev
-56.2%
look: 4 | smell: 1 | taste: 1 | feel: 2 | overall: 1
An evening of Dutch bocks with rvdoorn. I really like the Struis from this brewery so I had some expectations for this one.
added 10-11-2009: This beer was selected as the worst bock bier in a pannel test of beer experts in a National Newspaper.
A: A hazy orange/lightbrown color with a light brown head
S: YUK! This beer probably had some microbial problems in the brewing process. It's simply disgusting. It's sour and it has chemical notes form burned paper to burned plastic.
T: Same chemical notes here. So strong that I didn't care much for the rest anymore. Looks like an ashtray fell in this brew.
M: Medium carbonation and a light body
D: Never again unless this was a batch mistake/problem.
708 characters
More User Reviews:
2.91
/5
rDev
-0.3%
look: 3.5 | smell: 2.5 | taste: 3 | feel: 3 | overall: 3
This is one of the latest creations of 't IJ. This is a biological bock beer.
Appearance is good, a murky brown beer with a creamy head, typical bock looks.
Smell is in line with all the bottled examples of 't IJ, acidic. This one is a little different, it is not as sour as the last 4 't IJ beers I had. There is some caramel and sweetness hidden behind it, but not playing a lead role.
Taste is less acidic as the smell would let me believe. There is some acidity, but I even get used to it after a few sips and then there is a nice caramel and malt base, mouthfeel is medium and the beer is a little sticky, like a good bock. The bitterness is just supporting and the dark malts add maltbitterness.
Even though the sourness is unintentional, it fits the beer, but it remains to be an infected beer, so I cannot be thrilled with it.
847 characters

4
/5
rDev
+37%
look: 4 | smell: 4 | taste: 4.5 | feel: 4 | overall: 3
got this straight from lakeview liquors in chicago and they got it straight from the brewer. thank you christina.
Not really sure on how old the bottle is.
A: a cloudy amber color with small sediment flowing throughout. Surprising enough the particles don't seem to sink to the bottom. The color is similar to the turbobok a solid amber with some cloudiness. I got about a thumb and a half of foam well chilled.
S: a phenolic citric fruit. Same funk as many of their other beers. Similar to a lambic but mellower. Earthier. A little pollen.
T: The light citrus is there with a metallic, not like that of a can, but light iron livery taste at first. Then a molasses, malt and finally hop and leather taste. its earthier than expected, which works, making the beer sort of have a bloodiness in the flavor. maybe a little thyme.
M: Great. The foam seems to balance everything out well. it comes in layers, but the density works throughout. doesn't feel very heavy... but I had the rest of it with food.
D: Great beer, but I can see how it would scare many. One of the most unique I've had. It has an interesting take on its style yet nice core meatiness. This is not a beer for those who like a clean glass. There is a lot of delicious junk in there floating around. It also doesn't suit for the traditional interest. This beer is sort of out there and I can see how many wouldn't like it because they expect something less experimental on the other side of the water.
I will be having this one again...not any time soon.
Recommend with game or liver and onions.
1,573 characters
3.25
/5
rDev
+11.3%
look: 3.5 | smell: 3.5 | taste: 3.5 | feel: 4 | overall: 2
The beer I'm having is actually named IJbok, but is probably the same brew as Biobok (same label design too).
Deep-red to dark-brown in color, with a very thick, long-lasting beige head and a lot of fine and very active carbonation showing; major lacing. It looks great, but a bit too extravagant for a bock.
The aroma is lambic-like and acidic (as others have noted), but in a more restrained fashion than an actual lambic/geuze. This quality is subtlely supplemented by a spicy and fruity/citric note. All of these qualities combined are so strong that they tend to overshadow the toffee-like malt base i.e. bock personality.
Again the same phenomenon (only less acidic) occurs when the beer is tasted. Typical bock-charatericstics are played out against the typical "IJ-funk". I find the result to be rather uneasy and unsettling even. The yeasty fruitiness simply doesn't match with the drier and more bitter spectrum of the malt. All high quality flavors in their own right though.
Mouthfeel is lively and semi-heavy.
I like ales by 't IJ and I like bocks even better -- but not mixed up together in one brew.
1,119 characters
3.09
/5
rDev
+5.8%
look: 2 | smell: 3 | taste: 3.5 | feel: 3.5 | overall: 2.5
Didn't make a great initial impression by foaming over the top of the bottle and onto my carpet. I thought I might have got an infected bottle but the other review here suggests that this is at least intentional.
A: A nice dark bok colour, but too much crap floating in there. Yes, you expect a bit of haze in an unfiltered beer but this is over the top.
S: Lambic. Acidic bacterial smell. I'm still in two minds about whether it's actually meant to taste like this or is infected. The problem is that the Dutch bok style is so widely interpreted that it's hard to know. As a few other boks do taste similar I'm going to assume they intend it to be like this.
T: Actually fairly good - took a little while to get used to but actually a complex, lambic, orangey, spicy flavour. I could almost be drinking an "in-style" bok beer blended with an aged bottle of Orval.
M: A bit foamy, but reasonably substantial.
D: Too intense to be really drinkable - you'd have to be a real fan of this type of beer to want another.
Overall I'm a little disappointed - I had great hopes for this brewery after first trying their "Struis" which I highly rate. Unfortunately the next two I've tried are not impressive. This beer may well be what they are trying to achieve and they just haven't really found the right style label. This underlines why the beer consumer organisation PINT is right to try and more tightly define the Dutch "bokbier" style - because currently anything and everything is being labelled with this name and it's often difficult to know what you are getting when you buy a bok.
If you are a lambic fan you might well enjoy this beer, but it's not for me.
1,667 characters
Biobok from Brouwerij 't IJ
Beer rating:
2.92
out of
5
with
6
ratings