Blur India Pale Ale
| Seabright Brewery
BA SCORE
81
good
27
Ratings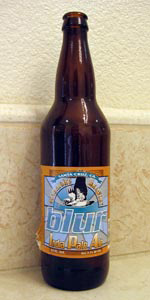 BEER INFO
Brewed by:
Seabright Brewery
California
,
United States
seabrightbrewery.com
Style:
American IPA
Alcohol by volume (ABV):
7.30%
Availability:
Year-round
Notes / Commercial Description:
No notes at this time.
Added by rkhaze on 12-12-2004
Reviews: 14 | Ratings: 27
3.11
/5
rDev
-7.7%
look: 3.5 | smell: 2.5 | taste: 3 | feel: 4 | overall: 3.5
Consumed at the brewery on June 28th, 2012. Reviewed from notes.
A clear medium golden draft with a very fine, small white head.
Oddly, no aroma. Served too cold, perhaps?
Crystal malts upfront, followed a split second later by indistinct bitterness. Slightly herbal hop flavor.
A little thick and mildly parching, which seems to be a sort of house style with this brewery.
Perfectly acceptable IPA but nothing to write home about.
437 characters

4.32
/5
rDev
+28.2%
look: 4 | smell: 4.5 | taste: 4.5 | feel: 4 | overall: 4
It has been years since I've had this beer...last time was in a bottle...fresh growler was nice to have.
A-clean golden look...smaller head, but I'm rating this on a pour hours after breaking the seal
S-Citrus and a bit 'butterscotch...sweet smell
T-floral and citrus bitterness with a sweet malt backbone. Very pleased with the balance of the beer. I shared with others during a brew session/tasting session and many agreed
M-carbonation was good and smooth going down
O-so glad I got this...and have a friend to get my growler filled for me a few times a month...will see how I like it after a few more growlers. Happy to see a IPA/DIPA confused IPA that goes down well...mm
680 characters

3.06
/5
rDev
-9.2%
look: 4 | smell: 3 | taste: 3 | feel: 3 | overall: 3
Had never heard of Seabright until this session. Pours a yellow ale with a nice white foamy head with staying power. Lemon zest and more citrus in the aroma with some maltiness in the air. A rather unexpected spicy taste to this with a lot of malt going on. Too much for my liking. Bitter aftertaste. I think this was a little confused at what it wants to be. An IPA? DIPA? Not sure but was not impressed unfortunately.
419 characters

3.65
/5
rDev
+8.3%
look: 4 | smell: 4 | taste: 3.5 | feel: 3.5 | overall: 3.5
toasted character in the nose, toasted malt, biscuits, malted character. gold in color, just over 60 ipu's. well balanced beer with enough hoppy bite to settle the malt character. website states beer is approximately 7.4% abv. i wouldn't order again, seems a little upside down for what i'm looking for in an ipa.
313 characters
3.17
/5
rDev
-5.9%
look: 3 | smell: 3.5 | taste: 3 | feel: 2.5 | overall: 3.5
This beer has a nice amber hue but my pint at the brewery no less and absolutely no head. The carbonation was fine once I had a sip but no head, no lace, no nothing. I found this to be slightly hoppy but less than I expected for the usual profile. Drinkability was average for the ABV.
285 characters
3.62
/5
rDev
+7.4%
look: 3 | smell: 3.5 | taste: 3.5 | feel: 4 | overall: 4
(Sampler at brewpub) Blur IPA pours bright gold with a fluffy white head. It's a light color for an IPA. It has a complex and medicinal aroma. The body is medium and smooth. The flavor is dominated by grapefruit peel, but it's not overly bitter. Not quite what I'd think of when I think of an IPA, but no faults to speak of. I like it.
(rated May 17, 2007)
356 characters

3
/5
rDev
-11%
look: 3 | smell: 3 | taste: 3 | feel: 3 | overall: 3
On tap at the brewpub. 6 oz. sample. Gold color with a wispy white head. Leaves tons of lacing. Soapy hop aroma. Lemony bitterness with caramel malt underpinning. Kinda tastes like an old IPA that has gone downhill, but it's from the tap! Average palate.
254 characters

3.88
/5
rDev
+15.1%
look: 4 | smell: 3.5 | taste: 4 | feel: 4 | overall: 4
Appearance=Dark Gold, thin head, and little carbonation
Smell= Good piney/resin hops aroma
Taste=Balanced hops and maltiness with a nice hop bite in the finish
Mouthfeel-Medium body
Drinkabilty=WOW what a smooth beer. They were out of it my last vist (January) and I was unable to try it. I really missed out. This beer in the typical West Coast IPA is too drinkable I could easly put away more than a few pints
415 characters
3.28
/5
rDev
-2.7%
look: 4 | smell: 3.5 | taste: 3 | feel: 3 | overall: 3.5
I have to hand it to them for marketing. Who can resist a beer with a name like "Blur?"
A: Hazed golden yellow. Chunky clinging lace.
N: Grapefruit, lemon dish soap, and a pinch of pine. Under-hopped.
T: Green, unripe mango. Citrus dish soap. Lemon tea.
MF: Strong bitterness thorough out but not quite the right bitterness. Too soapy. Very light body. Finish is sweet and chalky. This is a reverse IPA. Bitter front with a sweet finish.
D: Two would go down easy. The soapiness and sweetness would get to me after that.
539 characters

3.25
/5
rDev
-3.6%
look: 3.5 | smell: 3.5 | taste: 3 | feel: 3 | overall: 3.5
It's lighter in color than many pale ales, with an thin white head. The smell is hoppy with a slight metallic undertone. Hops dominate the taste because so little malt flavor is present. It starts rather blandly and, unfortunately, does not improve as it sits. The mouthfeel is a bit thin. A lack of any really offensive smell or taste makes it fairly drinkable for a beer exceeding 7% abv. However, it really has nothing to recommend it over the army of west coast IPAs out there.
481 characters

3.81
/5
rDev
+13.1%
look: 4 | smell: 3 | taste: 4 | feel: 4.5 | overall: 4
Hazy golden hue, with myriad flecks floating about, 'neath a proud, fluffy snow-white head o' foam. Okay.
Nose is soft and soapy, slightly citric, some lemon peeking through, but far too mild of a hop presence for any kind of an IPA, really.
Bitter, citric attack on the tongue from the start, doing a fine ride through the mouth...sticks around with admirable aplomb. Bright and brash. (The alcohol sticks out a bit, after a while.) Coats the palate well, with a general hoppiness, flavors of apricot, peach, pineapple. Tasty. I'm liking it more and more.
Fullish body, long, bitter, fruity finish, nice, tangy texture. And really tasty. Lip-smacking. Could use a touch more depth and complexity, but there you have it.
I was worried, having glanced at the other rankings on this, but hey, this bottle's doing the trick for me...I'd tell you if it were otherwise..trust me on that.
896 characters

3.13
/5
rDev
-7.1%
look: 3.5 | smell: 3 | taste: 3 | feel: 3 | overall: 3.5
Pouring to a good golden yellow, this beer has a nice head with good retention. The lace looks good too.
The smell contains an abundance of citrus. This citrus seems to be seeping into the taste as well, where it isn't nearly as welcome. It would probably benefit from a stronger malt base. Drinkability isn't too bad for the alcohol content.
Quite a bit better than their other IPA, this still isn't very impressive.
423 characters
3.53
/5
rDev
+4.7%
look: 4 | smell: 3.5 | taste: 3.5 | feel: 3.5 | overall: 3.5
Condensed foam head is long lasting and sticky and rides above a pale gold body, clear and dead. The nose is interesting, mild in terms of hops, which are light and grassy, but having some light sweetness and floury grain creaminess.
Taste is totally unexpected, unlike any other IPA I've had. Absolutely no fruitiness and very little sweetness, the taste is starkly carbonically bitter with some light, tasteless malts in the after. Carbonation is low and adds some creaminess to the medium body.
Not sure what to make of this brew, and while I didn't like it compared to other IPAs I've had, the bitterness is kinda fun.
628 characters
2.51
/5
rDev
-25.5%
look: 4 | smell: 3 | taste: 2 | feel: 3.5 | overall: 2
Contract brewed for Seabright Brewery by Coast Range Brewing.
Pours a golden amber color with a slight haze. Nice big bubbled, creamy white head. Decent retention and light lace.
Smells of citrus hops upfront. Grainy sweet malt, some fruit and a tea nuance.
Unbalanced mediocre flavors. The malt taste was sweet and real grainy. It immediatly turned harsh, grassy and bitter with nothing at all in between. Finished dry and pungent. Ouch!
Medium bodied with a tingly mouthfeel that was a little oily.
I'd have a tough time buying or drinking another one of these.
568 characters
Blur India Pale Ale from Seabright Brewery
3.37
out of
5
based on
27
ratings.