Mad Brewers Garden De Paradisi
| Malt Shovel Brewery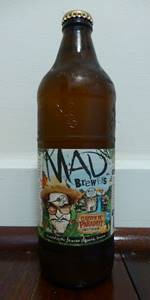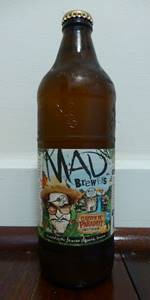 BEER INFO
Brewed by:
Malt Shovel Brewery
Australia
maltshovel.com.au
Style:
Witbier
Alcohol by volume (ABV):
6.20%
Availability:
Limited (brewed once)
Notes / Commercial Description:
No notes at this time.
Added by Vanz on 02-11-2014
This beer is retired; no longer brewed.
HISTOGRAM
Ratings: 12 | Reviews: 10
Reviews by doktorhops:

2.9
/5
rDev
-15.7%
look: 3.5 | smell: 3.5 | taste: 2.5 | feel: 2.5 | overall: 3
Looks like another brew has been released by those kkkkrrazy cats at Mad Brewers... only problem is in the name "Mad Brewers" as most of their brews are fairly sensible and at times mundane, apart from the Scribbly Gum Lager which tasted like a liquid BLT... I miss the Scribbly Gum. Well let's see if they can bring back the zany sweet abandon they once held in my eyes (or tongue).
Poured from an Imperial pint bottle into a nonic pint.
A: Slightly hazy goldenrod body with a foamy white head that reduces fairly quickly to a lace.
S: Interesting grain notes, no doubt from the grains of paradise that the brew is named for. Along with that are notes of Mandarin and Grapefruit, with a hint of coriander. Not as potent as other Witbiers with its aroma, hopefully this wont play out to be bland on the flavour side.
T: Two words: sugar bomb. Yep the Mad Brewers have dropped a truckload of sugar on my tongue, drowning out the other flavours in what could have been an interesting take on one of my personal favourite styles. Whereas Belgian brewers get away with this because that add nuances to their sugar bombs, this brew has little else. A touch of Lime, Mandarin and bitter orange note in the finish.
M: Medium bodied with medium carbonation and that cloying sweetness.
D: A weird combination of boring and saccharine, like being an adult and going on a colourful merry-go-round this does nothing for me. Yes if I was 7 and managed to sneak a pint of this I would have been in under-age drinking paradise, but the 33 year old in me is not interested in this candy crap. I asked for sweet abandon and I got a literal sweet abandon, as in they literally abandoned all other flavours but sweet. A bit more dimension and they might have pulled it off too.
Food match: Sherbet and pop-rocks... together!
1,813 characters
More User Reviews:


2.92
/5
rDev
-15.1%
look: 3 | smell: 2.75 | taste: 3 | feel: 3.25 | overall: 2.75
Drank from my Ciney sniffer
A - Pours a pale lemon colour with a white head that reduces quickly.
S - Kinda dull tinny with small sweet citrus.
T - Up front some small citrus notes followed by a little bitterness.
M - Light to medium body with medium carbonation.
O - Disappointed with this brew. It claims to be something it isn't. But lets not forget these MB brews fill the space between the main stream and the true craft brew scene. TEN20 still the best MB brew to date.
481 characters

3
/5
rDev
-12.8%
500ml bottle. BB 12 Feb 2015. Pours an opaque, pale gold colour with a large frothy white head which lasted the distance. Smells like a witbier with some peach and lime. Very sweet taste and medium bodied. Cold, it finished in a dry and refreshing manner and was very drinkable but as it warmed up, so too did the sweetness, leaving an aftertaste of Skittles and it wasn't quite so enjoyable.
394 characters

3.72
/5
rDev
+8.1%
look: 3 | smell: 3.5 | taste: 4 | feel: 4 | overall: 3.5
On tap at the Westend Pumphouse in Hobart.
Pours a pale golden colour, head white, foamy, retains a thin crown. Quite cloudy. Standard witbier look.
Smells interesting. Touch of citrus, but mostly earthy spice- pepper, touch of clove and some cypress notes. Could use a touch more of the citrus, but decent.
Taste is intriguing. Strong citrus notes with blood orange, passionfruit and a touch of persimmon which leads nicely to midway spice. Pepper, yes, grains of paradise and a dry fennel note towards the back. The fruit is extremely pleasant, could use some more of it. Doesn't last until the end and feels a bit dry. But very pleasant otherwise.
A bit thin, but texture is smooth with a slight silty edge. Nice.
Good wit, could maybe use more synergy between fruit and spice, seems like a disconnect between two otherwise pleasant flavours.
852 characters
3.42
/5
rDev
-0.6%
look: 3.5 | smell: 3.25 | taste: 3.5 | feel: 3.25 | overall: 3.5
Just thought with the heat why not and it pours a hazed yellow hue with a fluffy white two finger head and and some nice lacing,the smell is honeyed wheat,booze,I definately get the spice aswell it's quite unique and also a touch of mandarin peel,the feel is light bodied with medium carbonation and has tastes of honey,spice,a slight hit of the wheat,lime and is finished with a citrus tanginess and overall I'm not the biggest fan of this style but it is what they say it is and yeah I won't buy again but good to see them trying new things cheers.
550 characters

3.2
/5
rDev
-7%
look: 4.25 | smell: 3.5 | taste: 2.75 | feel: 4 | overall: 3
From VC
A - hazy straw, two finger pillowy white head - good so far.
S - lemons, cloves, hint lime
T - hmmm. dull. Not sure what happened here. Citrus yes (mandarin), zesty yes, add wheat, lime, but dull hops at odds with the style.
M - lively, well carbonated. Light medium weight. Creamy aftertaste.
O - not sure if I got a bad bottle here.... all too dull for style. Dissapointed - I lhave really liked MB in the past, but....
434 characters

2.89
/5
rDev
-16%
look: 3.25 | smell: 3.5 | taste: 2.5 | feel: 3 | overall: 2.75
Bottle: standard but solid 330mL brown bottle, funky and distinguishing label - not quite up to the MB norm though.
Appearance: poured into a tulip glass,this wit is a light but effervescent straw yellow. Limited fine carbonation throughout the profile. A limited head drops away fairly quickly, leaving a slight lace. Looks okay.
Aroma: a decent aroma of earth, spice and citrus. I'm not entirely sure they have blended the notes well though...
Taste: ...and unfortunately not. Though the flavours seem like they are all quite decent on their own, on the palate it comes across as a complete cacophony. An underriding floral funk doesn't help.
Aftertaste: a sharp bitterness hangs about in the mouth, predominantly from the floral. Not a particularly great beer.
Mouth feel: moderate win feel with far too much sharpness.
Overall: a pretty disappointing beer from the Mad Brewers series. The flavours aren't well combined, and all that is left is an awkward floral fug. Definitely not worth the AU$95 a case price equivalent for 24 x 330mL.
1,048 characters
3.78
/5
rDev
+9.9%
look: 2 | smell: 4 | taste: 4 | feel: 3 | overall: 4
Served from a longneck in a pint glass. Rolled, poured in 3 steps and swirled to mix the yeast through. Lots of yeast in the bottle Coopers' style. Looks like it could be bottle conditioned.
Appearance -
Very very murky, mango colour. Opaque. Thin 1cm straw coloured head. High solids and plenty of yeast. Moderate effervescence. Looks almost like a thick apricot syrup. Leaves a bit of lacing. Lots of yeast ends up sitting on the bottom of the glass - I probably should have decanted this one better. It actually looks slightly like sludge and would be a little horrific for a normal person.
Note that it looks much neater on tap at the pub - you don;t get all that sediment coming through.
Smell -
Mandarin, lime, passionfruit, peach, rockmelon, musk, honey, malt and yeast.
Taste -
Apricot, mango, peach, blood orange and spice - quite sweet on the first sip. Fruity and malty to start. Plenty of citrus and hops hit on the back end of the sip - honey, lemon and lime make up the aftertaste. The bitterness is almost perfectly balanced, but it it slightly sharp, yest slightly sugary.
Mouthfeel -
Thick and syrupy, like the juice you get in a jar of Goulburn Valley Apricots. A good bit of fizz and bite. Refreshing with a bit of tang on the way down, but leaves your mouth quite sticky.
Overall -
If you can get past the appearance there are plenty of summer fruit flavours to enjoy even if it's not a perfect brew, and its quite drinkable. Had it on tap plenty of times and would again if they keep making it. It's a little bit good weird, and that keeps me coming back for more.
1,595 characters

3.91
/5
rDev
+13.7%
look: 4 | smell: 3 | taste: 4.5 | feel: 3.5 | overall: 4
New mad brewers special brew, poured in a nonic pint glass from a 568ml bottle. fits perfectly!!!
A - good typical witbeer - partially cloudy, straw colour, pours a 10cm white head, thins to a 5mm lacing.
S - fruity mandarin peel, as the label says. Slight peach. Aroma is overall subdued.
T - Sweet, fruity flavours at start (passionfruit, lime) with some spicy hop bitterness at the middle, and spicy pepper at the back end. More complex than I thought, the bitterness is a nice surprise
M - moderate carbonation for this style of beer, light body - slightly watery mouthfeel, alcohol taste is well hidden.
O - i really liked this - i was a little bit over witbeer, but the bitterness and spiciness of this one is different and refreshing. Give it a go.
760 characters

3.82
/5
rDev
+11%
look: 4 | smell: 3.75 | taste: 3.75 | feel: 3.75 | overall: 4
Pours a slightly cloudy attractive yellow. Good head.
Nose is nice and subtle fruits, quite grainy, think the grains of paradise come through, get a little lactic note. More of the typical wit flavours come through as I get down the bottle.
Taste is again quite grainy, still quite fruity. Some residual bitterness in the finish which I suspect comes more from the grains of paradise than the hops.
Mouthfeel is about the fruits, a slightly sort of smokey thing which is perhaps alcohol or perhaps just the wheat or grains of paradise. Still get a fair whack of residual bitterness. Perhaps on the whole a bit sweet also.
All round a solid and refreshing offering. Still get their house profile coming through a bit but this is an enjoyable and drinkable beer which doesn't require too much analysis.
804 characters
Mad Brewers Garden De Paradisi from Malt Shovel Brewery
Beer rating:
3.44
out of
5
with
12
ratings