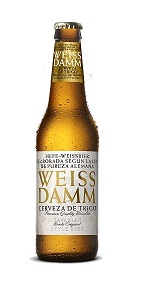 BEER INFO
Brewed by:
Damm S. A.
Spain
estrelladamm.com
Style:
Hefeweizen
Alcohol by volume (ABV):
4.80%
Availability:
Year-round
Notes / Commercial Description:
No notes at this time.
Added by evlu1441 on 01-17-2012
Reviews: 6 | Ratings: 23
3.86
/5
rDev
+14.2%
look: 3 | smell: 5 | taste: 3.75 | feel: 3.75 | overall: 3
From Hipercor. In Teku glass. After dinner. Playing Snail Bob 2 with daughter. Suprisingly good for a macro. All aroma of a good hefe and good taste. Body a bit below typical hefe but compesated with higher bitterness
217 characters
3.66
/5
rDev
+8.3%
look: 3.5 | smell: 3.75 | taste: 3.75 | feel: 3.5 | overall: 3.5
Cloudy golden, bruised peach and topped with 4 fingers of whipped cream head.
Pears, bubble gum, coriander, canned peach, slight plastic.
The pears, canned fruit, and bubblegum all come through backed by a Belgian like phenolic yeast.
Overall a light body with medium to low carbonation. Light and crisp feel.
Got on wish beer and drank in Chiang Mai Dec 8th, 2015. Love the twist of Spain on the style and label. Really cool drink.
438 characters
3.9
/5
rDev
+15.4%
look: 3.75 | smell: 3.75 | taste: 4 | feel: 3.75 | overall: 4
Weiss Damm
33 cl brown glass bottle, best before 28.08.16
Fairly typical appearance although slightly darker than usual. Head retention and lacing are very good. Wheat malt, clove, and a light bit of a plastic-like phenol greet you in the nose and carry over into the flavor. As is commonly found it has a sweetish side but isn't sweet, leaving it to finish drying with residual yeasty clove and a smear of delicate herbal hops.
429 characters
3.27
/5
rDev
-3.3%
look: 4 | smell: 3.75 | taste: 3 | feel: 3.25 | overall: 3
That is being such a long time since last I had it that I don't even have a bias here. Let's see.
Hazy golden yellow color with a huge thick head that won't go away and it leaves some good laces.
In the nose, nice notes of the traditional trio of banana, cloves and yeast. Hints of wheat, cantaloupe and some citrusy.
So far it presented a fairly decent presentation card; let's see how it performs in the mouth. Flavor with predominant spices, lemongrass and herbal hops. Hints of oranges, just a bit of banana, cinnamon, yeast and a bit of lactic acid. Dry aftertaste with a nice friendly bitterness.
Light bordering watery body with good carbonation.
This is an average Hefe, not as complex as it could be and missing body, but on the other hand, it is highly drinkable, with some spicy notes and a better balance of hops being not sweet. Nice for a macro commercial brewer.
885 characters

2.26
/5
rDev
-33.1%
look: 3 | smell: 2 | taste: 2.5 | feel: 2 | overall: 2
330ml bottle. Weiss Damm Glass.Enjoyed on sep´12. Pale gold in color. Foggy appearance. White froth, close crown.Fairly correct retention. Slightly metallic, hints of wheat & low clove to the nose.Grainy & subtle bready aromas. Crispy & bitter upfront Medium body. Medium to high carbonation. Palate is fizzy. Grainy flavors in the middle. Watery texture. Dry finish.
368 characters
3.53
/5
rDev
+4.4%
look: 4 | smell: 3.5 | taste: 3.5 | feel: 3.5 | overall: 3.5
I picked this up in a Barcelona grocery store because I wanted a beer glass from Spain and it was exceptionally inexpensive! This review is based on a 330ml blottle poured into the official glass.
It pours a very hazy orange-amber colour with a substantial foamy head. Looking good so far!
The aroma is citrusy with some doughy yeast in the background. Pretty standard, but surprisingly well-done.
It has a nice malted wheat flavour and a slight hint of yeast. It is slightly sweet and very smooth, lending to an easy drink.
At the end of the day, this isn't anything special, but it does a surprisingly good job considering some of the other Damm beers.
667 characters
Weiss Damm from Damm S. A.
3.38
out of
5
based on
23
ratings.