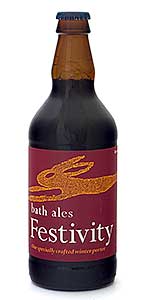 Rate It
Beer Geek Stats
| Print Shelf Talker
From:

Style:

ABV:

5%

Score:

85

Avg:

3.66

| pDev:

14.21%

Reviews:

11

Ratings:

Status:

Active

Rated:

Dec 03, 2015

Added:

Jan 06, 2004

Wants:

Gots: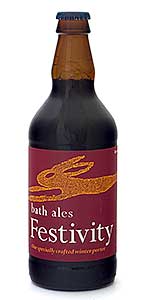 Recent ratings and reviews.
| Log in to view more ratings + sorting options.
Rated by Trappist62 from Denmark
1.99
/5
rDev
-45.6%
look: 2.75 | smell: 3 | taste: 1.5 | feel: 1 | overall: 2
Very hot aftertaste. Dislike! Strange for a beer. Flat feeling in the mouth.
May 10, 2015
Reviewed by BlackHaddock from England
3.73
/5
rDev
+1.9%
look: 3.75 | smell: 3.75 | taste: 3.75 | feel: 3.5 | overall: 3.75
Hand-pulled pint in the lovely 'Grapes', A Bath Ales owned pub in Oxford on 22 Nov 13.

Nice dark body, leaning toward black from a dark brown base, on top a tanned crown.

The aroma was spicy and malty with some dark fruit esters thrown in for good measure.

Taste wise it followed the smell nicely, malty molasses giving it a semi-sweet flavour, where was my Rum though? It's supposed to laced with it I believe. Anyway I enjoyed it and thought it more a 'Winter Warmer' than any sort of Porter.

Fairly deep and almost rich body, well made and easy to sup.
Nov 27, 2013

Reviewed by bcostner1 from Tennessee
3.32
/5
rDev
-9.3%
look: 3 | smell: 3.5 | taste: 3.5 | feel: 3 | overall: 3
PIcked this up at the Christmas Market in Bath this year. Glad I got to try it.

A: Brownish red; definitely not pitch black like a lot of richer porters I have had. Head is pretty thin and dissipates rather quickly, leaving only small vestiges around the edges of the glass.

S: The aroma is actually pretty decent. Definitely get some of that rum and raisin that they describe on the bottle. Not a rich aroma by any means but still decent and detectable.

T: Pretty typical porter to me but a little more on the sweet side than some other porters. There is some chocolate, caramel, a little bit of roasted malt. Don't get much coffee (as the label said). Mild rum raisin in there too. Definitely good but I wouldn't say outstanding.

M: A little on the thin side for me. Definitely an easy drinker though at 5.0% ABV. Just wish it had a little bit more body.

Overall, definitely a decent offering and one that I am glad I got to try from a corner of the world that I had never been before and may not get back to for quite a while.
Dec 14, 2012

Reviewed by jazzyjeff13 from England
3.97
/5
rDev
+8.5%
look: 3.5 | smell: 4 | taste: 4 | feel: 4 | overall: 4
A 500ml bottle with a BB of Feb 2013. A bit late for Xmas, but never mind. Described on the label as a seasonal porter.

Poured into a Sam Smith's pint glass. A dark chestnut-brown hue; appears black unless held to the light. Forms a small off-white head of foam that dissipates rapidly. Aroma of roasted malt with notes of burnt grain, coffee, chocolate and hints of spice and stewed hops.

Tastes of roasted malt with a dry bitter finish. Notes of coffee, chocolate, burnt grain and stewed hops. A faint hint of dried fruit. Mouthfeel is smooth and tingly, with good body. Rather astringent - dries the palate. A lingering aftertaste of bitter roasted malt.

Lovely. A good blend of flavours without being overly complicated. Slides down very nicely - perfect for winter. Pick one up now!
Jan 28, 2012
Reviewed by wl0307 from England
4
/5
rDev
+9.3%
look: 4 | smell: 4 | taste: 4 | feel: 4 | overall: 4
Coming in a 500ml brown bottle, BB 20/03/2012, served cool in a straight imperial pint glass.

A: pours a nearly black body with brown hues shown at the bottom of the glass; the dark beige frothy head lasts pretty well, settling slowly to a thin sheet.
S: roasty and sour at the same time, like a nice porter should be; the roastiness, a bit chocolaty as well as a bit coffee-ish, mixes well with the fruity hops, licorice-ish herbal scent, a touch of chilli, and rather assertive aroma of black dates and prunes. A close sniff seems to suggest the presence of staleness. Balanced, quietly enjoyable.
T: pleasantly sour, sweet coffee-ish and dark malty in taste, the swallow is backed by lingering undertones of black dates, burned nuts, brown malts, and finished with a bit of chewy and earthy hop bitterness. The dark malts and bitter hops balance each other quite well, rendering a simultaneously lightly chewy, bitter roasty and aromatically malty finishing palate.
M&D: the carbonation remains decently refreshing and never over the top, while the medium body supports the moderate flavour profile just fine. Not quite as complex as its many counterparts produced in this country, nevertheless this Porter (English style, definitely) is really enjoyable as it is quaffable - don't know if there's a cask-conditioned version available?
Feb 13, 2011

Reviewed by Zimbo from Scotland
3.44
/5
rDev
-6%
look: 2.5 | smell: 3.5 | taste: 3.5 | feel: 3.5 | overall: 3.5
Interesting nose. Suggests smoky bacon. Savoury and rather enticing with some chocolate and coffee notes.
Quite dark for a porter. Orangy red highlights throught the glass. Head is virtually nonexistent.
Waves of taste with a decent mouthfeel but doesn't really excite on the flavour front.
Oh, this is not an 'American' porter.
Dec 19, 2010
Reviewed by Trizzle from England
4.22
/5
rDev
+15.3%
look: 4 | smell: 4.5 | taste: 4 | feel: 4 | overall: 4.5
A tasty surprise. I'd by-passed this bad boy for the last few weeks because I wasn't fussed on the label... School girl error.

Opaque black, some red highlights with a small white head that swells readily with some moderate aggression on the pour. Fades to a good rim that clings well.

Nose is delicious. Dark 'rum and raisin' chocolate, orange rind, roasted malts and a nose filling fortified wine sweetness. A hint of sour, old-school porter in there too. Some cola and maybe some wheat. Bitter-sweat and complex.

More sweetish cola up front, some more dark chocolate. Nutty, and doughy through the middle. Coffee and roasted malts dry it out quickly. Finishes quite smoky, bitter-sweat and very moreish. Not quite what the aroma promised, but fantastic just the same.

Carbonation is low-medium and contributes wellto a very smooth, medium bodied feel.

Fantastic session beer for this time of year (London late November). Will be heading back for some more of these for xmas.

This will be tops on boxing day morn with some fried left over ham and poached eggs on toast with worcestershire sauce, maybe some black pud..
Nov 26, 2010
Reviewed by benclimbs from California
4
/5
rDev
+9.3%
look: 4 | smell: 4 | taste: 4 | feel: 4 | overall: 4
pours dark brown with a little head and heavy lacing

nose is a lot of cherries and rum raisin...mmmm

taste is coffee, dried fruit and a bitter dry finish, maintains sweetness w/o heaviness

a great christmas beer, sweet and dessert like, but not too heavy - quite drinkable and could be had as a session beer unlike some christmas ales.
Dec 07, 2009
Reviewed by bark from Sweden
3.89
/5
rDev
+6.3%
look: 5 | smell: 3.5 | taste: 4 | feel: 3.5 | overall: 4
The colour is pitch-black; the two finger head is pale beige, airy and uneven. Massive amounts of lacing.

The smell is hoppy (but not very bitter) with mild notes of grape fruits, dough and yeast, cookies and a light note of chocolate malt. It smells a bit like a British pub.

The taste is very fresh and balanced. Lots of butter cookies, some citric notes, wheat dough and some sour hints. The firm background is made of roasted malt and a mild sweetness. There is a nice flavour of butter cookies, coffee with cream and raspberry jam in the aftertaste (that isn't that long lasting). The finish is dominated by a flavour of crackers.

The carbonation is a little stronger than expected from a British porter... But hey, this is an American porter, so I guess it is just fine. The very small bubbles are refreshing. The liquid is mid-smooth.

An unusual porter with all those notes of cookies. Still, a highly balanced and drinkable brew.
Nov 12, 2008
Reviewed by Bananaman from Sweden
3.99
/5
rDev
+9%
look: 3 | smell: 4 | taste: 4 | feel: 4.5 | overall: 4
Bath Ales is a micro brewery which at least I have never heard of. But I know one thing know, they make a lovely porter!

Smells nicely of coffee, chocolate (not dark), some rum and some vanilla. Really nice and clean smell.

Tastes really good too, basically the same tones as in the smell. Very smooth to drink.

In general I'm not a great fan of "weaker" porters, but this one is really good.
Nov 07, 2008

Reviewed by baggio from Sweden
3.63
/5
rDev
-0.8%
look: 4 | smell: 3.5 | taste: 3.5 | feel: 3.5 | overall: 4
[email protected]
A: Dark, dark, brownish with a creamy beige lace.
S: Malt, Coffee, Spices, Dark bread.
T: Coffee, Dark bread, Licorice, Hint of metal, Chocolate, Roasted malt.
M: Smooth yet powerfull. Nice balanced bitterness. Low carbonation.
Decent porter! Nothing exceptional but i'd gladly drink it again sometime!
Nov 05, 2008
Reviewed by texashammer from Texas
3.85
/5
rDev
+5.2%
look: 3.5 | smell: 3.5 | taste: 4 | feel: 4 | overall: 4
on cask at the salisbury winterfest, camra festival. fairly dark but showing amber tones in light, with a rich and creamy head as one would expect. smells lightly rummy with roasty flavors as well, mild. light flavors mostly rummy, with some vanilla as well.
Feb 09, 2006
Festivity from Bath Ales Ltd
Beer rating:
85
out of
100
with
14
ratings