Union Beer
| Meantime Brewing Company Limited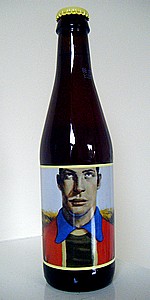 BEER INFO
Brewed by:
Meantime Brewing Company Limited
England
,
United Kingdom
meantimebrewing.com
Style:
Vienna Lager
Alcohol by volume (ABV):
4.90%
Availability:
Rotating
Notes / Commercial Description:
No notes at this time.
Added by wl0307 on 09-15-2005
This beer is retired; no longer brewed.
Reviews: 8 | Ratings: 9

3.53
/5
rDev
-5.4%
look: 4 | smell: 3.5 | taste: 3.5 | feel: 3.5 | overall: 3.5
A 330ml bottle with a BB of June 2012. Picked up quite a while back from Beeritz in Leeds. I'm wondering who the bloke on the label is?
Poured into a tulip pint glass. A clear coppery-amber colour with good carbonation. Yields a large head of creamy off-white foam that hangs around for a while before subsiding to a surface layer. Aroma of nutty caramel malt with hints of roasted grain, stewed hops and a faint whiff of coffee.
Tastes of caramel malt with a dry finish. Notes of subtle roasted grain, stewed hops and a mild coffee-like bitterness in the background, along with a hint of cardboard. Not particularly bitter, but quite dry upon swallowing. Mouthfeel is smooth and tingly, with good body. Somewhat astringent. Aftertaste of caramel malt and stewed hops.
Quite nice, with a predominantly malty character. I haven't sampled loads of Vienna lagers, but this seems to fit the style quite well. Perhaps a tad more roasted grain than you might expect. Nothing too special, but goes down easily enough. Worth sampling.
1,029 characters
3.15
/5
rDev
-15.5%
look: 3 | smell: 3 | taste: 3.5 | feel: 2.5 | overall: 3
Pours a clear golden amber hue which leaves a fast vanishing one finger head and little lacing not very impressive looking,the smell is grains,sweet malts and some light citrus,the mouthfeel is lightbodied and too light for the style but very sessionable with tastes of sweet honey malts,caramel,a touch of biscut,citrus and finished with a twist of herbal hops and lemon zest and overall i would not revisit unless it was for free and the only micro offering at a party cheers.
478 characters
3.58
/5
rDev
-4%
look: 4 | smell: 3.5 | taste: 3.5 | feel: 4 | overall: 3.5
Light, reddish mahogany colour that is quite clear. There is a small half-centimetre, light brown head that is quickly reduced to a soapy lacing.
Sweet caramel is the first thing you smell, this is blended with some background citrus aroma. There is a nice sweet malt smell that works well together with the dark summer fruits lingering at the back.
Warm sweet malts, a nice strong hop character and a mix of caramel & toffee all blend together nicely here to great a very well balanced beer that is a pleasure to drink. The finish has almost no bitterness to it & helps produce a very clean aftertaste.
On the light side of medium bodied and has a great, chewy texture to it that is smooth in parts. The carbonation levels are excellent.
Very good indeed, the beers main advantage over others is that it is incredibly well balanced throughout. It has a good, solid flavour and an excellent feel to it.
Featured in the 1001 Beers list @
http://abarwithnoname.wordpress.com
977 characters
4.03
/5
rDev
+8%
look: 4.5 | smell: 4 | taste: 4 | feel: 4 | overall: 4
Drank from my Duvel Tulip.
A - Pours a dark redish colour with an off white head tha dies real quick.
S - Caramel malts and slightly sweet aromas.
T - Plenty of flavours of malt and graind with some dark fruit also.
M - Nice medium body with medium carbonation.
D - I haven't had too many Viennas but this one measures up nicely.
334 characters
3.5
/5
rDev
-6.2%
look: 3.5 | smell: 3.5 | taste: 3.5 | feel: 3.5 | overall: 3.5
Interesting take on a Vienna lager. Not really what I was expecting. A touch on the roasted side on the nose. I was hoping for a more soft and sweet aroma. The is a definite bitter coffe flavour niggling at the back of the palate which I find detracts rather than enhances the flavours. Devoid of character perhaps? Not bad, but not the best offering from Meantime.
365 characters
3.38
/5
rDev
-9.4%
look: 3.5 | smell: 3 | taste: 3.5 | feel: 3.5 | overall: 3.5
Purchased from the Beers of Europe. Coming in a slim 330ml brown bottle, BB 07/05/09, served lightly-chilled in a pint glass.
A: a dark beige foamy head tops a faintly translucent, light copper-ish body, supported by very moderate carbonation.
S: although the aroma comes quite flowery initially, as soon as the beer settles in the glass the sweet prune-ish, apple-ly, and citric fruits dominate the nose, resting on underlying amber malts along with caramelised sugar, honey-ish malts with even a touch of chocolates. Yet, the metallic as well as sour, pear-ish touch (of yeasts?) come a bit too much, slightly bringing down the whole performance.
T: the soothing swallow of mildly aromatic hops and lightly sour amber malts with a faint hint of prunes leads towards "stinky" oxidised-honey-ish as well as biscuity touches of pale malts, leaving a decent level of flowery and herbal bitterness in the end. From the beginning to the end, the flavour is quite understated and does not develop much, so to speak, so the bitter finish surely adds a few more points to the overall drinkability.
M&D: quite refreshing on the texture, not too fizzy at all, and the body is rather decent maybe due to non-pasteurisation. But the flavour profile to me is a bit overly quiet, not as complex and colourful as that I tried on-tap at the brewery tap before. A touch of yeastiness is certainly in the glass, by the way.
1,407 characters
3.97
/5
rDev
+6.4%
look: 3.5 | smell: 4 | taste: 4 | feel: 4 | overall: 4
A - Poured into a mug with a centimetre or so of off white head that slowly falls away to a thin whisp. Beer is a deep dark red colour, verging on brown.
S - Toffee hits first followed by some roasty notes & a touch of biscuit.
T - Taste is fairly similar to the smell. The roastiness lingers and there is also some floral hop notes.
M - Medium bodied, medium to high carbonation.
D - Enough flavour to keep things interesting without being overpowering & only 4.9% makes this a nice sessionable beer. I could go a few of these.
528 characters

4.15
/5
rDev
+11.3%
look: 4 | smell: 4 | taste: 4.5 | feel: 3.5 | overall: 4
A- Dark copper body with a 2 finger tan rocky head sitting atop. This reduces quickly to leave a crown. Lively beading
S - Lots of roasted nuts, munich malts, toffee, syrups.
T - The smell definitely didnt prepare me for the taste - its almost stout like! A warming roasted bitter quality transforming into a light nutty, sweet aftertaste, a trully unique flavour.
M - lively carbonation, full bodied
D - This was unique, roasted bitter qualities of a stout, the nuttiness of a dark scottish ale and the sweetness of the munich malt in a vienna lager. A nice complexity of flavours kept me interested with each sip. recommended
631 characters
Union Beer from Meantime Brewing Company Limited
3.73
out of
5
based on
9
ratings.